William & Mary appreciates and respects our employees with a variety of programs. We hope that you will participate and celebrate our campus traditions.
Faculty and Staff Convocation
Annually since July 2021,  President Rowe has invited William & Mary employees to join all colleagues for a Convocation recognizing faculty and staff. Held on the Wren Yard, we honor the efforts of the past year with music, food and celebration. Everyone has the opportunity to ring the Wren Bell. We also recognize recipients of the Duke Award, the Values in Action Awards, Staff Appreciation Service Award milestones and the Aceto Award during a short ceremony.
The Charles and Virginia Duke Award
The purpose of the Duke Award is to provide recognition and financial reward for individual accomplishment and exemplary service to William & Mary. All non-student, non-instructional faculty employees of the university, or one of the contractors providing auxiliary services to the university, are eligible for consideration. Submit a nomination or view past Duke Award recipients.
Values in Action
The goal of the Value in Action program is to recognize staff and faculty whose exceptional service exemplifies William & Mary's stated values: Belonging, Curiosity, Excellence, Flourishing, Integrity, Respect and Service. All non-student employees of the university or contractors providing auxiliary services to the university are eligible for nomination. In November 2019, the university affirmed its first-ever statement of values. These values are both reflective of and aspirational for the community.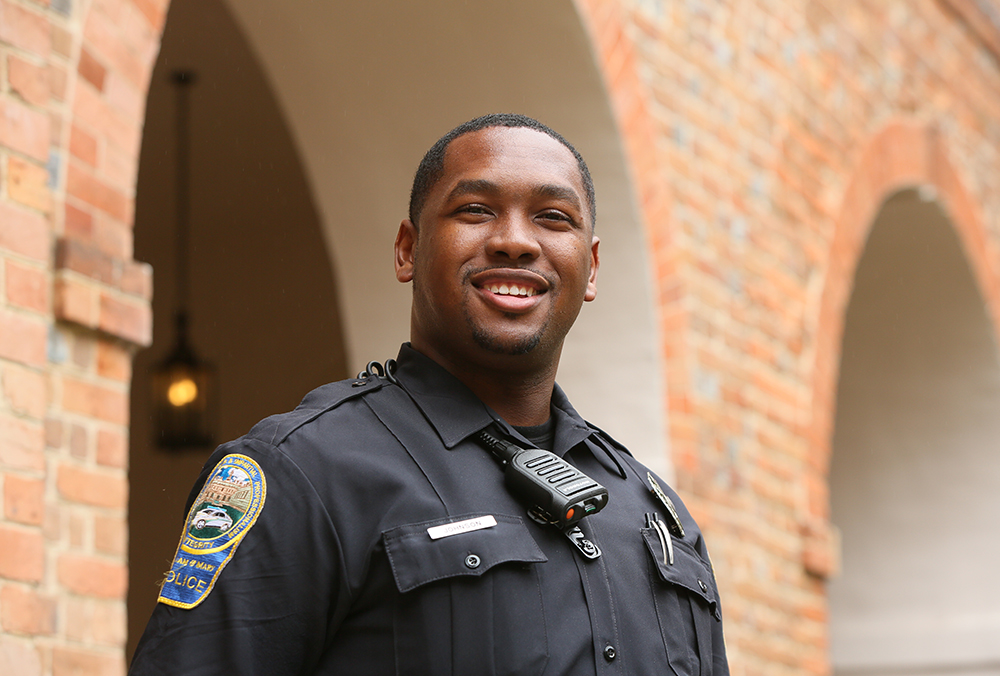 The Values in Action Award honors William & Mary staff and faculty whose efforts exemplify our values. The award is accompanied by a $2,500 cash prize for each recipient. At least two Values in Action awards will be given each semester to faculty and staff through spring 2023, reflecting an ongoing annual commitment by the donors.
Nominations will be submitted using the online submission form. In the Spring of 2023, William & Mary will recognize the exceptional work of faculty and staff with two Values in Action awards. 
Years of Service Recognition Awards
The university hosts an annual recognition event to celebrate and appreciate the dedication of professional, classified and operational staff as they reach service milestones to William & Mary. This annual event is an opportunity to recognize their accomplishments and dedication to the university along with other award recipients as part of the Faculty & Staff Convocation.
William & Mary service is recognized in five year increments each July for the previous calendar year.  Staff reaching five years of William & Mary service receive a certificate and those reaching ten, fifteen or more receive a certificate and gift.  Service milestones to the Commonwealth of Virginia are marked with a certificate.  
2022 Service Award Recipients - 
Recognized at the Faculty & Staff Convocation in July 14, 2023
Years of Service
60 Years of Service
35 Years of Service
Annis T. Hicks
Cory C. Springer
Helen F. Antinori
Peel S. Hawthorne
Shelia E. Harris
30 Years of Service
Christopher M. Norris
Cynthia A. Brauer
David W. Lewes
Dennis M. Manos
Michael E. Ribeiro
Norman W. Farnsworth
25 Years of Service
Anne H. Arseneau
Bernadette A. Kulas
Carina Sudarsky-Gleiser
Charlotte D. Tabb
Christopher D. Byrne
Danny L. Banks
David N. Morales
David H. Shantz
Eric A. Agin
Eric Montalvo
Frances A. Brown
Kim J. Rico
Michael J. Fox
Stephen N. Blaiklock
Tracy B. Holmes

20 Years of Service
Alice R. Manis
Beth H. Chambers
Christine D. Gionis
David K. Milby
Dorothy Osborne
James E. Strawn
Christine D. Gionis
Jennifer M. Dahnke
Michaelle M. Gaul
Rossie C. Coleman III
Sarah P. Garrett
Tyrone Seaborne 
15 Years of Service
Barbara A. Wright
Brandon R. Bell
 Carol A. MacVaugh
Carol H. Gilmour
Catherine M. Jacobs
Charnel C. Thornton
Christopher G. Wilson
Ginia J. Anderson
Heidi E. LeMaster
Harold M. Mitchell
Jason L. Simms
Jennifer A. Leung
John G. Drummond
Karen M. Youshock
Kathleen E. Mazzitti
Kimberly A. Momballou
 Mary E. Mueller
Meghan E. Atkins
Melissa M. Liles-Parris
Raymond M. Newhouse
Rebecca J. Parsons
Robert M. Brest
Tamekka K. Davis
William J. Henninger
10 Years of Service
 Adam D. Ferguson
Anthony C. Vaughn
Babs L. Bengtson

Beverly M. Walker
Caroline G. Letourneau
Chandler D. Agett
Darla A. Brantley
Deborah A. Cornell
Debra P. Jarvis
Donald K. Butler
Eden R. Harris
Elizabeth A. Robbins
Erin K. Fryer
Elizabeth F. Miller
George P. Podolin
Jamie R. Wick
Jawaly O. Coriano
Jeremy P. Martin
Jessica K. Newton
Joanne F. Taylor
John W. Dutro
John M. Hunter
Johnie D. Sanders
John M. Hunter
Katey M. Howerton
Katherine C. Perry
Lauren S. Smith
Lynda S. Weisflog
Marcia A. Pinnock-Jones
Maria Cristina D. Picardo
Maureen Costantino
Melissa J. Franks
Michael A. Turner
Michelle W. Ashby
Robert W. Morman
Sara E. Bon-Harper
Sharon L. Hiner
Stephen G. Locklin
Tami C. Back
Victoria L. Thompson Dopp
Zhuo J. Wermer
5 Years of Service
Andrea R. Price

Angela M. Adame
 Anne G. Penn
 Bruce Manning
Carl R. Berquist
Caroline R. Ward
Catherine A. Freiling
Charles Foster
Claire E. De Lisle
Coleta Vidal
Concepcion M. Pellecer
Daniel W. Gardner
Dawn M. Alleman
Debi Burden
Deborah R. DeGuzman
Dennis Amrine
Douglas B. Beringer
 Elesabeth R. Edwards
 Elizabeth A. Eldredge
Elizabeth De Falcon 
Elizabeth H. Vander Vorst
Emily B. Phillips
Erica M. Carter
Erin W. Moskalski
Felix Vazquez
Ferdinand V. Hilario
Forest Braden
Genevieve M. Stemann
Harry J. Eller
Helen Katrina B. Holden
Isaiah Johnson
Jamie Taliaferro
Jason Gay
Jennifer L. Williams
Jessica L. Shelton
Jessica Pierce
Joseph C. Hause
Joshua H. Smith
Julie C. Shackford
Julie S. Leach
 Kara B. McCulloch
 Karen R. King
 Kelly K. Johnson
 Kevin R. Stubbs
Kimberly L. Weatherly
Larry D. Piker
Latasha Simms
Laura C. Morales
LeVar A. Eley
Lindsey Love
Lisa M. Young
Louise Ndiaye
Maggie B. Evans
Mario A. Acitelli
Mary Bull
Mary-Glenna S. Laurenzo
Melanie N. Eames
Melanie T. O'Dell
Melissa M. Orendorff
Michael B. Williams
Michael C. McCarney
Michele L. Brumfield
Mona A. David-Starman
Monica E. Grillo
Morgan Kader
Nicholas H. Artime
 Preston E. Morris
Primrose E. James
Rebecca C. Marshall
Rodney O. Howard
Roger L. Bradley
Ryan A. Wright
 Salley C. Rowe
Sarah J. Balascio
Scott Jones
Shannon H. White
Sherri L. Powers
Snezana Kelly
Sommer Dowd
 Takilya T. Davis
Taylor V. Locks
Teresa G. Belback
Thomas J. Barrineau
Tyler B. Walinsky
Wallace Dodd 
Auxiliary Staff
5 Years of Service

Amy Banks, Dining
Seaniece Lumpkins, DIning
Lana Robertson,  Dining
Stacey Smallwood, Dining
Elliott Sun, Dining
Thedia Tyndale, Dining
Ronelle Watts, Dining

10 Years of Service

Arnalisa Akbar, Childcare 
Christian Olver, Dining
Concepcion Pellecer, Dining

15 Years of Service

Jacqueline Brown, Childcare 
Clinton Bailey, Dining
Bridgette Brown, Dining
Sherrie Donson, Dining

20 Years of Service

Melanie Edwards, Dining
Daphne Thomas, Dining

30 Years of Service

Sheila Johnson, Childcare 
Stacy Moore, Dining

40 Years of Service

Rosemary Thomas, Dining

45 Years of Service

Patricia Mason, Dining
Sharon Scott, Dining
The Shirley Aceto Award
The Shirley Aceto Award was established to be given annually to a member of the instructional or professional faculty who demonstrates an exceptional commitment to excellence in service to the campus community. Ms. Aceto retired in 2010 after serving William & Mary for more than 39 years in the Office of the Provost. A highly regarded member of the professional faculty, she was a consistent example of exemplary service and untiring devotion to and promotion of the university, its faculty, staff and students.
Annually, one award in the amount of $1,000 will be given to a member of the instructional or professional faculty who best exemplifies the qualities noted in the selection criteria. The Provost will solicit nominations from the deans and vice presidents. Nominees must exemplify the high standards of excellent service to the university personified by Shirley Aceto.
Successful nominees will possess or exemplify:
Commitment to the core values of William & Mary
Proven leadership capabilities in working with students, faculty and/or staff
A record of outstanding individual service to the university