Passing the Torch: It's Time for Legacy-Building Accountability from African-American Millennials and Gen Z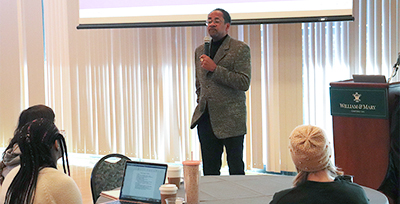 Actor Tim Reid spoke to an intimate gathering at William & Mary's Sadler Center, sponsored by the Reves Center, on Sunday, Nov. 10, for an event titled "Redefining a Legacy: An Afternoon with Tim Reid." The event theme was discussing ways for African-Americans to take control of their own stories and legacies—through film and other media—or be at risk to lose their true culture forever.

The Virginia native, Emmy-nominated actor, producer, director and philanthropist is best known for his roles in "Venus Flytrap on WKRP in Cincinnati," through "Simon & Simon," "Frank's Place," "Sister, Sister," "That 70's Show," HBO's "Treme" and recently OWN's "Greenleaf" and "Love Is." 

For an African-American man born in the Tidewater area, the reality of the American Dream was just possible enough for Reid to grab ahold of it—despite the surplus of cynical notions in the African-American community.

In other words—Tim Reid is the American Dream.

To the many unfamiliar with Reid's background and upbringing—life was far from the glimmering Hollywood lights or upscale homes, similar to the decorative Detroit suburban set from "Sister, Sister."

The early childhood years for Reid, as the great Langston Hughes would describe, "ain't been no crystal stair." His childhood, like many African-Americans pre-civil rights movement of the 1960s, was troubled and impoverished.
Background and Childhood
Timothy Isabel Jr. was born in Norfolk, VA in December of 1944. His mother and biological father had separated. His mother married a man who became physically abusive and would frequently beat her in front of Reid. The abuse became so bad, his mother sent him to live with her sister—his aunt, who ran a brothel. It was there that Reid arguably began his career in entertainment. Reid would dance for nickels to entertain the patrons. In 1953, Reid moved back to Virginia to live with his grandmother, who illegally sold alcohol while running an unlicensed boardinghouse.

Reid was a good student and was accepted into college, academically succeeding despite the many obstacles and challenges.

Reid often gives credit to Norfolk State University, his alma mater, for saving him from a life of gang violence. After graduating NSU with a Bachelor of Science in business marketing in 1968, followed by a brief career as a marketing professional for DuPont, Reid set new goals of moving to California and becoming a successful Hollywood actor, which he inevitably achieved.

After appearing on television for over three decades, Reid moved back to Virginia in 1996, when he opened New Millennial Studios (NMS), Virginia's first full-service movie studio, which sat on 60 acres in Petersburg. The studio was used in dozens of movie and television productions. Parts of Steven Spielberg's acclaimed 2012 film, "Lincoln," were shot there. The studio's goal was to highlight the contributions African-Americans made in the shaping of America.

Reid has also given back to the community through his Legacy Media Institute, which mentor's black filmmakers in all aspects of the film and the entertainment industry, facilitating the development of next generation storytellers.
William & Mary Event
Speaking to an engaged, yet enthusiastic group at William & Mary, Reid took an active approach on suggesting that the older generation of the civil rights era had completed their assignment to the advancement of African-Americans. Now, the millennial and Gen Z groups of today can demonstrate activism of the arts, utilizing media power— a tool that the generations prior never had access to.

Reid roamed the Sadler Center's cozy multipurpose event room, making individual yet glimmering eye-contact with all attendees, his wireless microphone held like a scepter, ready to depart divine wisdom on this Sunday afternoon.

The former stand-up comedian who got his start in 1968 with "Tim and Tom," the first ever interracial comedy duo, and was part of a 10-episode sketch comedy series the "Richard Pryor Show," there was a more serious and reserved approach to his delivery among the small audience. 
Propaganda
Reid began the afternoon speaking on the topic of propaganda. He roved the crowd while frequently glancing over at his wife, Daphne Maxwell Reid, actress, comedian and former model best known for her role as the second Vivian Banks on the NBC sitcom "The Fresh Prince of Bel-Air."

Reid discussed the moment where the idea of his purpose as an actor or person of influence began to manifest. He talked about the first time he had the rare opportunity to meet the late William S. Paley, former president of the Columbia Broadcasting System (CBS). Paley took CBS from a radio station into one of the greatest mass-media companies in history.

Reid said that Paley invited him into his Manhattan office at the 38-story CBS headquarters, also known as "Black Rock," for a brief conversation one day.

"He asked me something that I will never forget," Reid said. "He asked me what is my propaganda."

 At the time Reid said that he didn't fully understand the question, but as time went on, he understood that was his role as an actor—propaganda.

"I realized that's the business I'm in—I'm a cultural propagandist," Reid said. "That's the business we are now witnessing on television, smartphones or on anything you look at. You're looking at someone's propaganda. Someone's media power to inspire, to control, to manipulate, to get you to agree to buy something, think something or be something."

The audience, as Reid suggested, is strictly at the mercy of whatever propaganda is being released.
Social Change through Propaganda 
Reid brought one of his student mentees to film the afternoon event. Nigerian Director Joel Kachi Benson, who won The Lion Award for Best Virtual Reality (VR) Story at the 2019 Venice Film Festival for his documentary "Daughters of Chibok," sat back while shrugging off the audience applause.

Benson's work was the first VR documentary ever done. Reid said that his work has refreshed the interest in the 276 girls kidnapped by Boko Haram in April 2014, from their school dormitory in Chibok, northeast Nigeria.

A story that no longer commanded global attention had now been reinvigorated. Reid said that Benson's work eventually reached the interest of the United Nations, who had recently voted to provide aid and humanitarian assistance to Chibok, ensuring that persons affected by the conflict receive quality psychological support.

 Reid said that Benson's movie was a perfect example of the power of media, when used in a responsible way to promote change.

 "His cultural propaganda was to help these people, these women, who have been forgotten in these villages, and that's what you can do—with the stuff that we do," Reid said. "It's not just putting up pictures of your food, or showing your breasts on Instagram—it has power!"

 Reid said that media is the most powerful manmade force in this universe right now, and we see how it's being used every day on the television telling the same stories.  Reid began to ask a very essential question to the audience.

 "Why are they feeding us the same information—why?" Reid said. "There is a purpose to it. It may not be your propaganda, but after awhile, it will become your propaganda. Your life will be changed or altered by the things you accept that are being given to us.

 Reid then showed a six-minute film about his Legacy Media Institute. The film discussed Reid's involvement with mass communication students at Virginia State University as he educated them on the dynamics and understanding of filmmaking.

 Reid showed a shorter, second film regarding the importance of words. The video mentioned the Biblical reference of how in the beginning there was the word. Reid expanded on the importance of the word by stating that all great movies and television shows begin with a script—the words. He also reminded the audience about the adage of how one image is worth a thousand words.

 After giving an example of the power of modern images that impacted current society, Reid made a reference to the late W.E.B Dubois.

 "All art is propaganda," Reid said. "Michelangelo's 'David'—it's one of the most iconic pieces of sculpture ever created. It's supposed to be David after he slew Goliath, but David was supposed to be around 12 or 13 years old, about time for him to be bar mitzvah-ed. However, in the sculpture, David looks to be 20 years old."

 "Where did Michelangelo come up with that guy?" Reid asked the audience. "Why did he choose that model, and not a younger version?"

 Reid also questioned that if David was the King of the Jews, why wasn't he circumcised in the statue.

 "He can't be a Jew," Reid said. "So who is that guy?"

 Reid explained that he later discovered that the statue was a political statement. Michelangelo's model for the sculpture was his friend, mentee and a political resistance fighter against the Catholic Church in Rome. Following the exile of the powerful Medici Family from Florence, the statue was erected at the town hall, facing towards Rome, where the Medici dwelled in exile.  Positioning the statue in the town hall was a political statement and threat to Rome that Florence will fight back the Medicean Goliath if needed.

 "Media is power because it controls the minds of the masses," Reid read from a quote from Malcolm X. "They have the power to make the guilty innocent and the innocent guilty."

 Reid said that having over million hits on Facebook or Instagram saying you're guilty, results in the accused being guilty before the trial begins, which can result in the loss of a career.

 Reid talked about the history of the African Diaspora. He gave a quick lesson on colonialism's affect or propaganda on its history, and suggested that most people's perception of African history began in Europe around the beginning of the transatlantic slave trade.

 "I think that the propaganda that was developed in Europe was an incredible piece of propaganda," Reid said. "They've changed the focus of history.  Everything we know about Africa at this university—I would say 90% of every book in this library, that talks about Africa, the African continent or the people of Africa, was written by white Europeans."

"The control of images is a major factor in world power," Reid said. "It elects presidents."
Passing the Torch
Reid focused his message on the passing of the torch from the older generation of African-Americans promoting social and cultural change, to the younger generation of today. He spoke on the older, World War II generation.

"They taught us how to survive," Reid said. "William & Mary, in my days, I couldn't even come on campus, let alone attend school here."

Reid recounted how he orchestrated civil rights marches in Hampton Roads as a college student, despite apprehension from his parents. He told a story of how he recruited white students from Old Dominion University to join their march for support, but also for their safety. Reid said that the police had previously "let the dogs loose" on him and his fellow African-American peers, but said they "kept the dogs restrained" when marching beside the white recruits.

"We, the youth of that era, had something to fight for—we were passionate," Reid said.

"Young folks, you millennials, it's time for you guys to wake up," Reid said. "Y'all are not 'woke.' The baby boomers are not going to help you in this fight. You have to change things. If you don't get it together soon, there is not a lot of time."

Reid urged those perusing the media business to use their cell phones and other technology to create an impact on the social landscape and create intercommunications systems to relate to each other. He said that the millennials and Gen Z have to hit the ground running with this new purpose and new power in their grasp.

"You have to hit the ground not only running, but you have to pass Usain Bolt," he said. " You got to really be out there moving."

Reid shifted gears and reverted the audience's attention to his slideshow, yet again. A series of images were shown to uncover how systematic images were used to portray Africans in world history. The first image was of a popular WWI American military propaganda recruitment poster. The poster was titled "Destroy This Mad Brute—Enlist." The image portrayed a gorilla, which symbolized the 3,000 to 4,000 Africans brought in as soldiers to fight with the Germans and establish security forces in the land. The propaganda, meant to spark white outrage and fear, promoted the racial stereotype of black men being beasts and defilers of white women.

The second image was of a controversial April 2008 cover for Vogue Magazine, showcasing LeBron James and Gisele Bundchen. It is important to also know that James was the first African-American man to grace the cover of Vogue. However, James was represented in gorilla-like posture, exposing his teeth, with his hand on a basketball and around Bundchen's waistline. Critics argued the depiction was an obvious and equivalent reenactment of the 1917 propaganda poster, and an exploitation of the racist theme of violent black men violating and overpowering white women—like King Kong.

"This is the power of images that goes into the minds of young people which makes them susceptible to other negative images," Reid said. "It is really powerful stuff. It is a symbolic system of the same propaganda dating back to the 1800s on how do you show a brute, how you show fear. And you use images like this."

Reid showed more examples of propaganda in modern marketing to the Las Vegas tourist. Marketers created posters and used the images of black men partying with white women to show "vice" in the Sin City.  The subtle images of the black brute and the white women were at play yet again. Other examples like "Birth of a Nation," D.W. Griffith's controversial Civil War epic, was mentioned for more depth on the same racial propaganda used to influence public perception and opinion.
Final Points
Reid concluded by agreeing that using media to shape opinion and define culture is being done everyday, and his mission is to use his own propaganda to counter the propaganda being used against him. For the young filmmakers, he said, it is their duty to be responsible to their beliefs and their culture. Millennials and Gen Z, he argued, had better be prepared define their narrative or risk being labeled a victim, an offensive tool used by the dominant society.
"What's hurting Black Americans now, is that we see ourselves as victims," Reid said. "If you're not awake and see yourself as a warrior and someone who is about change—you are a victim. You will never win as a victim. Nobody likes a victim."

Reid spoke to the young generation by encouraging them to grab inspiration to move forward in this journey, which Reid insists, "is in our DNA." Reid examined an old saying on the human condition of motivation and resilience.

"If a contest is to swim from the shore 100 yards out to an island, most people would only swim 50 yards out—say I cannot make it—and swim 50 yards back to the shore," said Reid. "Only a few will swim the 100 yards. But guess what? In the end, they all swam 100 yards. Only the brave can swim the 100 straight to the destination. Be the ones who swim 100 yards straight to the destination."

Before opening up for a brief yet passionate Q&A session, Reid concluded by speaking briefly on the type of courage, boldness and targeted approach that is necessary to reach the destination for the next generations. He also gave a bit of valuable advice to film students regarding the reality of the film and entertainment industry today.

"If you graduate from medical school in 10-12 years, and come out with a C+ or better, you can get a job anywhere in the world," Reid said. "You can go 12 years in film school at Harvard, Yale, USC, it doesn't matter— and you will be a waiter at one of the best restaurants in Hollywood. It is a very difficult business; however, if you understand your power and the responsibility that has been given to you by your passion, you can change the world.