Should we have the right to delete our digital past?
Does one have the right to be "forgotten" on Google, or any other search engine? Should you be able to request that any links that refer to your personal information be removed from search results?
Those aren't trick questions. But they are tricky, and William & Mary student Zarine Kharazian '17 is knee-deep into an investigation this summer.
If you are a citizen of one of the 28 countries that make up the European Union, the answer is yes, she said. A Spanish citizen took Google to the European Court of Justice (ECJ) because he wanted an online newspaper article that mentioned his insolvency to be delisted from the search engine's results. The ECJ ruled that search engines like Google are classified as "controllers" of personal data, and thus are not exempt from complying with EU data protection rules regarding removing information deemed "inadequate, irrelevant or excessive" for data processing.
Here's the catch, said Kharazian. You have a right to request that Google remove links to personal information from search results – but it does not mean that Google must remove the links, only that it is obligated to review requests for removal.
[There is no American law in place. Google states that anyone can ask to have sensitive personal information, like bank account numbers, an image of one's handwritten signature or a nude or explicit image or video that's been shared without your consent removed from Google search results. But it also advises that it is best to ask the website owner, or webmaster, to remove the information because even if it deletes the site or image the webpage still exists and can be found using various methods.]
Kharazian, a double major in French/Francophone studies and government, is an accomplished student, to put it mildly. In 2016, she won the very competitive McCormack Reboussin Scholarship in the French/Francophone Studies Program. She spent the spring semester in Paris with IFE, a French not-for-profit educational organization whose stated mission is "advancing transatlantic understanding and contributing to French and European Studies in the United States, principally by exposing students to contemporary French and European society." She also earned an internship at the elite school Sciences-Po.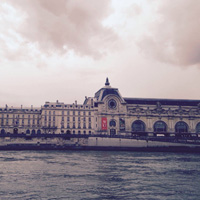 Playing to her passion for blogs and research programs on technology law and policy, Kharazian noticed that academics and legal scholars on both sides of the Atlantic frequently discussed and debated the right to be forgotten. However, American and most European policymakers hardly ever even mentioned it.
But France, in particular, has been engaged in a particularly vibrant debate on the subject. Given her level of interest, she thought, why not find out why the French are more sensitive to the subject than their Western counterparts and turn that research into the honors thesis in French/Francophone studies she is writing under the supervision of Professor Maryse Fauvel and Associate Professor Michael Leruth?
"I am visiting the Sciences-Po library and the Cujas library to gather early French court cases on the right to be forgotten," she said from Paris. "This archival research allows me to trace the evolution of the right in French jurisprudence."
Kharazian is coupling her research with interviews with French privacy scholars at Sciences-Po as well as with board members of the national civil liberties organization and an independent data protection authority.
"These interviews are providing me with a survey of French professional attitudes on the 'right,'" she said.
Kharazian makes it clear that she is not and will not make an argument whether there should or shouldn't be a right to be forgotten. She said those arguments "abound" in legal scholarship.
"What doesn't exist in the literature," she said, "is an empirical examination of whether there is a right to be forgotten in countries claiming there ought to be one, such as France. My thesis aims to fill the gap in the literature by analyzing French legal jurisprudence and French cultural attitudes on the issue.
"Is there a characteristically 'French' attitude towards digital eternity, the notion that the Internet can theoretically store and preserve personal data for … well, indefinitely?"
This isn't the kind of project that can be completed in just a few weeks. Once she returns to William & Mary, Kharazian will continue her work throughout the summer by conducting phone interviews with French-based scholars.
Kharazian hopes her work might help the United States and France build a relationship in an area where none presently exists.
"I hope the empirical bent will help clarify the normative fault lines between France and the U.S. on the issue and provide insight on how these fault lines developed in the first place," she said. "If we better understand why the French approach the problems arising from digital eternity the way they do, the logic underlying their proposed solutions will make a lot more sense – even if our jurisprudence does not agree with theirs.
"This insight will help us work with our European counterparts to develop necessary and proportionate digital privacy standards."