Students investigate health education in Nepal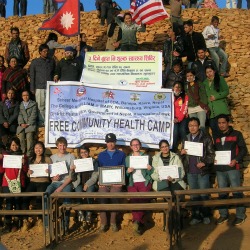 In January 2012, William & Mary students Katie Kaugars, Shrishti Kharel, Joyce Oh, Arati Pudasaini and Ralph Cook, along with Kevin Vose, an assistant professor of religious studies, traveled to Nepal to learn more about issues facing healthcare and health education in the country.
These students represented Swastha Nepal, a student organization founded at the College, and Vose received funding for the project as a Reves Faculty Fellow in International Community Engagement and Scholarship.
While in Nepal, the group worked in conjunction with Scheer Memorial Hospital, a medical outreach clinic. With the help of the hospital, the students set up a field research site in two villages, Bhumlutar and Naldum. The hospital provided five doctors, a team of nurses and nursing students, medical technicians, pharmacists and support staff. In total, the clinic saw roughly 1,700 patients in just five days.  The students were able to conduct interviews with patients about health care issues, collect data on patients' health and map out housing and public spacing in the villages.
Health care infrastructure in Nepal has declined due to the recent civil war and the ongoing effects of urbanization, particularly in the country's far west rural areas.
 "Doctors and other health professionals were forced to evacuate because of the danger surrounding the conflict and some of the buildings themselves were demolished," said Kaugars. "People, especially those living in rural villages, were suddenly without access to a hospital or clinic."
Added Vose: "We learned a great deal about health education in Nepal and about the difficulties of providing healthcare in rural areas of the country. Urbanization leads young people to leave rural areas, which are widely considered 'backwards' by those with a university education."
The group is currently compiling and analyzing the data they collected from their trip. They plan to return to Bhumlutar and Naldum for winter break 2013.
"We are analyzing the data collected on the first trip in order to determine the systemic issues facing health care in these villages and to work up some plans for how our group could best assist with those issues," said Vose. "At present, we envision creating an educational program aimed at increasing awareness of the importance of sanitation and clean water."
This trip not only had a positive impact on the villages visited by Swastha Nepal members, but also on the students themselves.
Said Kaugars, "I got to contemplate interactions that I had with people that changed my life and the way I view the world. I also got to think about how to most effectively proceed with the trip in order to help the communities that we serve and future undergraduates."