Women in William & Mary IT
In the broader industry of IT, there is traditionally an imbalance between men and women.

According to the National Center for Women & Information Technology, only 26% of the 2017 U.S. workforce was women working in professional computing occupations and only 17% of Fortune 500 Chief Information Officers were women. Regarding women of color, the numbers are even smaller.

Dolores Metcalf, a Business Data Analyst, described the experience: "Depending on your environment, it can really be a boys club. Women are generally looked at as less competent - I had to work twice as hard when I started in the industry."

However, IT at William & Mary is different.

Women have worked in W&M IT since its inception. The first computers were introduced to campus in 1967 and as early as 1968, women could be found working in the campus Computer Center. Today, half of the management team is female. Rachel Pace, Data Management, and Corinne Picataggi, Software Systems, are both Directors in the IT Department while Bernadette Kenney is the Deputy Chief Information Officer.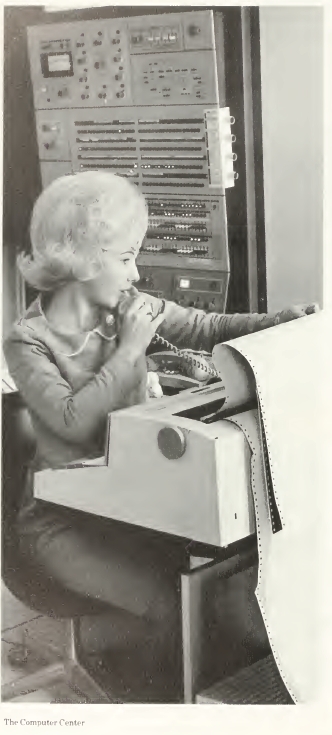 Picataggi began her career in IT as a 19-year-old and came to W&M when she was 23. She describes her successful career as a result of her skillsets. "Your capabilities speak louder than anything else in IT. At William & Mary especially, leadership is open to ideas and is supportive of people who have a passion for their work. There's a lot of trust throughout the community and we're all working hard to get our jobs done."

W&M IT leadership continues to encourage the incorporation of women into the department. Courtney Carpenter, Chief Information Officer, stated "We want a more diversified workplace to bring together different perspectives and opinions. Having women on the team helps strengthen our decision making." Whether as software engineers, coordinators, or programmers, all women in IT are encouraged to express their thoughts and develop their skill sets in a positive environment.

Kenney, added that "W&M is supportive of women. I've never been at a table where women weren't invited or welcomed. The men in the IT organization promote women's involvement and the campus advocates for women's inclusion."

One such example is Mary Bull, a Network Support Technician.  Bull was hired within the last two years as the only woman on the traditionally all-male Network Engineering team.  "I had to get used to being the only woman in the room," said Bull. "But my experiences helped me develop confidence in my work." Her supervisor, Scott Fenstermacher, says Bull has been an outstanding addition to the crew, stating "Mary really knows her stuff.  She was eminently qualified for the position and has been a valuable asset to our team."

And the work continues, even after the work day concludes, as many W&M IT women work to support the public's interest in IT throughout their surrounding communities. Bull is involved in meetup groups for IT-related topics and participates in conferences for Women Who Code. Metcalf is a mentor in the campus mentorship program where she shares her experiences and provides guidance to those interested in an IT career. Picataggi volunteers her time with Hour of Code, a group which teaches coding skills to middle school girls.

So what advice would W&M IT women give to others interested in joining the IT industry?  Here are some of their words of wisdom:
| | |
| --- | --- |
| | "Treat everything like a problem to be solved. Define it. Research. Hypothesize. Trial. You don't like the way something worked out? Figure out a way to make it work out. Doing that in your everyday life will help you succeed in this field." - Corinne Picataggi, Director of Software Systems |
| | |
| --- | --- |
| "Find a mentor, internships, or special programs. Seek opportunities related to STEM especially focused on young women.  Start small but start early." – Dolores Metcalf, Business Data Analyst | |
| | |
| --- | --- |
| | "Tech is always changing. Get comfortable with learning on the job.  Be okay with a messy work environment. And when things fail, learn from it and don't take it personally." – Mary Bull, Network Support Technician |
| | |
| --- | --- |
| "Be yourself and be confident in your skills and abilities. Promote yourself and get into women's networks to build connections which will help you. You just need confidence and experience." - Kristy Walker, Academic Applications Specialist | |
| | |
| --- | --- |
| | "If you have a curious mind, IT is a great job. It gives you constant opportunities to learn more while maintaining the flexibility of a fun work environment. Stay interested, engaged and inquisitive." – Patty Herrera Cox, Application Administrator |
Cheers to the women of W&M IT and 101 years of women at William & Mary!