It has been a big year for technology projects on the William & Mary campus.  As 2011 comes to a close, we take a look back and ask in amazement, "Did that really happen?"
I'm sure this feeling isn't exclusive to us in Information Technology.  There have been significant changes to the campus technology infrastructure and you (particularly W&M staff and faculty) must also feel like it has been a whirlwind year.  Between converting your email and calendar to Exchange, and then learning a new campus phone system, there have been a lot of new things to adapt to. We hope you find the changes to be beneficial and worth the effort.
Another huge IT project in 2011, though happening behind the scenes, was the network upgrade.  To call it an upgrade is modest; it was more like an overhaul.  Admittedly there were some growing pains, namely in the form of intermittent network outages.  But now that the upgrade is complete, the network is better than ever - fault-tolerant with a much higher bandwidth.   Thanks for bearing with us during the transformation.
We thought it might be fun to wrap up the year by showing you some W&M IT stats from 2011, particularly figures related to the big campus-wide projects.  But before we get started, we want to say thank-you to everyone on campus for your patience and cooperation throughout the year. Also, a special thanks to those folks in each department who served as coordinators during the transitions.
Exchange Email & Calendar
"Mobile devices are rejoicing everywhere!" notes Corinne Picataggi, IT's Innovation Project Manager, who served as one of the project leaders for the transition to Microsoft Exchange.  Exchange became the new email and calendaring system for all W&M faculty and staff. Exchange supports clients on multiple platforms (Windows, Linux, and Mac), offers a robust web interface, and is compatible with smart phones.  The project took about six months to complete, with email migration ending on April 23rd and calendar migration ending on May 22nd.
Exchange - By the Numbers
4,291 – Mailboxes converted during the project
1.6 TB – The size of the Exchange database in Oct. 2011.  That's more than double the size in April, which was 700 GB. We expect the size of the database to double every 12-18 months as exchange becomes more widely used.
10 – Windows servers used to house exchange (W&M has 153 Windows servers in total)
5 – Copies of each Exchange mailbox stored to ensure continuous service.  Each copy is stored on a different server.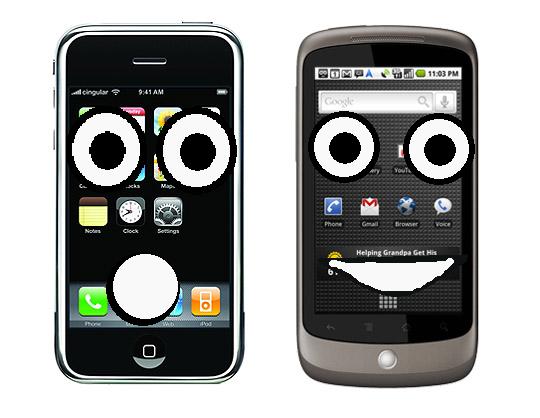 1,515 – Mobile devices connected to W&M Exchange.
431 iPhones
304 Androids
278 iPads
61 iPods
58 Blackberries
50 Samsungs
6 Palms
(The remainder would be considered "other")
5,294 – People entered in W&M's Global Address List.
Emails - Week of 11/28-12/5
145,317 – Emails sent in a week
436,193 – Emails received in a week
VoIP Phones System
ShoreTel's VoIP (Voice over InternetProtocol) phone unified communication system replaced the College's aging PBX phone system – after 22 years of use!  The new phones leverage VoIP technology to provide a multitude of phone services. Incorporating a web-based platform called Communicator, it also integrates the phone service with your computer desktop, email, and calendar.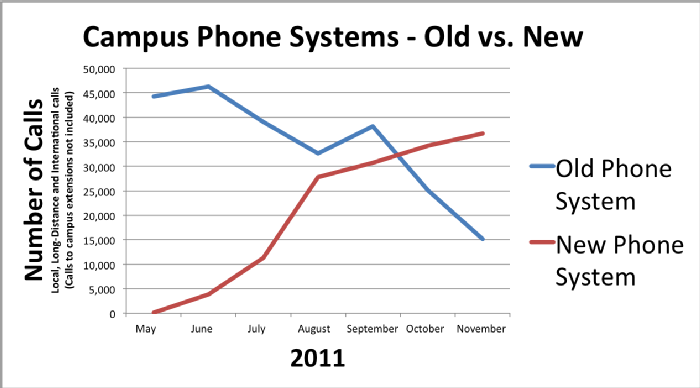 The project lasted throughout 2011, with phone installations beginning in the summer.  At this point, most departments on campus now have the new phones, but there will still be some work during January and February of 2012 before the project is complete.
VoIP Phones – By the Numbers (As of Dec. 2, 2011)
3,355 – Phone numbers currently programmed in the new phone system
326 – Analog phones yet to be converted (mostly residence hall phones, alarms, and E-phones)
12 – Staff members meet weekly to discuss progress on the project.  The total number of people who have been involved in the project would be much higher.
7,487 – Total phone calls made on a given day (Dec. 1, 2011)
2,441 - Number of VoIP phones in use.  Broken-down by model:
| | | |
| --- | --- | --- |
| Phone | Model | Quantity on Campus |
| | ShoreTel 115 | 845 |
| | ShoreTel 212/265 | 64 |
| | ShoreTel 230 | 1,456 |
| | ShoreTel 655 | 76 |
Network Upgrade
"Everything we do rides on the network" explains Courtney Carpenter, W&M's Chief Information Officer. Indeed, the campus network is the backbone of all campus IT systems, playing an integral part in teaching, learning, research, collaboration and business operations.
The wired network upgrade involved completely replacing and reconfiguring the campus network infrastructure.  For all intents and purposes, the upgrade is complete.   The new network is fully redundant and fault-tolerant.  Bandwidth also increased a full magnitude.
The wireless network is still in process of being upgraded.  Most residence halls will be on the upgraded system by the start of the Spring 2012 semesters.  After that, work will begin in academic and administrative areas.
Network Upgrade - By the Numbers (As of Dec. 2, 2011)
19,249 – Unique devices connected to the wired network so far in 2011
57,805 – Unique devices connected to the wireless network so far in 2011
651 – New network switches installed as part of the upgrade
30,453 – Network jacks the aforementioned switches are capable of serving.
W&M Network traffic patterns:
Pretty impressive numbers, huh?  We are happy that all three projects ran smoothly and the systems are now up and running.  We hope you are now acclimated to the changes and able to reap the benefits of the new technology.  We couldn't have completed these projects without your patience, cooperation, and support, so, once again - Thank you!