The Institute's 10-Year Anniversary
Big ideas live here.
What
This fall, W&M's Institute for the Theory and Practice of International Relations celebrates its 10-year anniversary. In the words of W&M Chancellor Robert Gates '65, "The Institute exemplifies the best of William & Mary. Creativity, entrepreneurship, and intellectual risk-taking are rewarded. By investing in the power of student-faculty research, the Institute is helping position W&M as a leader for world-class, applied undergraduate research."
To support the Institute's core mission of empowering student-faculty teams to make a difference in the world, we seek to raise $3 million in private gifts to support the Institute's next decade.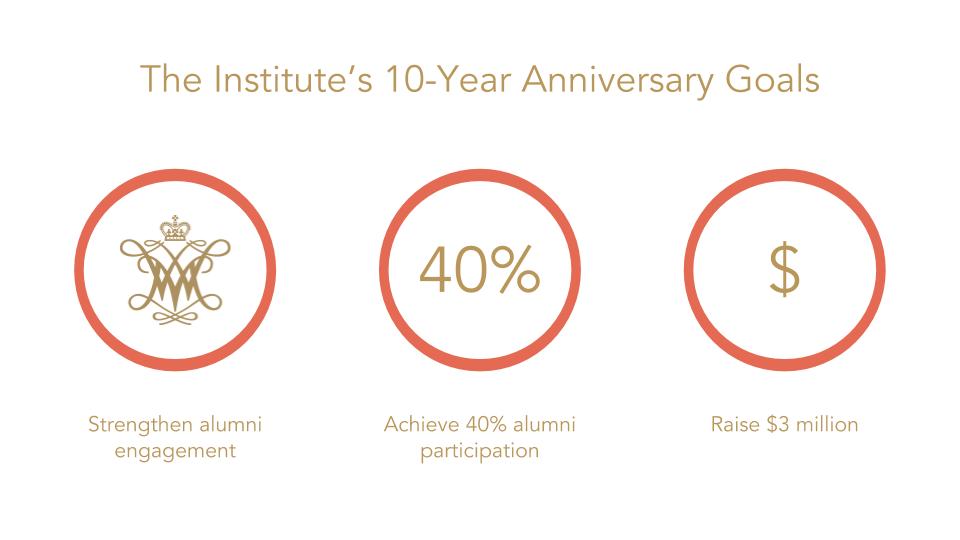 Why
In the Institute's first decade we catalyzed path-breaking research; trained more than 1,000 undergraduate students as leaders in the areas of international security, development, and data science; and created a vibrant intellectual community of faculty, practitioners, and students.

Our projects and faculty have been globally recognized for their insights. Research at the Institute is regularly featured in outlets such as The Economist, Wall Street Journal, Foreign Policy, and Washington Post. Organizations such as the Gates Foundation, the Carnegie Corporation, the MacArthur Foundation, USAID, and the National Science Foundation have invested more than $50 million in the Institute's projects, and the U.S. Department of State, Department of Defense, the World Bank, and non-profits throughout the world have used our results to inform their decisions.

The heart and soul of the Institute remains the opportunity we provide for undergraduate students to partner with faculty to engage in cutting-edge research. From expedition-based coursework in Guatemala, to briefing policymakers in DC, running evaluations in Liberia, or conducting data analysis in the ISC, each year more than 200 students work on an Institute project or participate in one of our programs.

These opportunities for students and faculty, combined with the Institute's impact in the world, raise the profile of W&M as a global institution.
Our Ask
We'd like to be the best place in the world for undergraduate students and faculty to do applied research on global issues. To make this a reality, the Institute seeks to raise $3 million in private gifts by December 2019.
If you would like to discuss involvement with the Institute, contact Co-Director [[mjtier,Mike Tierney]].