W&M's Digital Inclusion & Governance Lab studies impacts of digital technologies around the world
Digital technologies are changing the world. 
And their greatest impact could be in the poorest countries, particularly on an economic, social and political levels. 
William & Mary's new Digital Inclusion & Governance Lab is exploring these very issues with an eye to better understanding the potential benefits and consequences of digital technologies.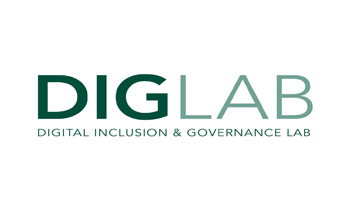 The DIG Lab was founded by Government Associate Professor Philip Roessler and Assistant Professor of Government and Data Science Fiona Shen-Bayh in spring 2021. It operates out of the Global Research Institute, William & Mary's multidisciplinary hub for applied global research. 
To date, DIG has produced some of the first experimental studies on the effects of reducing the mobile gender gap, in which women in many low-income countries are significantly less likely to own a mobile phone compared to men. Working in Tanzania in East Africa with support from the Bill & Melinda Gates Foundation, one study led by Roessler found that in as little as 13 months, increasing women's mobile phone ownership, especially smartphones, boosted a household's living standard by 20% as measured by consumption.   
The research team has just fielded a follow-up study in Malawi in Southern Africa with the support of a 2019 Gates Foundation Challenges Call to Action Award. 
"The digital technology revolution has changed and continues to change the world in which we live — socially, economically, politically. Scientific research is scrambling to understand how and to what effect," Roessler said. "Building on our previous experimental research, we are well positioned to contribute to this endeavor and aim to scale our capacity for scientific and policy impact through the DIG Lab." 
Shen-Bayh is interested in digital governance but from a different angle. Her research centers upon the politics of authoritarian regimes and emerging democracies, specifically the legal and judicial instruments of power, by drawing on a combination of contemporary and historical digital data sources. As a Data Science faculty affiliate, Shen-Bayh's research and teaching leverages new sources of big data from the Global South to understand the challenges of promoting access to equitable justice and the legacies of autocratic rule. 
In the future, DIG plans to conduct more research on how social media and smartphones are affecting societal polarization and political trust in democratic institutions. 
W&M News spoke to Roessler and Shen-Bayh about the work of the DIG Lab. The interview has been edited for length and clarity. 
In addition to researching the benefits and consequences of digital technologies in developing countries, what are some other objectives of the DIG Lab?
Shen-Bayh: We want the DIG Lab to emerge as a globally renowned research center for rigorous, high impact research on digital technology and its social, political and economic consequences. In the process, the lab will provide William & Mary students with unrivalled learning opportunities — both through lab-related course offerings and as collaborators on cutting-edge research projects. 
Roessler: Indeed. In our experimental study in Tanzania, William & Mary undergraduates were involved in every step of the process — in project design, piloting, implementation, analysis, and dissemination of results to policy makers and stakeholders. 
How will DIG research influence policy?
Roessler: Policymakers are starved for insights into the systematic effects of digital tech. They, of course, know digital tools are affecting all facets of life, and they are trying to stay on top of this quickly changing space. But the demands on policymakers often preclude the implementation of methodical and time-consuming research that can provide a more comprehensive perspective. This is what we offer. For example, surely smartphones are an invaluable tool that many cannot live without. But their precise impact on economic livelihoods — and why they benefit some rather than others — has been unknown up until now.
Shen-Bayh: Thus, we aim to provide policy-makers, private enterprises and development organizations with such an evidence-base to better design policies to increase digital inclusion and ultimately maximize technologies' societal benefits, while minimizing their potential harms.
The Tanzania experiment was a breakthrough in many ways. Phil, what did you find most interesting about the Tanzania results?
Roessler: We showed that getting smartphones into hands of women — and thus closing the gender smartphone gap — had massive economic effects on low-income households. But for these gains to materialize, the women had to retain control of the smartphone (literally, they had to still be holding the smartphone we gave them at the end of the study). Yet, only some 33% of participants were still holding the smartphones provided. This points to the importance of not just increasing access to tech but increasing women's property rights over mobile technology and shifting community norms to uphold those rights. 
As the digital tech revolution accelerates, first order questions about access and ownership to mobile technology do not go away, they only increase in importance. This has been illuminated by the COVID-19 Pandemic. As school, work, and commerce went digital, what happened to those disconnected? Did they fall further behind? Unfortunately, a fair amount of initial evidence suggests so. 
What are the goals of the smartphone study you fielded this summer in Malawi?
Roessler: Our study in Malawi builds directly from our research in Tanzania. We aim to better understand how to strengthen women's property rights over smartphones — and thus increase their retention and control of the tech. To do so, we have teamed up with a non-governmental organization (NGO) based in Blantyre, Malawi — the Girls Empowerment Network (GENET) — and Malawi research organization, Institute of Public Opinion and Research (IPOR), that developed a program to train women how to use smartphones. But just as importantly, the program also engaged participants' husbands, who were invited to the training meetings, to elicit their recognition of the right for women to also own smartphones, with the goal of shifting community beliefs to uphold digital equality.
Fiona, tell me more about how digital information may affect our understanding of governance in the Global South.
Shen-Bayh: Recent transformations in digital technologies and the increasing availability of digital data globally have created unprecedented opportunities to analyze governance in the Global South. One of the greatest innovations in recent years is the digitization of government archives, which provide researchers from around the world direct access to text records that might otherwise have been costly to find or inaccessible. One of my recent articles makes use of such data to understand drivers of judicial bias in emerging democracies. Our analysis draws on an original dataset of nearly 10,000 web-scraped judgements from the Kenyan High Courts where we find that judges are significantly more likely to deliver favorable rulings to coethnic appellants. We also leveraged recent innovations in natural processing to analyze the sentiment of legal judgments and found evidence of bias in the literal text of these decisions. 
As I aim to show in future work, such data present the opportunity to enhance understanding of the most pressing challenges confronting autocratic regimes and emerging democracies, including questions of government performance, legislative output, and judicial decision-making.