W&M recognizes student and employee values in action
William & Mary's fall Values in Action award recipients exemplified university values across the spectrum and have been recognized accordingly.
After being established by two anonymous donors, the inaugural Values in Action awards were given to faculty and staff members in the spring. Student organization awards were added this fall.
The award recognizes William & Mary student organizations, faculty and staff who demonstrate the university's values of belonging, curiosity, excellence, flourishing, integrity, respect and service. Two individual faculty and staff members and five student organizations were selected for the fall. 
"We are thrilled to see William & Mary faculty and staff members once again recognized for leading values-driven lives and to expand that recognition to now include student organizations," said the donors. "The stories we have heard about the people and groups who have been nominated for these awards have been beyond expectation. While we may only be able to recognize a few, the university should be proud to have so many who are truly deserving."
The faculty and staff recipients are Larry Gray, a housekeeper with facilities management, and John Riofrio, program director and associate professor of Hispanic studies. They were selected from a pool of more than 30 nominees including professors, administrators and other employees representing departments, schools and units across the university.
"The several hours I sat aside during the week to review the dozens of applications quickly became my favorite part of the day," said David Trichler, co-chair of the faculty/staff selection committee and associate director of W&M's Global Research Institute. "The chance to read and feel of the joy and gratitude of those who nominated their colleagues was the best possible gift this holiday season. It is clear that W&M has a foundation of creativity, excellence and goodness, and we are deeply grateful to be part of this community."
Honorees from student organizations are Best Buddies, Filipino American Student Association, Innocence Club, Mock Trial Team and The Flat Hat.
"Student organizations are such a vital part of the William & Mary experience," said Anne Arseneau, director of Student Leadership Development and coordinator for the student organization entries. "We are so grateful that the donors for the Values in Action Award recognized this as well. We are thrilled to be able to give our student organizations the opportunity to reflect on how their groups demonstrate and make visible our university values."
Nearly 40 student organizations applied for the award, according to Arseneau. All the applications shared compelling narratives and examples of how and where the university values have been centering and aspirational to organization activities and initiatives.
"The five recipients offered particularly compelling examples of how the university values have guided their efforts," Arseneau said. "Student Leadership Development looks forward to offering this recognition opportunity again next semester so that even more student organizations can be recognized."
Individuals will receive $2,500 each and student organizations $500 each. At least two Values in Action awards will be given each semester to faculty and staff through spring 2023, with student organization awards continuing through spring 2023.
Faculty and staff
Larry Gray, Blair Hall housekeeper
Facilities Management

Gray, who works in facilities management as housekeeper for Blair Hall, was selected for his embodiment of numerous university values.
Paul Mapp, associate professor and director of graduate studies in the Department of History that is housed in Blair, nominated Gray. Mapp's examples included Gray tirelessly and carefully cleaning Blair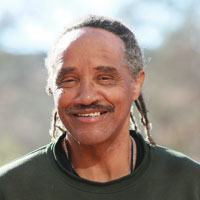 last year when very few faculty and students were working in the building, frequently talking with faculty and students to foster an inclusive work environment and building on the connection the two have as military veterans.
"We both feel we learned a thing or two from our youthful service and wonder how we might translate our experiences into something useful for the students we work with," Mapp wrote. "I find this difficult, but talking with Larry has really helped me to think about how to relate what we may have learned about coping with stress, or working with all kinds of people, to young students — without coming off as tedious old guys. Larry has showed me some ways to try and turn experience into sagacity."
Tuska Benes, associate professor and chair of history, listed excellence, integrity, curiosity and service in her supporting endorsement.
"Most inspiring for me has been Mr. Gray's advocacy on behalf of the housekeeping staff and his mentorship of new hires," Benes wrote. "I am daily struck by the deep thought he invests in the wellbeing of others and his ability to navigate complex institutional structures to improve working conditions for his colleagues."
John Riofrio, director and associate professor
Department of Hispanic Studies

Riofrio, program director and associated professor of Hispanic studies, was nominated for his work with students in the inaugural Posse Scholars program.
Alina Uzakpayeva '25, a Posse Scholars student whom Riofrio mentors, nominated him for his support of the scholars in every possible way from academics and excellence to person wellbeing. He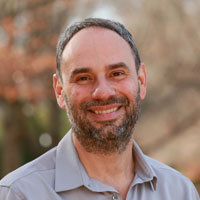 constantly suggests new challenges for each of them to promote curiosity and flourishing, Uzakpayeva wrote in her nomination.
Serving as mentor for the Posse Scholars, Riofrio holds group meetings every other week and meets individually with each scholar on a biweekly basis. He also organized numerous events for them to attend and has introduced the scholars to a variety of communities and people eager to meet them, according to Uzakpayeva.
"Rio constantly suggests new challenges for each one of us to promote curiosity and flourishing," Uzakpayeva wrote. "He welcomed our group of 11 people into his home for dinner on multiple occasions which created a sense of home and belonging for us as freshmen."
Supporting endorser Keon Parastaran '25 called the dinners "a classic touch of Rio."
"A touch of hospitality and service and kindness that goes far beyond what even a Posse mentor is required," Parastaran wrote. "Since day one he has been our unwavering advocate, someone who is unconditionally committed to support us all. In such a short amount of time he has grown to deeply care about all of us Posse scholars, and he treats us with such amazing compassion and caring."
Student organizations
Best Buddies
Honored for illustrating the university value of belonging, Best Buddies pairs W&M students one-on-one with adults with intellectual and developmental disabilities. Founded on the principles of inclusion and respect for all, the organization's constitution states that all are welcome into the club regardless of ability or any other status and members try to exemplify this each day, according to their award application.
Numerous students in the club have disabilities themselves and work to create an environment where everyone feels included.
Pairing up students and buddies with disabilities to host monthly events exposes more than 100 William & Mary students to perspective they may have never thought about before and engages them with someone very different from themselves, according to organizers.
During the first week of March, Best Buddies hosted nine events that were virtual and in-person to bring awareness to being inclusive of all and ending the use of a derogatory term it feels should be eliminated for good.
Filipino American Student Association
The Filipino American Student Association was honored for the value of service. The group's efforts include diversity initiatives, fundraisers, culture presentations, and its members emulating the organization's values. This past semester in light of violence against people of color throughout the U.S., FASA sought to become actively allied with communities whose voices it could amplify.
FASA, along with the Center for Student Diversity and Asian American Student Initiative, hosted Solidarity Series, a three-part series that aimed to support the Black Lives Matter movement. FASA also hosts a Leadership Action Summit every year and participates in a variety of service events for the Williamsburg community and beyond.
Seeking to fulfill its service goal of aiding communities in the Philippines that may have been impacted by COVID-19, FASA held a sticker fundraiser to benefit For Our Farmers, a nonprofit aiming to aid local farmers and fisherfolk affected by the pandemic and Typhoon Ulysses
Other projects include yearly support working with farmers at local KelRae Farm, a pandemic letter-writing event to send to elderly people to raise their spirits and spreading cultural awareness through culture nights and presentations.
Innocence Club
The club's mission is to educate members about wrongful convictions, advocate for criminal justice reform and fundraise for local innocence-related organizations. Curiosity is a value crucial to its mission and is the W&M value for which the group was honored.
Club members strive to encourage one another and the general student body to genuinely want to learn more about the faults and potentials of the justice system, according to their award application. They host weekly informational and discussion-based meetings about issues in the justice system, from eyewitness misidentification to bail reform.
The hope is that the knowledge gained provides insight, challenges perspectives and inspires students to take action to advocate for wrongful conviction reform. "We truly believe that piquing members' curiosities is critical in fostering a true dedication to the issues we discuss," according to organizers.
For national Wrongful Conviction Day in October, the club organized a campus-wide chalk campaign, a multi-station tabling event outside Sadler Center, and a guest speaker event. After an exoneree from the Innocence Project told of his experience of being wrongfully incarcerated for more than 10 years, more than 20 people joined the club.
Mock Trial Team
Adapting to using technology during the pandemic's in-person limitations, the team is honored for its pursuit of excellence. Team organizers said members didn't just learn to navigate Zoom, but attempted to innovate and create engaging performances and educational experiences through the new virtual platform.
Seeking to make sure that every member could still achieve, its executive board used efforts that included connecting with volunteer coaches and attorneys who specialize in court technology used in actual trials. "This ensured that we were growing and adapting to online mock trial in a way that was applicable to the real world," organizers wrote in their award application.
During the spring semester, for only the second time in program history, the group was able to send multiple teams to the championship qualifying round and also have its top team at the American Mock Trial Association's National Championship Tournament advance as one of the top 40 undergraduate mock trial teams in the country.
Competing at nationals required intense effort and collaboration, with only one month to prepare the plaintiff and defense sides of a 200-page long new civil case, according to team members. At that tournament, Bailey Ward '22 became the second all-American witness in the program's history.
The Flat Hat
W&M's student newspaper, The Flat Hat, was selected for demonstrating the value of integrity. Newspaper staff members have implemented numerous initiatives in the past year to make the publication more transparent and to deepen the connection between its staff and the community at large, according to its award nomination.
Last semester, editors introduced the new role of ombudsman, which takes complaints or comments on the paper's reporting from the community and investigates them internally. "Through our discussions on standards and practices within the paper, our staff has a better understanding of journalistic ethics, which is critically important even for unpaid student journalists," editors wrote in the nomination.
Leadership also opened up a tip line last semester to engage with students and community members. They also implemented an open and transparent guide to the opinions section to emphasize transparency about staff opinions writers, increased citation of sources and a firm no hate speech policy.
More recently, staffers created a financial transparency guide for readers so that they know where the group's funding comes from to be transparent and ethical about its funding sources.