W&M Cybersecurity Challenge with NATO ACT draws students from 43 universities worldwide
On Friday, Nov. 12, for six exciting hours, the Reves Room was transformed into Command Central for the William & Mary's Global Innovation Challenge (WMGIC) x North Atlantic Treaty Organization (NATO) Allied Command Transformation (ACT) Cybersecurity Challenge. 
Underneath the portraits of Emery and Wendy Reves and Frank Shatz — and a few feet from a signed letter from Albert Einstein, just under two dozen student volunteers sat with their laptops at tables. Their headphones and mics on, they monitor their respective teams, quietly issuing instructions, timing presentations and shepherding mentors and judges in and out of their breakrooms.
They represented different majors and varying levels of experience with WMGIC, but they worked like seasoned pros, unflappable, able to speak in hushed but assertive tones and totally dedicated to following their assigned team from beginning to end of the competition.
The podium and banner were in place, as was the video camera for recording the introduction and closing ceremonies. WMGIC directors moved quietly from station to station, checking progress and offering guidance when necessary. Tyler Lawrence from the Reves Center was stationed at the back of the room, managing the webinar and photo documentation.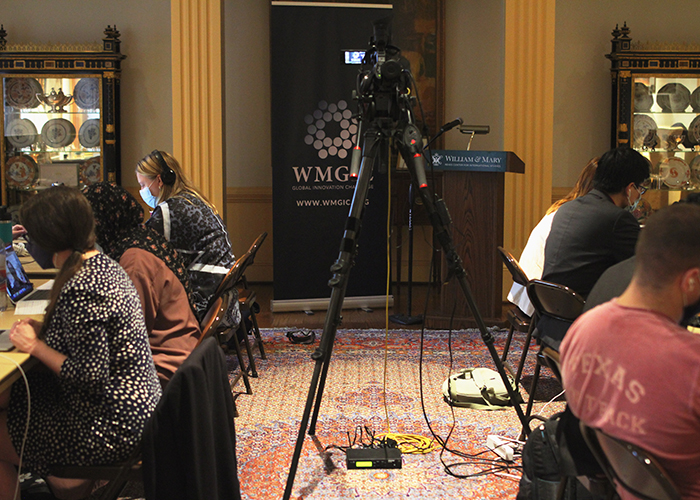 Kathryn Floyd '05, director of William & Mary's Whole of Government Center of Excellence, served as host and staff, monitoring the presentations and pitched in as a mentor when necessary, seamlessly switching gears but never losing her characteristic high energy and enthusiasm.
When the event went live at precisely 8 a.m., Thomas Liu '22, president of WMGIC and emcee of the opening ceremony announced to a worldwide audience via Zoom, "Together, our participants, judges and mentors represent over 16 countries across the NATO alliance spanning over 11 time zones from California, where it's currently 5 a.m. and Turkey where it's already 4 p.m."
Liu was followed by Vice Provost of Academic and International Affairs Steve Hanson, who helped to give some William & Mary context: "This is a perfect event for William & Mary. We are in many ways America's first global university, having been founded in 1693 by King William and Queen Mary. We're also a military friendly university and we enjoy wonderful partnerships with our military and federal colleagues across the country. And now across the world, too.
This event also represents William & Mary's interest in student empowerment. We are a student driven university in many ways and this event is largely organized by our students. We now know that you around the world are participating in that same kind of student innovation experience, which we're really proud of."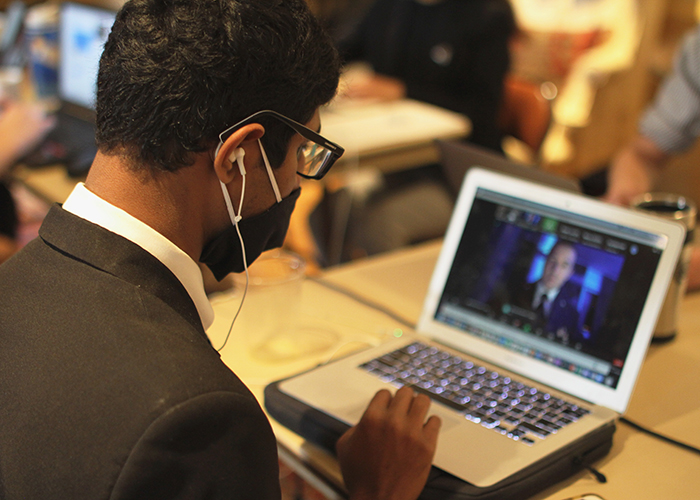 Hanson then introduced Kathleen T. Jabs, Virginia's acting secretary of Veterans and Defense Affairs, who reinforced the importance of the topic of the competition: "Our Virginia National Guard cyber teams are on alert to help cities and localities around the Commonwealth. I'm very grateful that such young minds and bright minds are gathered together to work on this problem, and I commend you all for your dedication and to seeing what type of solution you come up with to battle misinformation. It's definitely a problem for our times."
Col. Bernd Hansen, NATO ACT Cyberspace Branch Head, delivered the keynote and gave the students, mentors and judges their marching orders: "Today we are looking forward to hearing the voices of our youth, to benefit from fresh thoughts and new ideas. Today's challenge aims at interdisciplinary collaboration to create innovative solutions for current global issues. NATO and its allies need to constantly adapt, transform, and increase resilience in cyberspace. Please do not hesitate to be bold and disruptive in your proposals and recommendations while bearing in mind the actionability and feasibility."
At 8:30 a.m., the ceremonial obligations fulfilled, now came the truly challenging part: The competition had begun.
A firm foundation but a new direction
On Oct. 14, when WMGIC announced its partnership with the Whole of Government Center of Excellence and NATO Allied Command Transformation (ACT) to hold the first WMGIC x NATO ACT Cybersecurity Challenge on disinformation and election interference in the cyber realm, there were hopes that they would elicit a good response from student teams. But it was a new venture for all partners involved, and they tried to keep expectations realistic. After all, the partners brought proven— albeit different — strengths to the venture.
Established by students at William & Mary in 2017, WMGIC has successfully presented intercollegiate case competitions encouraging interdisciplinary collaboration for five years, but the cyber security element was new.
"WMGIC has historically focused our annual case competition around international and sustainable development, so the new partnership with NATO ACT through the support of the Whole of Government Center of Excellence is indeed unique," says Liu . "We were thrilled that NATO ACT was interested in partnering with WMGIC on the event and its willingness to review students' innovative proposals after the event to determine its relevance for NATO and the policy community writ large."
The reason for the inclusion of NATO ACT and the broadened focus for WMGIC came from Floyd.
"I've admired the WMGIC leadership ever since we interacted during a Whole of Government course," she said.  "Their core challenge model addresses sustainable development problems, which is an essential component of international security. With NATO ACT, we were looking for a way to have senior level policy makers interact with fresh — indeed undergraduate — ideas related to combating disinformation. It was a natural fit to pair WMGIC's model with this a different global problem, cybersecurity."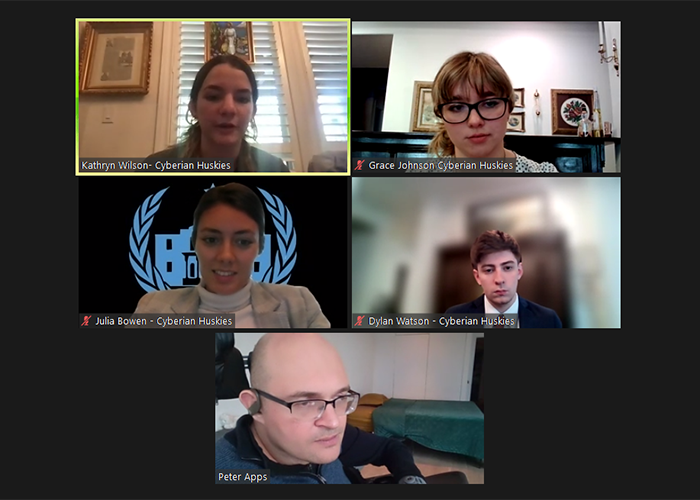 For NATO ACT, the collaboration also made sense. At the announcement of the challenge, Alberto Domingo, ACT Cyberspace technical director, explained their reasons for establishing the partnership: "ACT is NATO's warfare and capability development Command, leading the military adaptation and transformation of the Alliance to ensure it is capable of meeting the challenges of today and tomorrow. We work very closely with a wide range of stakeholders (from NATO bodies, Nations, Industry, Academia, etc.) to guarantee that NATO remains fit for purposes in the cyber realm. Partnering with William & Mary — especially on this event with WMGIC and the Whole of Government Center of Excellence — promises to enhance our network and creative capabilities."
The three partners were on board, but whether this new competition would attract a significant number of students, universities and mentors was not clear.
The call went out for participants: It was open to undergraduate students in universities nationwide and internationally from NATO Member Nations. Each team was comprised of three to five students. All levels of experience, and all majors were welcome. One caveat: The entire event would be conducted in English.
A multiplier effect 
Any concerns about low interest were quickly allayed.
As a benchmark, previous WMGIC hackathons have hosted on average 20 to 30 teams of undergraduates, a respectable number, although they hoped for maybe 40 teams.
Working through the usual WMGIC contacts, but now amplified by Whole of Government and NATO worldwide contacts as well as the Global Education Office's exchange partners resulted in an unforeseen multiplier effect.
Nearly 300 undergraduates from 53 universities worldwide applied to compete, with several teams formed in the last 24 hours before the start of the competition.
"We were overwhelmed by the interest and positive response from students not only in Virginia and the United States but across the entire NATO Alliance," said Nathaly Perez '22, co-director of the Challenge. "As a result, our team had to expand the event's capacity by adding two streams (16 teams) within the last week to a total of 56 teams competing."
The 56 teams were organized in seven streams (named, appropriately per NATO's phonetic alphabet, ALPHA to GOLF). There was ultimately a waiting list.
Increased diversity and access
In addition to the expanded network for outreach, the virtual nature of the competition also enhanced participation and diversity. Teams were formed both within and across both universities and national boundaries.
And the universities represented truly were global, ranging from: Ashland University to Antalya Bilim University (Turkey); California Maritime to Cardiff University (United Kingdom); Hamilton College to Humboldt Universität Berlin (Germany); Stanford University to Sciences Po (France); University of Texas at Dallas to University of Warsaw (Poland), and so many more. 
The cross-university teams were organized by the students themselves, based on previous connections. A few applicants did not have teams, so WMGIC created a team for them, made up of students from William & Mary, Cambridge University, and the University of St Andrews. The participants named their team "CyberOps."
For Camilla Yeleussizova '22, a public policy major, it was her first time participating in a WMGIC event: "I wanted to dip my toe into cybersecurity, as I am considering my future prospects. I requested to be added to a team since I applied by myself, so this was my first time meeting my teammates." It was a new experience for her on all fronts, but she was glad she participated. "I didn't know what to expect of the day but I was pleasantly surprised."
Her teammate Justin Cresent '25, was enthusiastic from the start. "I have a passion for cybersecurity and plan to pursue it as a career. This event came into my inbox and I jumped at the opportunity to take it. I loved the experience and hope to bring even more to the table in years to come!"
Camilla was not put off by the cross-university team. "It was gratifying to work with a diverse team, I appreciated the inclusivity of the event, those that had no teams were able to participate as well. The virtual format was cool, as it allowed ease of communication and participation for those all over the world."
Justin embraced the whole experience and is ready for more: "I love my teammates, the challenge statement, and all the mentoring and questions asked by the judges. Participating in WMGIC was an experience I really enjoyed. I did not know what to expect going into it, but as I collaborated and worked through challenges with my teammates I had so much fun and learned new perspectives about our world and other's takes on how to handle cybersecurity issues. Overall, this experience was amazing, and I will for sure be participating again!"
Judges and mentors bring expertise and guidance  
The expanded network from the collaboration resulted in a wide-ranging group of judges and mentors who volunteered their time and expertise to the competition.
"The event went way beyond our expectations in every possible way, not just in the participation from students across the NATO alliance, but also in the highly qualified slate of judges and mentors from the media, academic, private industry, and military communities," exclaimed Perez.
Some of the organizations represented include NATO ACT, NATO CCDCOE, Estonia's Tallinn University of Technology, Cisco, Google, U.S. Army training and Doctrine Command, and among many others. (A complete list is available here).
Floyd explains the value of these kinds of mentors in the competition is not just for students but for the experts, too. "The payoffs are immeasurable. Mentors have the opportunity to apply their expertise in unexpected ways and to have their views impacted by the world as seen by a 20-year-old university student. This cycle of interaction elevates and refines all ideas, building intergenerational networks of thinkers and practitioners. And it is really fun to participate in these challenges."
Lisa Dickson, Senior Account Executive - Defence, Security, Public Safety and Intelligence Portfolio, Google Cloud, voiced a common motivation of the judges and mentors: "I encourage young adults to take action and get involved in issues that matter to them. Seeing the students' initiative and interest is refreshing."
When a mentor was a little late in logging in, Floyd was also able to step in briefly. "I loved it!," she recalls. "Being a mentor allowed me to encourage the students to think in terms of feasibility and practicality, in addition to coming up with a brilliant idea."
The competition's challenge and run of show
The participants were issued the following Challenge Statement:
How can NATO enhance cyberspace situational awareness and readiness in order to combat disinformation online, in particular on social media, where the threat is constantly evolving? 
Nick Berklan '22 drafted both the challenge statement and the case study supporting it. It was a model for any case study or executive summary — detailed, extensively researched, with references and suggestions for more details:
"The case I composed is about Russian information warfare during the Ukrainian election of 2019. It is an exemplary case of how social media is playing an increased role in information warfare. However, the case was merely a primer to engage the minds of the teams about the issues at large posed in the challenge statement. It was my hope that teams would take these things and formulate innovative solutions that NATO could potentially use moving forward."
Teams had to design a plan of action a) that NATO could use considering its capability and administrative constraints, and b) with the goal of project consultation and implementation within a calendar year (12 months), noting that projects should be at least feasible beyond the first year, and preferably scalable.
The criteria for judging were equally weighted among the following: Feasibility & Effectiveness; Creativity; Privacy; Sustainability; and Fiscal Pragmatism.
Their final deliverable would be a presentation to judges with five slides maximum and a 150-word project summary. 
Starting promptly at 8:30 a.m., each team began consulting with the two mentors assigned to their stream in 15-minute sessions. The mentors met separately and thanks to differences in styles, temperament and backgrounds, gave a variety of suggestions and guidance. They did not  hesitate to question and call out inconsistencies and oversights. Some of the common issues that arose included potential overreach –did their idea really fit within NATO's mission — as well as potential costs. Transparency of information as well as the potential use of AI and blockchain were introduced. Building trust was also a common theme, as well as discerning the audience and constituents for the proposals.
At 11:05 a.m., teams presented their 150-word summary and then judging began at 11:20 a.m. The seven streams were judged concurrently. Each team had three minutes to present, after which the judges had three minutes for Q&A and then four minutes for a private discussion to score the presentation.
At the end of the presentations, judges consulted their scores and made the final judgement of the winning team. The seven winners were reported to WMGIC and announced at the live closing ceremony at 1 p.m. Each team presented its winning proposal to the audience. The winners were awarded $500 virtually by Kay Floyd; Professor Teresa Longo, Executive Director of the Reves Center; Liu and Perez Rojas.
The Winners
ALPHA STREAM: Team NATO Potato (University of Calgary; Sciences Po Paris; Leiden University)
BRAVO STREAM: Team Belt & Road (Tufts University; University of Oxford; London School of Economics)
CHARLIE STREAM: Team CyberOps (Cambridge University; University of St. Andrews; William & Mary) (Note: This was the team that WMGIC created from individual applications)
DELTA STREAM: Team LPR (George Mason University) 
ECHO STREAM: Team Net-Tech Warriors (Old Dominion University) 
FOXTROT STREAM: Team Cyberian Huskies (University of Texas at San Antonio)
GOLF STREAM: Team International Strategic Capacity Council (University of Calgary)
Hotwash and next steps             
For the WMGIC team, this was both a learning experience and a success.
"First of all, we learned not to underestimate ourselves. This event was not only double the size of any event that we have run in the past, but it also demonstrates WMGIC's impact runs far beyond the walls of William & Mary, signifying our global reach," says Liu. "Second, the partnership with NATO ACT helps us realize our mission to connect students' innovative solutions with the 'real world,' moving forward, we hope to leverage the WMGIC network to secure such partnerships for our flagship spring event."
Floyd also was impressed with both the ideas generated and WMGIC's execution of the event. "The WMGIC students were every bit as professional as the tabletop planners or wargamers in Washington, D.C. With very little resources, they pulled together a massive international challenge with students as far away as Turkey. I'd work with, and indeed for, them any day."
Alberto Domingo, technical director of Cyberspace, NATO ACT, and one of the FOXTROT judges, was also encouraged by the results and potential. In his closing statement, he remarked: 
"The case study that you have been grappling with today is of at most importance for ACT and NATO. We consciously did not ask you to reflect on a science fiction of scenario, but rather on topics that are of strategic importance for NATO and its allies, and on which we need to act.
"NATO cannot do so in isolation. We need to foster partnerships, notably with academia, which is critical and this event today highlights I hope the multiple benefits of this kind of engagement."
"As one of the judges for this competition, let me tell you that I've been impressed by the quality of the action plans and recommendations that you have come up with. A number of ideas that were presented today were very innovative. Some of these ideas are definitely actionable and worth pursuing…So don't be surprised if you hear from us in the near future."
This event was made possible by WGC and the Cybersecurity Youth Apprenticeship Initiative. Additionally, The Studio for Teaching and Learning Innovation and the Reves Center were also key partners in this endeavor.