W&M students write home to local senior citizens
William & Mary students left campus to return to their homes because of COVID-19, but many of them have found a way to reach back and connect to the place they also consider home.
Sonia Kinkhabwala '21 and Mary Pelson '21 started a pen-pal program matching W&M students with residents of Williamsburg-area senior living communities.
"I think engaging in a pen-pal partnership is a nice reminder that Williamsburg is our home, no matter how far away we may be or what circumstances we may be facing," Pelson said.
More than 150 students have signed up so far and are at various stages of writing letters. They are going to residents of Brookdale Chambrel Williamsburg, Edgeworth Park at New Town and Patriots Colony, as well as senior services clients of the Williamsburg Department of Human Services.
Prior to the pandemic, Kinkhabwala was doing a project focusing on understanding intergenerational relationships as part of the undergraduate think tank Civic Agency Project, she said.
"When the COVID-19 crisis began, I couldn't think about the idea of civic agency without thinking about COVID-19," Kinkhabwala said. "So I decided to pivot my project a bit and create a pen-pal program between W&M students and residents at Patriots Colony military retirement community in Williamsburg."
She chose Patriots Colony because she had already worked with residents through a program she co-coordinates, Intergenerational Insights.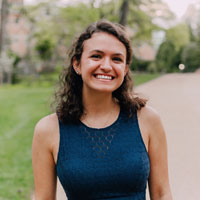 Pelson contacted Kinkhabwala with a similar idea after asking several communities about their residents' needs at this time, and the two teamed up to create a campus-wide opportunity for students to connect with numerous residents.
For Kate Donati '20, it is a great way to break up the current monotony.
"I loved the pen-pal program because I felt how stir-crazy I was already going because of social isolation, and I thought it'd be a great way to strike up a friendship with someone who was also stuck indoors," Donati said.
"It's wonderful to be able to make these connections with members of the Williamsburg community that I rarely get the chance to interact with. Hopefully, we both can feel a little less lonely and start looking forward to mail call."
Caroline Donnelly '22 got involved because she has always had a soft spot for the elderly and misses her grandmother, who had lived with her family since 2007 and passed away in November.
"I'm participating in the pen-pal program because I miss being able to speak with a strong female figure who is substantially older and wiser than myself," Donnelly said.
Kinkhabwala and Pelson have split up the student pen pals between the three facilities, according to Pelson. To ensure that letters go to residents who need them most, student writers' first letters go to a resident programming director at their assigned retirement community, who then passes along the letter to a resident especially in need of social connection. The resident then responds to the student, beginning the pen-pal relationship.
"I spent this past semester abroad at the University of Oxford and really missed the broader Williamsburg community, not just the campus community," Pelson said. "I knew that some of my peers felt the same way after leaving campus, and I wanted to find a way to make sure students could keep being deliberate and engaged members of the Williamsburg community even when we aren't physically in that space.
"After seeing the way coronavirus has impacted my own grandparents, I especially wanted to focus on connecting with Williamsburg elders, who may be facing heightened social isolation right now."
Participation is high, and their fellow students seem eager to stay connected with Williamsburg community members.
"We are so grateful for the positive response from students and the ways that staff at these communities have worked with us to make this idea a reality," Kinkhabwala said. "We see the pen-pal program as a means for mutual support during a difficult, straining time for all.
"As older adults are at a heightened risk of social isolation and contracting the virus, we also see this as a way to show up and stay connected to a vulnerable population in our community even if we cannot be physically present."
Students see multiple benefits to being involved.
"I think so much of this time is marked by the question of how to stay connected with others and meet new people when we can't be physically together," said Abhi Chada '20. "I thought this was an incredible way to meet new people; people who have seen so much in their lifetimes and can share so much from their experiences in a period of uncertainty.
"I am excited to connect with these seniors, who are part of a town and community I have grown to love during my time at William & Mary."
Selene Swanson '22 said she signed up because she was looking for a way to connect with the Williamsburg community from home.
"The pen-pal program also offers the opportunity for me to continue learning from intergenerational relationships, which has been a goal of mine this year as a member of Sonia's Intergenerational Insights group," Swanson said.