W&M senior graduating with a world of experience, reflections
Patrick Abboud '20 is looking at his world through new eyes this spring.
Since arriving as a freshman at William & Mary, he has grown and changed to such an extent that even this very different last semester is much appreciated, he said. Abboud came to the university unsure about what he wanted to study, and chose that path based on opportunities and relationships that developed.
Although he is from rural Ohio, Abboud chose to remain in his off-campus apartment in Williamsburg for the remainder of the school year after classes moved online because of COVID-19.
"I just decided to stay because I really like this place and I didn't quite want to leave it yet," Abboud said.
He majored in religious studies, spent the spring semester of 2019 studying in Australia and plans to join the Peace Corps. He got interested in his area of study after taking several classes in the department, waiting until his sophomore year to declare a major.
"I grew up with a really conflicting parental religious household," Abboud said. "My father's very, very strictly Catholic. My mom is what you would now call New Age Agnostic, but she would say she's like doo-doo doo-doo or something. She likes to believe in all sorts of things; and we had lots of conversations about that growing up.
"So that sort of conflicting interest pushed me to look into it. And I'm personally interested in service."
Looking to explore his own ideas of service as affiliated with religious organizations and to understand it in a different way, he ended up being led to study it. He learned a lot of different things about religion through that, he said.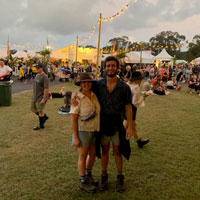 Last spring, Abboud studied in Australia on a variety of topics including the country's terrestrial environment, supernatural religious beliefs and an independent study on Aboriginal Australian spirituality.
 A year later, wildfires ravaged the country and Abboud learned that places he had visited and had experiences in had become uninhabitable.
"It was really devastating," Abboud said. "Me and a lot of my friends that had met in Australia had been talking up to when the wildfires got really bad and mentioning how things were just almost like apocalyptic. You get to see the sky really, really blacked out just from your homes.
"And they all were just describing the distress of having to pick up and move and to flee to other places in the country."
What had been the scene for fun and leisure in his mind all of a sudden was completely different, changing the community, tourism and everything for the people who live there, he said.
"They take so much pride in their environment, which is something that we I think have a hard time understanding," Abboud said. "Us seeing wildfires is like a tragedy. And it is a tragedy, but through the eyes of people that really, really care about space and place and through about their geography and especially the animals that live there …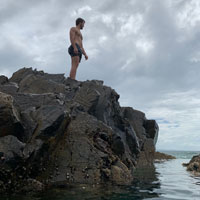 "I can't really imagine what sort of pain that caused and is still continuing to cause. So it was really hard. It's hard on account of knowing people there that are going through a lot of terrible things right now."
Also early this year, his own future blueprint for pursuing meaningful work in his interest areas of community development and environmental sustainability took a turn. He had been accepted into the Peace Corps in October of 2019 with plans to do youth development work in rural Mongolia starting this summer.
In January, that trip was canceled for reasons unknown. Months later he accepted a reassignment to Malawi, which was quickly put on hold because of the COVID-19 pandemic.
Currently all Peace Corps initiatives are suspended until at least Oct. 1, at which point they will be re-evaluated, according to Abboud. Unsure what he will do in the meantime, Abboud began managing the other major changes to his life this spring, which were online learning and social distancing.
"I'm here and I walk around campus in a place that was once full and is now completely empty, and it's like space changes, and people that I love here," Abboud said. "And I had a community here that I could never have imagined having when I came to school. It's not something that I have at home. And the people here and their kindness, I never felt like I was taken for granted and I still don't think I was.
"But there's a sense that you have that you just didn't pay enough attention. Because when it's gone, you feel the weight a lot more than when it's there."
New ways of connecting and communicating have been an adjustment for him, a person who relishes being able to be physically present with someone.
"It's opening avenues for personal exploration or growth that I wasn't expecting," Abboud said. "But also it's like you can't get around the fact that it is just baseline disappointing as well because you've planned for something."
Initially flummoxed by how hard the academic load was as a freshman, he said he grew into it. He also learned to be more vulnerable and honest with people.
"It took a lot of growing to appreciate how lovely it is here," Abboud said. "And the fact that it took work made me really appreciate it. And I was really focused on this last semester being a way to almost sanctify the place, and really appreciate it for what it's done for me and how good it's been to me.
"And I still get to do that, just in a different way, in a different medium."