Series explores lived experiences around ability and disability
Nothing about us without us.
That's one of the mantras of the disability rights movement and a sentiment that helped frame the first in a series of discussions about ability and disability taking place this month at William & Mary.
"Another common phrase in the disability rights movement is disability rights are human rights and disability rights are civil rights," said Professor of Practice Christina Jones. "These seem obvious, but they point to the inhumane and uncivil ways that people with disabilities have been treated in the not-too-distant past."
Jones is the director of the PELE (Parents Engaged for Learning Equality) Special Education Advocacy Law Clinic at W&M Law School. She is also the cousin of a young woman with autism, and she became a person with a disability herself last year when she was diagnosed with an autoimmune disease.
Jones was one of dozens of people who shared their stories in small group discussions Feb. 13 during the first session of this year's Daily Work of Justice series. Sponsored by the Office of Community Engagement, the series "invites people directly involved in an issue to share their lived experience, as a way of providing space for others to engage with empathy, understanding and action," according to its website. This year's series is co-sponsored by The Arc of Greater Williamsburg, which serves adults with intellectual and developmental disabilities. Two faculty members and a student with a disability were also part of the committee that planned the series.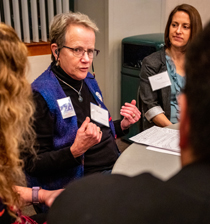 "William & Mary has been the backbone of support for The Arc for over 40 years," said Executive Director Pam McGregor. "We have had the benefit of incredible faculty and student volunteer support, interns, athletic teams, the Best Buddies and the Pi Phi women's fraternity who serve as tutors for our literacy program. With the support of William & Mary over the years, we have thrived and enriched the lives of many of our Arc clients and family members."
All of the sessions are held from 6:30 to 8 p.m. in the Sadler Center's Tidewater Room. The next is planned for Feb. 20 and will focus on people who work within systems to support those with disabilities. The third, scheduled for Feb. 27, will center on advocates, policy makers and community leaders who work toward change. The sessions are free and open to the public, but attendees are asked to register online.
"For participants who are living with a disability, they have an opportunity to tell their story, have their voice heard and share a perspective a non-disabled person would not have," said McGregor. "For a community member listening, they gain insight, understanding, and an awareness of the challenges and realities of living a life with a disability. The participants also have an opportunity to see how a person with a disability has many abilities and has goals and dreams like everyone else."
"The goal of DWOJ is to break down barriers and misconceptions about people with a disability and to raise awareness of the many ways a community can embrace and empower these amazing people."
Jones opened the first session saying that disability presents itself differently in each person.
"We recognize the many ways people in this room contribute to our campus and our world," Jones said. "We strive to make our campus more accessible, our programs more inclusive and opportunities more widespread, knowing that it benefits us all.
"Our neurodiversity group on campus is a testament to the ways that we think about disability. We focus on people's strengths, and we know that our differences make us stronger and can be advantages. We also recognize that we have a long way to go before we can say that we have a just and fully inclusive society."
Elizabeth Miller, associate director of OCE, asked the participants to listen deeply to one another and share from their lived experiences.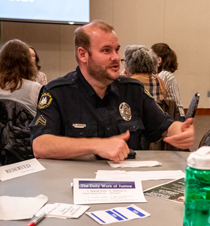 "We have many opportunities on this campus to speak from cited articles and peer-reviewed work, and that's really important, but tonight's a night to use 'I' statements and talk about your life and your perspective," Miller said.
At each table, a mix of students, faculty, staff, students and community members engaged in conversation guided by questions from facilitators. As they shared, they discovered common experiences and offered one another support and advice.
Kathi Mestayer M.B.A. '90, who just completed two terms on the Advisory Board of the Virginia Department for the Deaf and Hard-of-Hearing, was one such participant. During her small group's discussion, a person at her table shared that he wasn't able to hear well in meetings.
Mestayer, who began experiencing hearing loss around the age of 40, shared tools she has found helpful.
"I wanted to talk about that so he knows it is possible to have these meetings remotely with captions," she said.
Mestayer writes for Hearing Health Magazine and serves as a technical consultant on a project to facilitate the development of hearing-assistive technology, sponsored by the Hearing Loss Association of America and Gallaudet University.
She was asked to attend the Daily Work of Justice Session by the Virginia Department for the Deaf and Hard-of-Hearing, and her colleague Larry Herbert from the Hearing Loss Association of America Richmond Chapter will participate in the Feb. 27 session. He's been an advocate for assistive listening systems — something Mestayer would like to see W&M incorporate among other improved accessibility measures. Those would not just benefit people at W&M who may have hearing loss, but members of the community who come to events on campus, too, she said.
"I'm seeing all of these renovations, and we can do it right this time," she said.
Kristen Popham '20 served as a facilitator at Mestayer's table.
"As a student with a chronic illness, over the past four years, I've been able to collaborate with other students with disabilities and learn about their different experiences on campus," she said. "It's rare, though, that I get to engage with fellow individuals experiencing disabilities in the Williamsburg community.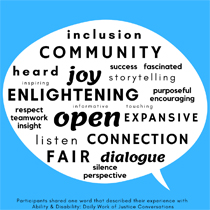 "This was a really wonderful opportunity for William & Mary to connect me with the broader community and help me think about the ways we can expand accessibility not just on campus, but beyond."
McGregor was amazed by every person at her table, she said, including a couple who lost their son with Down syndrome to cancer.
"Their love and gratitude for their son and his amazing zest for life led to them creating a continuing education scholarship in his name for people with disabilities," she said.
Others at her table included a police officer who created stickers to alert first responders that they may encounter a person with autism at that location and for businesses to let customers know they have an employee who is on the spectrum, and an Arc client "who was so articulate and inspiring" and his Best Buddy, a W&M student, who described the community as a team, McGregor said. The Best Buddy program fosters one-on-one relationships with W&M students and community members with intellectual and developmental disabilities.
"I was most fortunate to be a part of a special group of people, and The Arc is honored to have been a part of the formation of this year's DWOJ series," she said.
At the end of the night, the facilitators asked the participants to write a single word on an index card to describe what they thought of the evening.
"The word that I put on the card was 'touching,'" said Mestayer. "It really was, to hear different points of view and different kinds of situations that evolved for people. I'm feeling empathetic, sympathetic, and at the same time, I'm like, I have no idea. I'm just hearing the very surface, and I'm thinking, wow."