W&M testing expanded summer instruction with 2020 pilot
William & Mary is evaluating the feasibility of more robust undergraduate summer instruction and plans to conduct a pilot starting in 2020 to assess possible offerings. 
This is part of the university's larger strategic planning process that began in August and will proceed into next year. 
At a forum Thursday in the Sadler Center's Chesapeake Room, W&M President Katherine A. Rowe spoke to faculty, staff, students and dignitaries, including Williamsburg Mayor Paul Freiling, about her desire to create new summer traditions at the university. 
The forum was an opportunity to outline W&M's intentions to grow its summer programming while also serving as a community design-thinking challenge to brainstorm possible ideas for that expansion. 
Rowe said her vision for the pilot is something "small and iterative and about discovery, so maybe 30 students with an opt-in process, same for faculty members, thinking about testing out a path of how we'll use the summer to deliver a large number of credits, not incidental courses, in a way that would advance our mission, allow for certain kinds of flexibility we don't currently have and generate new revenues."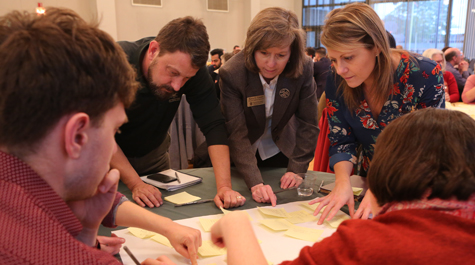 The summer semester pilot could take many shapes. Rowe used the forum to poll the university community on what types of things it wants to see offered. 
Attendees sat at tables and worked together to create ideas to be considered. Their suggestions were then filtered through an informal voting process. 
Some common threads of those suggestions included more hands-on learning opportunities, flexible timelines and more professional and technical development possibilities for faculty and staff members. 
"Most of what we think about doing is completely wide open. We know there's opportunity. We don't yet know how seriously sound or useful that opportunity is," Rowe said. "We are currently working on an agrarian calendar in higher education in the United States, and very few of us are going home in May to till the fields. This is not to say the summer is actually green field. Everybody has a mental model of the summer. Something is happening there, and part of the work of this forum is to service those mental models." 
From the suggestions generated at the forum, a top set of ideas will be refined as a basis for a pilot. Forum participants were provided the opportunity to sign up to be a part of the continuing effort. 
Rowe expressed excitement about the possibility of creating a new summer program at William & Mary, which would in turn lead to new summertime traditions for the university community. 
She shared her idea for a proposed summer tradition called Chesapeake Day that perked up many as they considered the possibilities. 
"On that day, unpredictably sometime in the summer, at 7 in the morning the bell rings in the Wren Building because the president has announced that there are no classes that day and there is no work for staff and faculty," Rowe said. "The amazing folks in dining services have created box lunches, and there are buses to take you down to the beach for the day. 
"The benefit would be that you could be spontaneous in the middle of all this intensive work that you'd be doing together."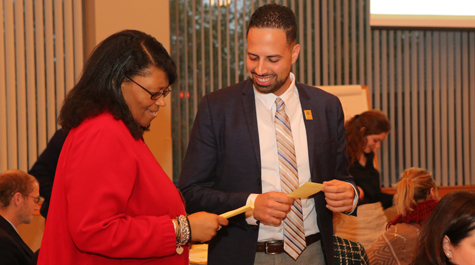 There are two goals for the strategic plan, which will identify the most significant opportunities for the university over the next five-to-10 years. The first is "to advance W&M's distinctive excellence in a rapidly changing environment, raising its profile nationally and globally," according to the strategic planning website. The second is to "position W&M for long-term financial sustainability in a way that aligns its operational and financial models with its distinctive academic mission." 
Rowe said the first phase of strategic planning, a deep dive into W&M's vision and its mission and values, is coming to a close this month. Mission and values statements are scheduled to go before the Board of Visitors at its meeting Nov. 20-22. 
The second phase, environmental analysis, is scheduled to run through February 2020. Phase three, strategy development, is expected to begin in February 2020. 
"As we head into the spring, we're going to be in a phase of filtering and pruning, to look as we think about ways to execute ideas that are generated, the challenges and opportunities that are identified in the fall," Rowe said. 
"We're going to look to generate three-to-four big moves we could make as an institution that will have the following effects: They will elevate our profile nationally and globally; they will advance what is excellent here in our academic mission, and they will help us align our finances with our academic model in a significant way."