W&M Center for Balance & Aging Studies aims to reduce falls & injuries among the elderly
An accidental fall is often the first step in the physical decline of an older person, particularly if the fall results in a serious injury.
"The statistics are daunting," Mike Deschenes said. "When you have that first fall, the next fall is almost certain. The odds of another fall increase exponentially after each fall. And before you know it, you're at the funeral home."
But Deschenes and Evie Burnet, faculty members of William & Mary's Department of Kinesiology and Health Sciences, believe evaluation and intervention can help to keep older people on their feet.
Deschenes and Burnet are working with a new William & Mary initiative known as CBAS — the Center for Balance and Aging Studies. CBAS is conducting a set of analysis and intervention sessions at Williamsburg Landing, a Life Plan Community for those 62 and older.
"We try to identify people who are at high risk for falls so we can intervene now before they have that first fall," Deschenes explained.
Falls are a regular occurrence
Adin Pace is a registered nurse and the manager of Independent Living Health services at Williamsburg Landing. She acknowledges that accidental falls occur somewhat frequently among the residents at her community. Every day, she sees evidence of the "daunting statistics" that Deschenes mentioned.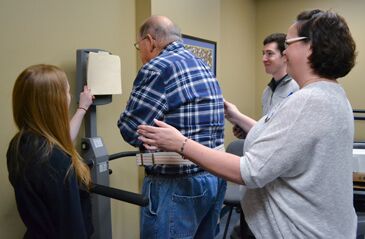 "Most injuries we take care of in the clinic, dressing changes and such, is due to some kind of stumble or a full-on fall," Pace said. "Usually it's skin tears or other minor injuries. But occasionally — especially people on blood thinners — if these residents don't go to the hospital, they will have complications down the road."
She said that the Landing is alert to the possibility and danger of falls: All residents are equipped with a medical alert pendent that is worn around their necks so they can summon help. Pace said that the facility records around two falls each week.
"If it's one of our residents who is more independent — and they don't sustain an injury — they'll just get back up and keep on going," she said.
One day in late February, Pace, a 1997 graduate of William & Mary, was helping Emily Lawson '19 and Abigail Hillerich '19 to process in the residents who volunteered for CBAS assessments. During a pause in the action, Pace noted that not everyone who sustains a fall keeps on going.
 "Just yesterday, one of the participants we were going to see fell and broke his leg," she said. "Unfortunately, he is now in the hospital."
Pressure-sensitive, computer-connected walkway
Evie Burnet, a lecturer in the kinesiology department, supervised the CBAS assessments at Williamsburg Landing. Burnet is a gait specialist and presides over what looks like a super-long yoga mat for gait analysis of the volunteers. It's a GAITRite system, a computer-connected pathway that records each footstep. Passage down the walkway is also recorded by a video camera that tracks step height and joint angles.
Burnet explained that as you get older your gait changes — you tend to place your feet further apart and you usually take shorter steps.
"We're also interested in how much variation there is in one's step length or step width. That variability can be quite telling as well," she said.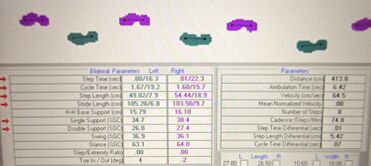 Williamsburg Landing residents approach the walking station one at a time, their faces showing bemusement, amusement or aplomb. Behind a screen, they've been prepped by student members of the CBAS team. They've had their trousers rolled up and their lower joints marked by black paper circles for the benefit of the video camera.
Burnet walks each subject down the pathway. Each subject wears a grab belt in case of a momentary loss of balance. Sophia Zidlicky '19 monitors a laptop connected to the walking station. Ray McCoy, an associate professor in the department, is manning the video camera station along with Kelsey Short '20.
Each resident makes four trips up and down the walkway. For one trip, they just walk. For another, Burnet equips them with a set of dark glasses to simulate nocturnal perambulation.
Then there is the trip that Burnet calls the "cognitive walk." She announces a letter of the alphabet; the task is for the subject to say as many animals that begin with that letter as they walk.
There's also a spoon walk: Burnet places a spoon in the middle of the path. "Go up to the spoon," she says. "Pick it up any way you like." On yet another trip, the subject is asked to step over a foam barrier.
Recorded in three dimensions — plus time
Together, the GAITRite mat and the video camera allow the CBAS team to record a subject's progress in three dimensions — plus time. Step length, width and height are documented. It records variations and idiosyncrasies. It catches each halting step and whether a subject has stepped over the foam barrier cleanly or has deftly swung a foot around it.
Once all the day's subjects have been checked in, Pace joins Jessica Pitts '19 and Kendall Bayless '19 in another room where the Biodex Balance System has been set up. Bayless explains that each subject completes four different trials on the instrument, which is essentially an oversized bulls-eye level.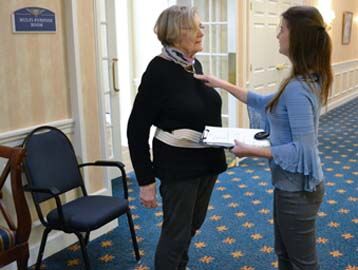 "To start, we center them in the middle of the platform," Bayless explained. "Then we do one test with them standing with their arms crossed, eyes open. Then arms crossed, eyes closed. Then standing on a foam pad with arms crossed, eyes open and then arms crossed, eyes closed."
Williamsburg Landing resident John Marsh enters the room for his session with the Biodex. Pace announces that for the moment, the balance station has become an all-William & Mary session.
Marsh tells the students that he's a 1955 graduate and notes that he was a member of the choir. Pace gently teases him, asking if he joined the W&M choir "just to meet girls." Marsh acknowledges that he met his wife in the choir as he steps up on the Biodex.
Pace remarks that Marsh isn't the only alumnus among the residents who volunteered for CBAS assessments.
"I think a lot of them went to William & Mary, so they want to support the College," she said. "Others were involved in research in their professional lives, so they like the idea of being involved in this kind of project. That's drawn a lot of our folks."
 The last station has the simplest instrumentation: It's just a chair. Hope Fuller '21 is conducting a functional strength test. Fuller asks each subject to get up and down from a chair five times as quickly as she can. Fuller records the time, and then asks the subject to stand and receive a moderate push on the sternum, to check balance.
Deschenes says the battery of tests helps to identify the more at-risk residents and also their particular weaknesses. "Unsteady on the feet" covers a multitude of barked shins, when the actual problem might be issues with muscle strength, balance, gait or cognition — or any mixture.
The 'overachievers'
Burnet noted that the spring cohort of around 60 CBAS subjects is drawn from Williamsburg Landing's independent living residents.
"I call them overachievers," Burnet says. "For the most part, they do very well on the test battery. One of the residents was coming back from surgery — orthopedic surgery. It was interesting."
 Deschenes said that evaluation of the test results will allow CBAS to red-flag volunteers who they believe to be at risk. Burnet added that a few of the participants were obviously at a high risk of an accidental fall.
"Anyone flagged as high risk is notified," she noted, "and we suggest they see their doctor."
She said a red-flagged participant will get special and immediate attention, including an offer of individual consultation and one-on-one training sessions.
 "We don't just want to tag people and say they're at high-risk. We actually want to help them," Deschenes added. "We want to get them out of that category of high-risk."
The CBAS team has begun an intervention phase for the participants who risk of falling are at less-concerning levels. Burnet said the current session is one-on-one, with 15 students giving instruction to 14 residents. One resident has two students working with him, she said.
"All participants in the research study were asked if they wanted to participate in the class," Burnet said. "The focus is on strength, flexibility and balance."
An ongoing 'Triple-Crown' initiative
CBAS is an ongoing initiative that arose out of discussions among William & Mary and Williamsburg Landing representatives. Landing President/CEO Greg Storer, stated "Williamsburg Landing staff were very receptive to this partnership with William & Mary focusing on fall prevention for our residents."
The kinesiology faculty and Dennis Manos, William & Mary's vice provost for research were enthusiastic, as well. Manos arranged for seed funding for CBAS, but he credits Jim Golden, chair of the Landing's board of directors and retired William & Mary vice president for strategic initiatives.
 "Jim's the playmaker," Manos said. "He's the guy who made this happen." 
The initiative involves a large number of W&M kinesiology majors and Deschenes calls CBAS a "Triple Crown" initiative in that it touches on all three aspects of a university's mission.
"It touches on teaching because the students are learning. And we're teaching the WL residents the things they need to be careful of," he said. "It touches on research. We're collecting data and at some point we'll have enough information to present at a national or regional conference. Also, it touches on service to the community — a big service."