Shark Tank: Solving tough problems with innovative data
The Global Research Institute, formerly the Institute for the Theory and Practice of International Relations, made a splash during Homecoming 2018 with the launch of its new name and brand and its Shark Tank competition, now in its fifth year. President Katherine A. Rowe gave the introductory speech to a large audience in Commonwealth Auditorium, and alumni of the contest and from across the university came to learn about student innovation and guess who would win.
At the Institute's Research Shark Tank final event, students pitch their international policy concepts to a panel with the goal of winning up to $20,000 in research funds to pursue their project. They've partnered with professors, alumni and staff to craft fully developed proposals as well as dramatic pitches with the hope of persuading the judges to deem their proposal worthy of funding. So, as exciting as the show is, the staging and drama are merely the public face, the culmination of a lot of work, preparation and substantive research behind the scenes and in the foot-noted and graph-filled proposals the contestants share with the judges.
Why Shark Tank?


The mission of the Institute is to support student and faculty teams to do globally applied research. Professor David Trichler, director of programs for the Global Research Institute, explains that, "As part of that mission we want to support an entrepreneurial mindset. Shark Tank permits the students to get a sense of what it is like in the driver's seat on generating ideas and then building those ideas out through a consultative and iterative process with faculty and practitioners."
Although the glamour comes with the final contest, Trichler sees the value coming in the work leading up the show.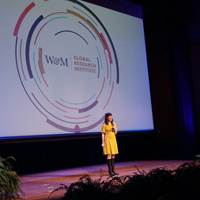 "In Shark Tank they learn persistence," he said,  "the value of picking up the phone or emailing someone with more experience to get smart quickly, how to build a team, the importance of resourcing and knowing your limitations, and ideally, how to define and communicate a problem that needs to be solved and a way to try to solve it."
The final show condenses into a carefully structured 90-minute work over more than one semester. Trichler explained the process:  "Shark Tank happens in two phases. The first is what one might consider a semifinal round, in which students go through a series of workshops and classes and pitch their ideas to a panel of faculty. Last spring they pitched to Carrie Dolan (assistant professor in the Department of Kinesiology and Health Sciences and research fellow in public policy), Brad Parks '03 (co-executive director of AidData), and Amy Oakes (University associate professor for Teaching Excellence and director, International Relations Program); and in the summer it was Mike Tierney '87 (George and Mary Hylton Professor of Government and International Relations and co-director, Global Research Institute), Jaime Settle (associate professor, Government), and Shawna Metzger (visiting assistant professor, Government. Each of those rounds sent two or three students to the final round."
That means that some of the students have been working on their ideas for as long as 10 months. 
The final five


Five projects made it to the final at Homecoming. They were (in order of their presentation):
Supporting Translators: National Security Concerns on the U.S. Failure to Help Allies Abroad by Charles Geddes '19 and Diana Ibarra '20.
The Internet of Things: Why We Need Airbags for the Internet by Lexi Pacheco '20 and Katie Weinsheimer '21.
Mobile Microinsurance: Understanding Barriers to Microinsurance Uptake Among Rural Farmers [in East Africa] by Henry Crossman '19, Darrien Spitz '19, and Kayla Temple '20.
Mapping Resiliency: Geocoding Hezbollah's Social Welfare Investment by Adam Kearney '20 and Alexander Nocks '19.
Food for the Future: A Call for Better Aid (a project to gather and create a framework for data to help predict effects of climate change on crop yields in Cote d'Ivoire) by Andrea Chavez '19, Kia Garrett '19, and Jack Pohlmann '19.
Survival


The William & Mary Sharks this year represented years of experience in development, policy and business, and were clearly knowledgeable about the fields and even the specific ideas pitched:
Peter Atwater '83, President of Financial Insyghts LLC.
Katie Sell Garcia '99, Acting Director, Office of Market and Partnership Innovations, Bureau for Food Security at USAID.
Caitlin Moorman '07, Head of Insights and Analytics at Indiegogo.
Theresa Whelan '87, Principal Deputy Assistant Secretary of Defense for Homeland Defense and Global Security, Department of Defense.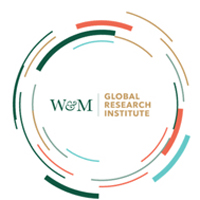 They didn't indulge in the kind of grandstanding for the cameras or insulting histrionics that increase television ratings, but they also didn't cut the students any slack. Whether asking why they hadn't pursued private sector funding to wondering what the actual value of the research or end product would be, they urged the students to refine their thinking and support their premises. They also made suggestions for improving the proposal. For instance, Garcia noted that not only was the research on microinsurance useful and timely, but that the students should reach out to Michael Carter, professor of Agricultural and Resource Economics at UC Davis, who is conducting similar research and would be a useful resource.
Results


The results of the competition were announced at the homecoming barbecue at the Global Research Institute's Scotland Street offices. In spite of a determined, steady rain, students, faculty, alumni and friends and family members crowded the porch and front lawn to hear Trichler announce the winners. He began by explaining that a frequent part of entrepreneurship is failing and trying again. There would be three winners, and he would work with them to figure out what funding they would receive. He also said he would continue to work with the two teams that didn't win, because he still supported their ideas.
The winners (in no order) were:
Mobile Microinsurance: Understanding Barriers to Microinsurance Uptake.
Mapping Resiliency: Geocoding Hezbollah's Social Welfare Investment.
Food for the Future: A Call for Better Aid.
Links to the concept notes to all projects are available online here: https://wmblogs.wm.edu/globalresearch/shark-tank-2018-concept-notes/
Takeaways


Alexander Nocks of the Mapping Resiliency project was enthusiastic about the win, but also the work that went into it:
"With faculty support throughout the Shark Tank process, Adam (Kearney) and I had the rare privilege of designing our project from start to finish," he said. "Now that we've received funding, we have the opportunity to carry our work even further, implementing our project to produce new knowledge that shapes real-world policies. Being empowered to do all that in undergrad is the Global Research Institute advantage."
But the magic of the Shark Tank is bigger than the win.
Jamie Siminoff, a contestant on the television show had his idea of a video doorbell rejected in 2013. He described wanting to cry after the show. He isn't crying now. Earlier this year he sold his company "Ring" to Amazon for $1 billion, and even better revenge, he's now a guest shark himself.
Not everyone can be a winner at W&M, either. "There is a point during their idea generation and development phase each semester in which I think 'This time, they are not going to pull this off,'" Trichler said. "And each semester, I am impressed by how they keep pushing and thinking and creating to come up with the core of a very good idea, and one that can have an impact."
Tierney often says that the message of the work of the Institute is that a good idea can come as easily from a grey-haired faculty member or an undergraduate. Trichler concurs.
"Good ideas are no respecter of age, and they often do not come as a lightning bolt from the blue, but rather from grit and failure and perseverance. And that is perhaps the best life lesson I could hope they take away," he said.
Rowe sees a value not only for the students, but for the university and the world around us.
"It's places like the Global Research Institute that help William & Mary be the place you come when you have, as they say there, 'unsolvable problems requiring data that is unmeasurable and methodologies that haven't been invented yet,'" she said in her opening remarks. "You come to William & Mary and that's the place to go to do those things. And as we'll see with these students, the future of solving unsolvable problems with previously unmeasurable data, with methods that we're just inventing right now, is bright indeed."