Ellis '88 talks U.S. women's soccer, leadership at W&M Homecoming
Jill Ellis '88 spent part of Homecoming & Reunion Weekend at William & Mary sharing wisdom about reaching the pinnacle of the soccer world as coach of the 2019 World Cup champion U.S. Women's National Soccer Team.
President Katherine A. Rowe hosted a talk with Ellis on Saturday morning in a packed Commonwealth Auditorium about what it took to win the World Cup this year, her continuing relationship with W&M and what it takes to lead in high-pressure situations.
After coaching the USWNT to World Cup victories in 2015 and 2019, Ellis just stepped down as coach after completion of the team's victory tour earlier this month. She is currently serving as an ambassador with U.S. Soccer.
Audience questions included Ellis' favorite memories from her time at W&M; she responded that her memories became more valuable as she looked back on her college years. She said similar in the spring of 2016, when she gave the Commencement address and received an honorary degree.
"I reflected on how many amazing lessons I took away from being here," Ellis said. "I don't remember matches and results; I remember the friendships I made. Collaboration was a big lesson I learned here."
She also emphasized the importance of being the recipient of an athletics scholarship.
"I was a (child) of immigrants … we struggled to make it, and so I benefited from the scholarship," Ellis said. "There are so many brilliant people out there that don't have the benefit of a high-level income to afford certain things. So our ability to pay it forward, our ability to create opportunity for others, is probably one of the greatest gifts. And this school sets you up for success, so giving back is part of our responsibility.
"I recognize that now. That's why I come back. It's important for me to stay connected to my alma mater because it was a platform for me to achieve the things I have. So I think in terms of scholarship, it's a remarkable and incredibly valuable gift if you can do it."
Rowe asked about Ellis' leadership of the women's national team, describing feelings of "gratitude for the vision of fierceness, focus and joyfulness that you have brought to us."
In discussing how the two World Cup victories felt, Ellis described 2015 as a sense of relief and 2019 as more of a sense of satisfaction. Among the key lessons she learned, she said, was that it took all 23 players and their diverse personalities to win.
She made a point to list her non-starters as "game changers" rather than reserves when posting the starting lineup the night before games, Ellis said. Post-game video reviews always started with a shot of players celebrating on the bench to indicate that everybody was a part of each effort.
To get there, Ellis said it took failure to win the 2016 Olympics as a catalyst to decide to make a complete reboot to the team. This included aggressive scheduling of opponents and the deepening of the roster.
"2017 was one of the hardest years of my career," Ellis said.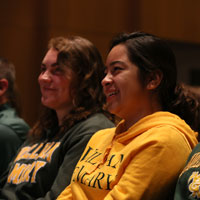 Emphasizing the urgency of constantly evolving and improving, she acknowledged the responsibility to build on past successes.
In 2014 when Ellis took over as coach, the team was ranked No. 1 in the world and just coming off of winning Olympic gold. She put a quote up on the locker room board to put things in perspective: "Even if we're on the right track; if we sit there, we'll get run over."
"As a leader, if I'm the same leader today that I was two years ago, I'm failing," Ellis said. "And I think that has to be the mindset when you're dealing with accountability."
In answering Rowe's question about sustaining focus during the World Cup, Ellis said the U.S. team lives in pressure daily with zero margin for error. They maintained their focus, while she made efforts to see them as people with social and political views — including pay equity and LGBTQ issues — that extend beyond the soccer field.
Fervent support for the team included both young female and male fans, and her players clearly recognized that "their platform and the position they had were powerful," Ellis said.
"We had so much difference on our team that they fully embraced that and recognized that they were no longer just athletes, no longer just female athletes. They were powerful professional athletes in sports that could have a larger reach."
As soccer in the U.S. moves forward, Ellis said it's necessary to expand the possibilities for those coming next.
"I want my daughter to do what she aspires to do," she said. "We have to create the environment we want to be in. We have to have more women in leadership positions."