Project underway to drain, dredge Crim Dell
The waters of the Crim Dell have seen countless William & Mary graduates walk over (or swim through) them, myriad couples pledge their lifelong fidelity to one another and numerous research projects come to fruition — including one that discovered new life.
But the Crim Dell has also seen an ever-increasing amount of sediment through the years as the result of storm-water runoff. That's why, beginning this week, facilities management has begun a project to drain and dredge the iconic, 52-year-old location.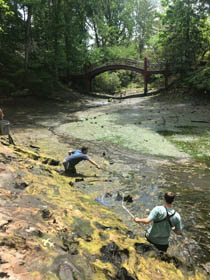 "We're returning it to its original condition," said Project Manager Ben Mulherin.
As part of the bio-retention effort, draining of the pond began this week and took place in increments so that student and alumni volunteers could relocate the wildlife, including snapping turtles, water snakes and fish. An eight-inch pipe was opened to allow the wildlife to move downstream to the Swem Dell, according to Randy Chambers, director of the Keck Lab. The area has been fenced off.
"Students did some fishing and netting and transferred all those catches all the way to Lake Matoaka," Chambers said.
When the bottom of the pond was finally visible, several bicycles, traffic cones and other items were found in the mud and removed.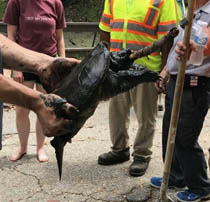 Next week, excavators will move into the space to begin dredging. About 900 truckloads of sediment are expected to be removed by the time the project is completed at the end of the summer, said Mulherin. Although that number may seem high, it's normal for bodies of water like the Crim Dell to accumulate that much sediment over the years, he added.
In addition to dredging, the project will include clearing some of the overgrowth from the shoreline of the pond, pushing the tree line back to about 3 feet. When trees die, their roots die, too, and that causes erosion, said Mulherin. Gabion baskets will also be installed in the place of a sheet pile wall to further help block sediment.
The team working on the project will also install nine bubblers in the pond in an effort to keep algae from blooming, said Mulherin. The pond previously had just one.
Although some work on the Crim Dell has taken place throughout the years, this is the first time since it was built in 1966 that is has been completely drained and dredged. When the project is complete, another such effort won't need to be undertaken for another 25 years or more, Mulherin said.
The project is part of a larger storm-water management plan for the campus, which has been underway for several years and is part of the university's Municipal Separate Storm Sewer System compliance efforts.
Joseph McClain contributed to this story.