Crim Dell project: restoring and revitalizing the heart of W&M
Project removes invasive species, improves accessibility
Located in the center of William & Mary, the Crim Dell — which was dedicated 50 years ago this year — is largely considered to be one of the most scenic and serene places on campus. Yet behind the iconic bridge, the Crim Dell pond is being overrun by invasive plants, deteriorating the area.
A faculty member and a group of ready and willing students, however, are working toward revitalizing that environment and restoring it to its original beauty.
Initially, the Crim Dell Restoration Project began as "No Ivy Day" in 2010, in order to remove English ivy, one of the invasive plant species. However, it did not pick up momentum until the fall of 2014, when Linda Morse, a senior lecturer in the geology department, teamed up with the Office of Community Engagement and the Bird Club, headed by Nick Newberry '17, to make the project a part of Make a Difference Day.
The following spring, the project developed its own subcommittee within the Student Environmental Action Coalition, officially becoming the Crim Dell Restoration Committee. Leading the subcommittee, Newberry, Carolina May '18 and Jesse Smyth '18 have transformed the project and overseen its growth in just the short time it has been active.
"It just kept growing and more people have become interested. And through that, we hope it to grow in visibility at least so more people will know and more people will come and use the Crim Dell," said Newberry. "In the end, that's the goal; we want students to use it because people haven't used it in the past."
Since 2015, the committee has obtained not only one, but two Green Fee grants. The Green Fee was established through a grassroots student initiative aimed at funding sustainability projects on W&M's campus. The project's most recent Green Fee grant totaled $11,497 and is projected to go toward continuing invasive plant removal, planting native plants, improving the trails, installing educational and informational signs and putting in place a rock garden with rocks found all across Virginia.
According to Smyth, the project began by focusing on the most pressing issue: removing invasive plant species that were introduced during an Asiatic landscaping craze in the 1970s and '80s.
"Basically, the initial thing that we're working on is the ecology. We're removing invasive plants and trying to replace them with native ones to the area that are healthier but are actually meant to grow in that type of environment," she said.
During a current typical work day for the project, student volunteers armed with bug spray and tools provided by facilities management go to work cutting bamboo stalks to the very base and digging holes to plant native flowering plants. Students on the bank of the Crim Dell meadow cut away at the invasive stalks revealing the pond hidden behind. On the opposite bank, the other teams armed with shovels place flowering plants around the perimeter of the pond.
Now, however, the group is beginning to shift toward focusing on the aesthetics and accessibility of the area, "making it a better place for people to visit and focusing more on the student body than the ecology," according to Smyth.
Morse echoed this sentiment about the current and ultimate goal for the work being done.
"We want it to blossom throughout the year," she said.
So far, the committee as a whole has logged more than 200 volunteer hours and removed more than 300 bamboo stalks as well as large amounts of invasive English ivy, wisteria and honeysuckle, replacing them with about 100 native plants.
Over the years, involvement in the project has grown significantly from just a few members unofficially meeting to brainstorm ideas to now a large regular group of students from freshmen to seniors making significant progress. According to Newberry, participation has grown because it fills a niche on campus and in SEAC that wasn't there before.
"This project is different than the other ones in SEAC, because you do something, and you can see a difference and it's very immediate. It's not as policy driven and not going to fix larger community problems potentially, but it does have a very immediate effect," he said. "You can see what your work does and can come back year after year, semester after semester and see your work grow, which is really rewarding on a different level than a lot of other projects."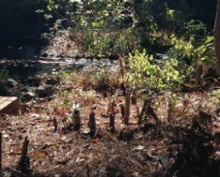 In the future, the Crim Dell Restoration Committee is hoping to team up with Health Outreach Peer Educators (HOPE) and the Parks Prescription Program to transform the Crim Dell into a mental health space.
"This is a really good green space on campus, where ideally people can go, sit, relax, get away from studies, get away from the stress of everyday college life," said Smyth. "And there have been studies that show being in green spaces is really good for your mental health, so we really want to make it an accessible place for people to do that."
Ultimately, the hope for the project is to revitalize the life that the Crim Dell used to hold, transforming it back into the charming landmark that reflects the beauty of the environment and brings a pulse back to the nature that is at the geographical heart of W&M, organizers said.
"It's been gradual; at first, it seemed like we weren't really making a difference. We would cut down the bamboo and it grew back," May said. "We did some before-and-after photos and realized that is has really changed. We've come a long way, but we still have a really long way to go."
A work day is planned for Sunday, Nov. 13. Information may be found online.