Pettit experienced the world W&M offers
Lorraine Pettit took her father's advice to heart.
"My dad told me when I was going off to school, 'Lorraine, you want to get big ideas; that's why you're entering this phase of your life. And you want to take those ideas and form them into your own in some way.'"
At the time, Pettit was on her way to James Madison University for her freshman year. But a weekend visit to a friend at William & Mary altered everything. She transferred after that first year and began three years at the university that were chock-full of the most eclectic array of accomplishments imaginable.
Pettit, who will graduate on Saturday with degrees in government and French and Francophone Studies, has been a student fellow with the Weingartner Fellowship for Deliberative Democracy, delving into student opinions on how to prevent mass shootings in the United States.
She has participated in the Sharpe Journalism seminar, spending two weeks in Johannesburg, South Africa, immersed in the student protest known as the "Fees Must Fall" movement. She found that students there and American students face many of the same cost issues.
She has conducted original research in France on the marriage of art and transportation in Montpelier.
"The second part of what my dad told me I figured out once I got here," said Pettit, a brother in the Phi Sigma Pi honors fraternity. "Here, you enter into conversations about the structural challenges facing society really casually, ranging from that to transportation issues to social issues."
That "figuring out" process began just before her sophomore year, her first at William & Mary. Pettit, a member of the North Carolina to San Diego Bike and Build team, biked from coast to coast, stopping along the way to work with Habitat for Humanity on housing projects in 13 different cities.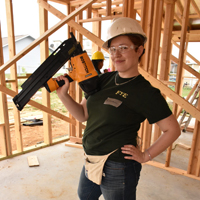 "I was able to gain confidence from accomplishing this really big thing, both physical and mental," she said. "One big value I took away was the importance of creating a community and establishing a team.
"I call it 'My 18-Year Crisis.' I told myself, 'I've worked really hard and now I'm going to a new school.' I did this because I wanted to do something really out there. It'd be like someone buying a Lamborghini when they're 40."
That trip led to her involvement on campus with the Branch Out Alternative Breaks program, an immersive service trip in which students engage in direct service with a community partner organization. One such trip found Pettit in Laredo, Texas, again working with Habitat for Humanity.
Back on campus, Pettit was one of eight students selected in fall 2016 for a Weingartner Fellowship, one of the Charles Center's umbrella programs. The cohort chose to study the problem of mass shootings, and offered students four approaches to address the issue: arming and training capable civilians in how to deal with mass shooting situations; increasing resources devoted to mental health issues, the goal being to root out violent tendencies in the nation's youth; prohibiting private citizens from owning assault weapons; and a complete ban on private gun ownership.
"We held 13 deliberations," Pettit said. "People would say what their preference was at the beginning of the deliberation and what their preference was at the end. It was interesting seeing how some people who came in more conservative [departed] leaning a bit more liberal towards the end, and vice versa. It gave us hope that we could have more sit-down, real conversations with substance behind them, not just 'I read the BuzzFeed article today, and this is now my opinion.'"
But it is urban planning that most tugs at Pettit's heartstrings these days, which made her trip and investigation into Montpelier's tram system — and the artwork that makes it unique — more than mere research.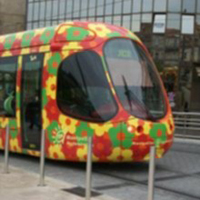 At present, Montpelier's system has four lines. The cars running on line one are painted with white swallows. Line two is decorated with colorful flowers. Line three features warm summer colors. Line four, which circulates around the center of Montpelier, features bright colors.
"Each tram line represents a different part of the earth's elements," Pettit said. "The interior is really colorful and bright and there are not just rows of seating, but they have created mini-enclaves within the tram. Then there are sculptures that are positioned along different stops on the system. I wanted to know how they made that decision to incorporate the arts.
"[After the French Revolution], there was this idea of not just giving people the right to vote, but of giving them more access to the arts and culture. Before, it was kind of an elitist thing. There's this movement where you want art to leave the museum, not to have it confined within walls, but to expose it to the community around it, and have it as a way to facilitate a community. People will see the tramway every day if they live in Montpelier. It really creates a sense of identity, but also a sense of themselves as citizens of the city itself."
With urban centers in the United States almost certain to grow, Pettit said, she is committed to helping find solutions that give people places to live, work and play, but not feel overwhelmed by the enormity of their surroundings.
Immediately, Pettit will be teaching in Grenoble, France, next year as an English teaching assistant. This summer, she will intern at the National Endowment for the Arts. She would like to attend graduate school for urban planning in the near future. All would be in keeping with her father's advice and that of W&M professors who helped her experience anything she desired.
"That's one of the reasons I've ventured out and done so many things that don't line up on a specific track," she said. "But I've enjoyed and learned from them all."