A long time coming: 64 years later, a former W&M athlete and pre-med student will receive his degree
Among those who will be awarded William & Mary degrees at Commencement on May 13, Bill Patton is in a league of his own. Patton, 84, is a former dentist who spent most of his career and life in New Jersey before retiring to Florida 20 years ago. The last time he attended class at W&M was in 1953.
"This is really a significant event for me," said Patton. "I love the school and now being able to have this symbol from my time there is the icing on the cake." 
Patton's situation is no doubt a unique one. As a student in the early '50s, he enrolled in a now-extinct pre-med program that allowed students to spend three years at W&M, leave and earn a D.D.S or M.D., and then petition to have their bachelor's degree awarded following completion of a doctoral degree. But Patton, being one physical education credit shy of the program requirements, never received his bachelor's degree from W&M.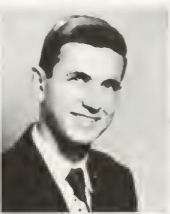 "I took my dental diploma, hung that on the wall and thought that was that," said Patton, who earned his D.D.S. from the University of Pennsylvania. "I just assumed I was never going to get my William & Mary degree."
But in the spring of 2017, unbeknownst to him, Patton's brother, David Patton, who lives in Arizona, reached out to President Taylor Reveley's office and explained the situation. 
That set into motion an investigation led by Sara Marchello, associate provost and university registrar at W&M. In her 12 years at W&M, Marchello said she's received a few similar requests for late degree conferrals from this program, only one of which was granted.
"The first was for a physician who had studied at William & Mary in the late 1930s, then served in World War II and earned his medical degree," said Marchello. "At the time, given the distractions of war and his post-medical school life, he simply never petitioned for the degree. A family member inquired and the degree was conferred in 2005."
In Patton's case, Marchello concluded that, despite his one remaining PE credit, Patton's W&M record, military science credits and involvement as a scholarship athlete warranted a belated degree.
"Dr. Patton's career as a dentist and his extensive study during three years at William & Mary made him well deserving of the baccalaureate degree," said Marchello. "I am pleased to have been a part of this exciting degree conferral. We hope that other three-year students, who went on to earn M.D. or D.D.S. degrees but never petitioned for the baccalaureate, will be inspired to get in touch with us now." 
For Patton, having the tangible degree will be a reminder of all he loved about W&M. While a student, he was heavily involved on campus as a member of Sigma Alpha Epsilon fraternity and ROTC. As a scholarship athlete, he participated in track and played men's basketball, once scoring 16 points in a single game against Richmond. He also had a part-time job in the campus dining hall, where Patton said he "didn't make a lot of money, but we got a lot to eat … and the food was great."
Above all, Patton said what stands out most to him about his time at W&M is the people he met and continues to keep in touch with today.
"Everyone on campus — students and professors — was so friendly," said Patton. "You spoke to everyone whether you knew their name or not — and pretty soon, you did know their names. That was one of William & Mary's greatest features."
While Patton won't be attending the graduation ceremony in Kaplan Arena, he already has big plans for the diploma he'll soon receive in the mail.
"I'm going to hang that up in a prominent place in my home and brag about it," he said.