W&M's Healthy Beginnings Project hosts 'Day of Discussion'
For expectant mothers incarcerated within Virginia's correctional facilities, the process of having a healthy baby can be full of challenges. William & Mary's Healthy Beginnings Project, a collaboration with Virginia Commonwealth University, recently held a "Day of Discussion" to address these challenges and help point to a way forward for these vulnerable members of society.
Healthy Beginnings is the only program of its kind nationally, and the event was made possible in part by a nearly $50,000 grant from the Anthem Blue Cross and Blue Shield Foundation, which William & Mary announced in December. The grant helps incarcerated mothers in identifying pregnancy early and carrying healthy babies to term with nutritional counseling, prenatal vitamins and information about care.
On a rainy day in downtown Richmond last week, the Library of Virginia hosted the event, with more than 80 registrants from a wide spectrum of fields. University researchers, corrections officers and former inmates alike joined women's rights lawyers, healthcare workers and representatives from the American Civil Liberties Union and American Psychological Association for a series of panel discussions and audience questions.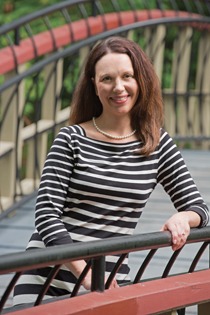 Most expectant mothers with longer sentences serve their pregnancy in jail and are transferred to prison six to eight weeks after delivery. Virginia law requires that jails follow standards developed by the National Commission on Correctional Health Care (NCCHC), but implementation is inconsistent.
"The biggest goal was to tackle some of these tough topics and raise awareness about them," said Danielle Dallaire, associate professor of psychology at William & Mary and one of the co-directors of Healthy Beginnings. "Different jails across the state have different policies and procedures in place. They're maybe not aware of practices that are happening at other jails. We were really hoping to get them to share different perspectives."
Dallaire said that Healthy Beginnings, as a research program, is in a unique position to bridge some of the gaps in knowledge that occur when facilities or advocacy groups don't have the fullest range of interactions with other stakeholders.
"To do what we do, we have to interact successfully with all the different groups," she said. "What we've learned is that these different groups don't necessarily interact with each other. We accomplished what we wanted to accomplish by bringing these people together."
For the first forum, "Experiences From the Field," project co-director and Associate Professor of Psychology Catherine Forestell moderated a discussion between a jail administrator, health care professional and one of her Healthy Beginnings colleagues. Some incarcerated pregnant women have the option to request furlough to return home to deliver their babies and serve their time later, said one panelist, drawing surprise from some attendees.
"Just by providing this information, it can be empowering to women," said Angela Boland, Healthy Beginnings' program services coordinator.
The discussion raised questions about consistency of services between different city and county jails, which are not governed by any statewide group. Implementation varies based on a number of factors, including availability of resources and proximity to care.
Vickie White, a health services administrator with the Richmond City Justice Center, explained that all inmates entering her facility receive a mental health test, and all women receive a pregnancy test furnished by Healthy Beginnings.
"They're a great resource for us," she said, before encouraging other facilities to take advantage.
In the second forum, "Providing Referrals and the Best Resources for Mom and Baby," panelists explored the complex process of helping new mothers after their babies are born, whether they need to return to jail afterward or not. Much of the discussion centered on whether the rights of the mother or the rights of the infant were better protected.
If the mother is returning to prison, granting temporary custody to a family member is a strong option, said Karli Fees, a clinical social worker at VCU Health. If not, discharge can become more difficult, especially if the mother is homeless, has mental health issues, or both.
"We can't just discharge a mom and her baby to the street," said Fees. "We try to make a plan the best we can, but it has to be a safe plan."
Debra Wilson, the infant program manager at the Children's Home Society of Virginia, came down clearly on the side of the mother in these cases.
"That's what we're about: stabilizing and finding a home for this baby," she said. For her, the baby is the most important client.
After lunch, the third forum addressed the use of restraints with pregnant incarcerated women, which can increase the risk of a fall or otherwise threaten the health of the fetus.
"Pregnancy is a very emotional time," said Dawn Flippin, a major at the Riverside Regional Jail. "It's hard enough on everyone as it is."
NCCHC standards require that pregnant inmates wear a special-colored jumpsuit and are only restrained with handcuffs on the front of the body, which decrease the severity of punitive measures and reduce fall risk, respectively. The standards state that no restraints be used during delivery.
One panelist, a "retired criminal" named Amber, told an emotional story in which ankle irons caused her to fall and suffer critical injuries to herself and her baby. Only after emergency medical care did they come back from the brink of death.
"I don't really like to describe myself as a victim," said Amber. "I'm a survivor, first and foremost. Me and my son died together … only later did we come back."
The final panel discussed the difficulties facing new mothers as they prepare for the end of their incarceration. Carolyn LeCroy, founder and CEO of the Messages Project, explained how her efforts using video to help inmates communicate with loved ones on the outside help reduce recividism.
Dallaire said that, while Healthy Beginnings has succeeded in helping mothers have babies that are on average 6 ounces heavier than incarcerated mothers who do not participate in the program, they have not begun to examine how to reduce the rate of mothers who return to the corrections system after release. This is one of the next steps for Healthy Beginnings' research, she said.
Forestell reiterated the importance of gathering expertises and experiences together to discuss critical issues in her closing remarks.
"We need to keep these conversations going," she said. "We've got to keep on reminding people how complex these problems are, and urging them to continue to search for solutions to make things better for these women and their children."
Natalie Libster '16 attended the Day of Discussion after spending three years associated with Healthy Beginnings. Since her sophomore year, Libster has gained ever-increasing research responsibilities, and eventually began visiting expectant mothers in jail herself.
"It's been probably one of the most rewarding experiences I've had in my college career," she said. "Just being able to talk to the women and hearing firsthand what they have to say has been really humbling and really meaningful. They just appreciate everything that we do — when you have them say you're the highlight of their day, it's really rewarding."