W&M student awarded fellowship to study human rights in Europe
Unbeknownst to her, Alexandra Granato '16 cemented a part of her future in the span of a single freshman semester.
"I signed up for classes in Cultural Anthropology and Intro to Gender, Sexuality, and Women's Studies at the same time and just thought both were sensational," she said. "At that point, I knew I wanted to study marginalized people and minority rights issues and how that all interacts in the larger American culture." 
Shortly after, Granato declared a self-designed double major in race, gender and cultural studies, and film and media studies. Now, as she gears up for graduation, she's also preparing for a month abroad as a recipient of the Humanity in Action Fellowship, an educational program that brings students and recent graduates from nine countries together in an international city to learn about the social and political roots of discrimination. Granato will be spending the month of June in Warsaw, Poland.
"I love that the program has an international focus," said Granato. "I've been studying American culture for so long, but I really do want to have an eye on what minority rights look like around the world, what other countries might be dealing with, and how we can all inform and help each other."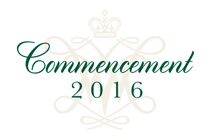 Raised in the small coastal town of Forked River, New Jersey, Granato came to William & Mary with an eye on a career as a political speech writer, until her on-campus experiences inspired her to channel her creativity in different ways.
"I joined the performing group Improvisational Theatre, which was an unexpected shaping force in that it helped me meet so many different people who were thinking outside the box," she said. 
Through her improv group, she was introduced to filmmaking, screenwriting and documentary making, the latter of which inspired her to create a documentary that blends her dual majors.
"I spent a month with no mirrors and no photos of myself and completely cut myself off from all kinds of vanity," she said. "It was a very introspective experience and one of the coolest things I've done at W&M." 
A Monroe Scholar, Granato heard about the Humanity in Action Fellowship through a listing for an information session, and was immediately intrigued.
"I was impressed with their devotion to this idea that you can change the thought process that makes people bystanders and inspire them to step up and do something about discrimination," she said. "If that's possible, I hands down want to be a part of it." 
Jeremy Stoddard, associate professor of education and associated faculty in the Film and Media Studies Program, wrote a recommendation letter for Granato and said the program is particularly suited to Granato's interests and talents.
"In my 10 years of working at W&M, Alex would be in a very small group of students who I would recommend strongly for this fellowship – and really it's as if she has chosen a path that has led directly to this opportunity," he said. "I could not imagine a better student to represent W&M in this program. She will contribute to the discussion and to the collaborative international effort that is the heart of this fellowship."
During her month in Warsaw with Humanity in Action, Granato will be exploring issues of human rights in Europe spanning from World War II and the Holocaust to modern day issues facing minorities, such as national identity, immigration, racism and xenophobia. Following the program, Granato is required to create a hands-on action project, such as a film, conference or campaign, reflective of her time in Poland. 
"I'm eager to come away with some kind of knowledge about how to do better in the world myself and how to be a better global citizen in whatever future endeavors I pursue," said Granato.