Student works to curb cigarette-butt litter on campus
Cigarette receptacles have become a longstanding and common sight in many people's daily lives. However, these resources often go unnoticed and underutilized, causing a buildup of litter that is harmful to the environment.
"Nicotine, tar, carbon monoxide and ammonia are all trapped in cigarette filters at least to some degree," said Kacey Schwartz '16. "When they're dropped into the environment, particularly when they are placed into water, those same chemicals leak out and are consumed by animals that are getting the same negative effects as people would if they were smoking them."
As an intern with William & Mary's EcoAmbassador Program, Schwartz has been working with facilities management over the last year to help mitigate those negative effects by finding ways to reduce the amount of cigarette-butt litter on campus.
Schwartz's project is part of William & Mary's work in storm-water management, said Sandra Prior, director of environmental health and safety, who worked with Schwartz as an advisor on the project. According to the Virginia Department of Environmental Quality, institutions such as colleges receive Municipal Separate Storm Sewer System permits that consist of six parts. Each part has accompanying goals and objectives that the institution must meet.
"The first section titled, 'Public Education and Outreach on Stormwater Impacts,' requires William & Mary to identify three high-priority water quality issues and then communicate relevant messages to our target population," said Prior. "One of our high-priority areas is plastics diversion, and, since cigarette butts contain plastic, we wanted to communicate the hazards and our efforts to ensure they don't end up on the ground and subsequently in our water bodies via storm-water runoff."
Schwartz became involved after hearing about the EcoAmbassador Program last fall via an email.
"I've just always been interested in environmental conservation and protecting from pollution," said Schwartz. "And cigarette litter was something I had heard about. So I was excited to see what I could do about it."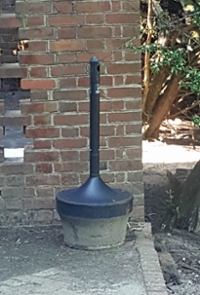 Throughout last semester, Schwartz worked to map out the smoking outposts across campus, noting the locations of excess litter as well as outposts in need of repair.
Because of her work, broken outposts have been repaired, and facilities management is exploring the possibility of adding additional outposts in areas where few exist.
However, even where smoking outposts are currently stationed – more than 50 locations on campus – a significant number of cigarette butts still end up on the ground, Schwartz found.
"More than likely, cigarette litter isn't caused by malicious intent, or even a lack of outposts, but instead people are dropping their cigarette butts because they don't realize the extent of what they are doing," she said.
In order to increase that awareness, Schwartz spent this semester focused on the production of educational materials. The resulting brochure will be posted soon on the environmental health and safety website.
"The biggest thing I'm hoping for out of this project is that people become more aware about environmental issues and that they have a say in them and can fix them," Schwartz said.
The ideal fix to the issue would be if everyone on campus stopped smoking, Schwartz said, and resources are available at the Student Health Center for students interested in quitting (or MyActiveHealth.com for employees with health insurance through W&M). However, outside of that eventuality, providing people with access to smoking outposts and educating them on the negative effects of cigarette-butt litter can go a long way in protecting the campus environment, she said.
"Hopefully with the help of this program, not only will physical steps be done to improve the current problem of unnecessary cigarette litter, awareness will be spread to prevent more cigarette litter in the future," Schwartz said.