Graduating senior donates kidney to set an example
By all outward appearances, Christoffer Friend '16 seems like many other successful seniors graduating from William & Mary this May.
Double majoring in business analytics and economics, Friend has built on his undergraduate work with Tribe Athletics' marketing and sports information departments to land a one-year position with the Kansas City Chiefs before returning to William & Mary to earn his master's in business analytics.
"The growth of business analytics is expected to be really big in the next 10 years, so I hopefully have a lot to look forward to," Friend said.
But unlike most graduates, Friend saved a person's life this year.
This past January, Friend anonymously donated one of his kidneys to a total stranger in need of a transplant.
"Anonymous kidney donation is becoming more common," Friend said. "But apparently I was just the fifth person in the Virginia Transplant Center's 25-year history to do it."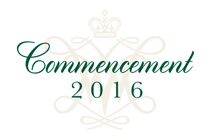 The story leading up to Friend's January donation goes all the way back to an ordinary evening in the Bryan Complex during his sophomore year.
"I was chilling at my desk one day on Facebook and saw an article someone had written about someone donating a kidney to a stranger," Friend said. "I just kept reading about it and saw that there are so little health risks outside of the surgery itself, there's no difference in life expectancy, and you potentially save someone's life if it works."
"About 2,500 people per year die a year waiting for a kidney, and if I don't need both of mine, I thought, 'Why not explore this process?'"
And explore it he did. Friend spent the summer between his sophomore and junior researching the donation process, but had to suspend temporarily his efforts during his junior fall semester while he studied abroad through the Semester at Sea program.
In winter break of his junior year, Friend contacted the National Kidney Registry, which put him in contact with the Henrico Doctor's Hospital and the Virginia Transplant Center there.
"Throughout spring of junior year and fall of senior year, I was working with them," Friend said, recalling the numerous medical examinations and counseling sessions that were part of the donation process.
"I essentially got a half-a-million dollar check-up for free," he said with a grin.
Friend checked into Henrico Doctor's Hospital on the evening of Jan. 3, the night before surgery. Even as the surgery approached, Friend said that his nerves never got the better of him — the tonsillitis was far worse.
"What was really annoying though, is that while dealing with this, I also got tonsillitis during the same hospital trip," Friend said. "They gave me some medicine and intubated me, but the donation went forward. I didn't realize how painful tonsillitis could be — afterward, I think I would've preferred the pain of surgery to the tonsillitis."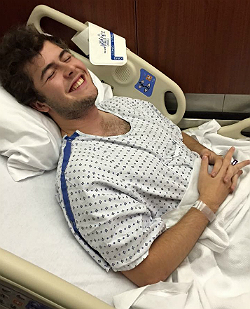 Even with this extra complication, Friend's recovery was smooth.
"After the donation, I had to take it easy for two weeks, drink a lot of water, and I couldn't really drive or lift anything," he said. "But nothing was really that bad. After the two weeks, I could get back to driving. You heal fairly quickly."
Six weeks after the surgery, Friend received the green light to return to life as normal. He was able to return to his positions with Tribe Athletics and even participated in intramural volleyball and soccer.
Throughout the entire process, Friend's family remained steadfast and supportive.
"My parents were supportive, but they were obviously nervous. I think the classic parent response — they were proud I was doing this, but it is surgery, and my mom and dad were both nervous but none of them had any objections. My sister loved it; I got great support from my siblings as well," he said.
Friend, however, made a point of not talking about the donation even to his close friends because to him, the donation process was never about him.
"I didn't want to be the dude who talked about donating a kidney and then had to back out for some reason," he said. "I hate being the center of attention. But if I can get one or two people to come away from reading this and potentially explore anonymous donation, and maybe just one person ends up doing it, then one more person's life could be saved."