Feel the love: Club tennis wins major national award
As she walked onto the campus of William & Mary four years ago, Jackie Ciotti knew two things: She didn't want to play college tennis on the varsity level, but she didn't want to abandon a sport that offered her so much joy.  
Fellow freshman Josh Albertson viewed tennis in much the same way.  
Fortunately for them, there was the William & Mary club tennis program. Ciotti found it her first week in school, saw how much fun its members were having in and out of competition, and knew she could have the best of both worlds.  
Albertson discovered that the team was about a lot more than tennis. From the start, he told himself that the best way for the team to succeed was to bring players together.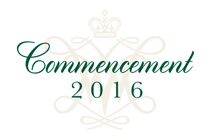 The co-presidents will graduate Saturday having helped make the W&M tennis club No. 1 in the nation. The United States Tennis Association, along with the National Intramural-Recreational Sports Association, World Team Tennis and the International Tennis Association, officially designated William & Mary the 2016 national club of the year. More than 600 other schools were eligible to apply for the designation.
"Tennis On Campus," as the national organization is dubbed, was developed in 2000 as a coed, non-varsity participation-based program designed to increase the number of active tennis players on college campuses. It currently services more than 35,000 students.
"The title is fantastic, and I think it's recognition for being a great team and a great family on and off the court," said Ciotti, whose degrees are in
business
and
government
.
"It's a big one, definitely," Albertson said. He is receiving degrees in
psychology
and
public policy
.
Being national club of the year doesn't mean the William & Mary team won all of its matches, or even most of them. The team did receive a berth in the national championship tournament held recently in Cary, North Carolina.
Beside performance, what the team does to enhance life on campus plays a major role.
"It's a very holistic kind of analysis," Ciotti said of the vetting process. "We are a really close-knit team on campus. We love competing and playing tennis, practice three times a week, travel to a ton of regional and national tournaments every year. But we also do a lot off the court, and I think our closeness is a product of that."  
The team instituted thrice-weekly group dinners, either before or after the workout. That was Albertson's idea. Players also bonded by competing together on intramural softball, soccer and football teams.  
They hosted a barbecue in the fall for past and present players. They sponsored a Homecoming party, another lifeline to past members of the club. They carried on with the annual Secret Santa event. Right before exams, they held the traditional farewell dinner.  
But it isn't all about the social. For the past several years, the club tennis team has volunteered at the Williamsburg Patriot Triathlon. The event benefits two organizations: the Special Operations Warrior Foundation, which provides financial and counseling help to families and children of special operations personnel killed in operational or training missions, and the environment-focused Chesapeake Bay Foundation.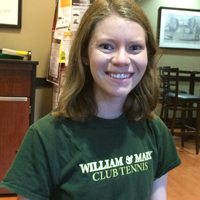 Team members also attend countless campus activities as a show of support for their fellow students. And they partner with local businesses on profit-sharing ventures, bringing fellow students to, say, restaurants in exchange for a percentage of the money, which they use to build their treasury.
"Our motto is 'One Tribe, One Family,'" Albertson told tennisoncampus.com. "And what that means is that no matter what we do, we do it together. We're a family in every sense of the word. It's not just a sport for us; it's a way of life."
Ciotti said the club takes that family approach in understanding that some students can't devote as much time to tennis and activities as others.
"It's about as much time as you want to put into it," she said. "For some newer members, or those who have very densely packed schedules, we acknowledge that people are busy and need balance in their lives. So they may not come to everything. For others, tennis has been such a huge part of life, we come to everything."
Albertson said he is "totally comfortable" leaving the club in the hands of the underclass members. Ciotti believes that she and her co-president have carried out a tradition that made both of them feel at ease in their surroundings four years ago.
"We were really shaped by the older students, our older friends, who showed us that what happens on the court matters, but it's so much more than that," she said. "We wanted our legacy to be that this is a fantastic playing experience, but we also wanted to make it a welcoming one, make the new members feel welcome and part of the team. After that, our goal was to help them grow towards leadership roles – or whatever they wanted their role to be."