Exposing hazing for the danger it really is
For two hours Tuesday night, a capacity audience at the Sadler Center's Commonwealth Auditorium watched "Goat," starring Nick Jonas and based on the 1990's college experience of memoirist Brad Land.
The opening scenes depicted something out of a Roman orgy. Enough beer and alcohol flowed to swim in. Up the stairs, revelers snorted cocaine. There was anonymous sex, alcohol-fueled abuse. To the impressionable, awe-struck star of the film, deciding whether or not to pledge became an easy question to answer.
William & Mary was one of just five schools chosen to premiere the film, which will be released nationally Friday during National Hazing Prevention Week. As such, the school's name occasionally appeared on the screen, though it was clear that the scenes were not reflective of campus life here.
On screen, the parties never stopped, but the film quickly turned its focus to depicting hazing rituals imposed on those who sought to win membership in the frat.
At first, the audience laughed and hooted whenever "William and Mary" appeared on the screen. Soon, as the drama unfolded, the laughter became more forced, awkward. Finally, the hazing became increasingly frenzied, violent and demeaning.
No one was laughing.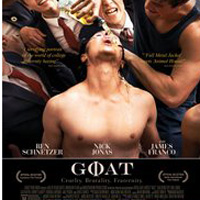 The film was part of the university's observance of National Hazing Prevention Week. The next night, Gentry McCreary, among whose credits is an affiliation with the National Center for Higher Education Risk Management (NCHERM), where he works with campuses on sexual assault and hazing prevention, presented a lecture on hazing myths.
The roots of W&M's Hazing Prevention Coalition go back to 2007, when William & Mary students participated in a national study. As a result of that study, the coalition was created to coordinate hazing prevention efforts at W&M, with support from the university's administration.
The university is an active participant in HazingPrevention.org; Linda Knight, director of campus recreation at the university, serves on its board of directors.
In 2013, the organization recognized W&M with the Zeta Tau Alpha Award for Innovation in Campus Hazing Prevention and Education. The award came with a $10,000 cash prize that enabled the coalition to further campus hazing prevention efforts. 
That included the implementation of a campus-wide bystander behavior program, creation of dialogue opportunities for students about hazing and hazing prevention, creation of a parental outreach strategy and the creation of a database with student generated ideas that provide realistic alternatives to hazing.
Although "Goat" centered on a fraternity, Knight was quick to point out that some form of hazing can occur in any campus organization.
"Hazing is not fraternity or sorority-centric," she said. "You see it happen with sports teams, intramurals, bands, acappella groups.
"If we can get downstream a little bit and help people make better choices at this level then this will never happen … We pretty much know that  in most hazing [situations] people don't want to hurt someone else. That's not the intent."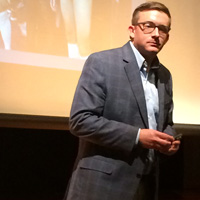 But as McCreary told his audience, the more organizations say they don't intend to hurt someone, the more likely that is to happen. In fact, in the last 10 years, 44 students have died in hazing incidents nationwide. Among his examples was Robert Champion, a drum major in the Florida A&M band whose bandmates kicked, punched and pummeled him to death in a ritual called "Crossing Bus C."
"Do you think at the beginning of the night when those deaths occurred, do you think the members of the team, the members of those chapters or organization got together and said, 'Let's go kill one of these new members tonight'?" McCreary asked.
"No, no one ever meant to kill anyone, but that's what happened. They didn't want to hurt anyone, but guess what – they hurt someone."
Among the reasons Knight became so actively involved in hazing prevention are its "hidden harms." She used as an example the case of Travis Apgar, who attempted to join a fraternity at a different university several years ago.
"The organization's hazing involved putting an unloaded gun to your head and vowing that you'd die for this fraternity," she said. "Everyone knew there were no bullets in the gun, but they didn't know that Travis' father had committed suicide that way. Something that probably didn't bother anyone else sent him into a deep, very dark place, and he dropped out of school."
Apgar is now associate dean of students at Cornell and a national hazing speaker and consultant.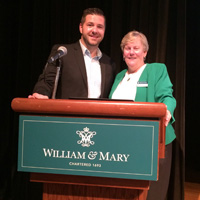 "We know our students are coming with triggers now," Knight said, "even more triggers than they used to have."
A main objective of the presentations, Knight said, was to help students see that hazing is more about a power struggle between someone who has authority and someone who doesn't than anything positive or enriching.
"We're not looking for ways to punish for hazing," she said. "We're looking for ways to prevent it."