Gentry McCreary's five myths of hazing
Gentry McCreary is the chief executive officer and managing partner of Dyad Strategies, an assessment and applied research firm specializing in working with fraternities and sororities.
He also is affiliated with the National Center for Higher Education Risk Management (NCHERM), where he works with campuses on sexual assault and hazing prevention, investigation and adjudication. Previously, he worked as associate dean of students and deputy Title IX coordinator at West Florida University, and as director of Greek life at the University of Alabama.
McCreary met with William & Mary students on Wednesday and addressed an audience at Commonwealth Auditorium that night. He offered them his five myths commonly used by students to defend and justify hazing, no matter the organization.
Myth 1: Hazing builds better members

McCreary showed two slides, the first a quote from retired NFL great Peyton Manning. During his time with the Indianapolis Colts, Manning replied to a question about hazing by saying, "You seen all the highlights with the rookie hazing, the haircuts. We don't do that around here because we don't treat the guys like rookies. We expect those guys to play this year and to play well."
The second slide was of Tim Tebow as a rookie quarterback with the Denver Broncos. He was kneeling and smiling, but the center of his head was shaved, Friar Tuck-style.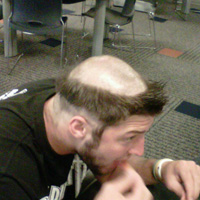 "The question to ask is, 'Did that make him a better quarterback?'" McCreary said. "A better player? I'm guessing not because he fizzled out after a couple of years. What was the point? It [the hazing] was mild, but what did that accomplish? At the end of the day, if it didn't make him a better player, if it didn't make them a better team, all it did was humiliate someone.
"People will behave however you treat them."
Myth 2: It's not hazing if freshmen volunteer to do it
 
McCreary cited the results of several studies that refute this claim. One involved four students sitting in front of a blackboard. One is a volunteer. The other three are "plants," instructed to give an incorrect answer to the one question asked.
Four lines are drawn on a board. Which is longest?
The three "plants" answered first and all gave the same, incorrect answer. One line was clearly longer than the rest. But in the overwhelming majority of cases, the volunteer parroted the incorrect answer.
McCreary said it is delusional for anyone to think that someone "volunteers" to be mistreated or hazed. The desire to be part of an organization, and the pressure not to be seen as "weak" drive the person's resolve to remain in a potentially harmful situation.
Myth 3: Hazing teaches respect
Having pledges clean fraternity or sorority houses is a common ritual, McCreary said, thought to teach respect for the property.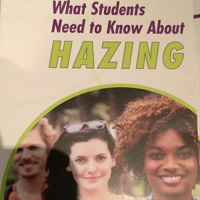 "In reality, cleaning the house teaches pledges that they can trash the house when they become elders – and someone else will clean up behind them," McCreary said. "It does just the opposite of what's intended."
Walking into a house kept clean by those living there would actually teach respect, he added.
Myth 4: Hazing builds community
What organization leaders are saying is that they want members who are committed to the group, McCreary said, and people think there is a correlation between the severity of the hazing and the intensity of that commitment.
"But all of the numbers [in studies] show that there is no relationship at all – zero –between the severity of the hazing and commitment to an organization.
"What fuels commitment more than anything else is a person's sense of belonging," McCreary said.
Myth 5: Hazing is a tradition
The idea that things are done because "they've always been done" is both wrong and dangerous, McCreary said.
"Most things called 'traditions,' people have no idea where they came from," he said. "People got together one night and decided they were going to do something to pledges."
But after three years or so, he added, those with the original idea are gone and those left have no real idea why something is a tradition. And, McCreary said, there's this notion that because organization members went through something, newcomers should have to go through it as well, with their own special touch that pushes the envelope.
"Every [organization] has a number between one and 10 [regarding the severity of their hazing rituals]," McCreary said. "What you want to do is push that line back – it can be slowly and gradually – because left unattended, things will escalate. Don't wait until you have a serious hazing problem before you decide to start to address it."
To change the culture, McCreary said the first thing any organization's leaders should do is come up with a definition of what it means to be a good member.
"Then come up with a list of activities that are either designed to teach that concept or designed to give people an opportunity to practice or demonstrate that concept," he said. "It can be difficult, challenging, hard, but you can do it in such a way that it has a point and a purpose and is not dangerous, excessive, degrading, demeaning or illegal."