AidData project unveils China's mysterious African development strategy
When Austin Strange asked a simple question about Chinese foreign assistance, he had no idea the ripple effect it would have on the world.
In 2011, Strange '12 was an undergraduate studying economics and Chinese language at William & Mary while also working as a research assistant at AidData, a development research and innovation lab based at the university. Austin wanted to know: Where was China spending its international development dollars, and why? Was China investing in Africa to get something in return?
"At the time, I thought China's behavior in the developing world could reveal important clues about its own domestic politics as well its international intentions," Strange said. 
AidData's Executive Director, Brad Parks, and ITPIR Director, Michael Tierney, had similar questions, and proposed that Strange pursue an independent study project to better understand China's global development footprint in Africa.
Tierney and Parks were particularly intrigued with the idea. AidData had spent the previous 10 years developing a comprehensive database of development finance, but most of those donors were transparent, conforming to international norms and reporting to relevant international organizations. China, however, discloses few details about its overseas development activities. Parks initially agreed to supervise the independent study project, and after he and Strange developed an innovative financial tracking methodology, Tierney saw the game-changing potential of their idea. Tierney stepped in and found funding to help Strange assemble a team of 15 student research assistants. These fellow W&M students volunteered their time for 10 weeks during the summer of 2012, and the university agreed to provide them with free summer housing to support the initiative. Their goal was simple: to establish proof of the concept that the new open-source methodology was a viable way to comprehensively track Chinese development projects across the African continent.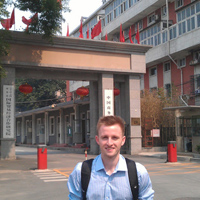 Four years later, AidData's "Tracking Chinese Development Finance" program, a long-term data collection and research initiative, has mobilized nearly $1 million in outside funding and is now supported by fulltime project managers, nearly a dozen faculty affiliates from universities around the world and a team of more than 20 research assistants. AidData's research on China has been published in the Journal of Conflict Resolution and the Journal of Development Studies and it is regularly cited by media, including The Washington Post, Foreign Affairs, The National Interest, The Economist, BBC, Reuters, Agence France-Presse, China Daily, Al Jazeera and investigative reporting by journalists throughout Africa.
"This has been the most exciting project I have ever worked on," Strange said. "We found that China provided a diverse array of aid to the developing world. Compared to Western donors, it gave less official development assistance but other kinds of aid, like loans for infrastructure projects. It was eye-opening to see just how diverse and deep China's presence is in Africa's development."
Strange's question, resulting methodology and the investment Parks and Tierney made in the project has affected the global policy debate, challenging widely-held assumptions and refuting misconceptions about China's activity in Africa. The resulting research has made news in China, too. When AidData released its first major Chinese aid dataset in 2013, the Wangyi Chinese domestic news site ran a feature story on the research findings, and it became the most popular news item throughout mainland China. More than 2,500 visitors commented and almost 120,000 users participated in the online discussion by either commenting or "dinging" (similar to "likes").
"William & Mary is unique in that it treats undergraduate students as scholars in their own right," Parks said. "They get the opportunity to work one-on-one or in small groups with faculty to pursue cutting-edge research projects with real-world applications. Austin's example is a powerful one, but there are many more."
"Austin is a great example of a William & Mary student who not only had a great idea," Tierney said, "but also had the determination to implement the idea so that it has now become a public good for researchers, journalists, policymakers and even the intended beneficiaries of aid. This project shows how anyone at the university – whether an undergraduate student, a professional staff member, or a grey-haired professor – can have an impact on an organization, an academic discipline, and possibly even the world."
Strange is now pursuing a doctorate at Harvard University, specializing in international relations and Chinese foreign policy. He continues to serve as an AidData research associate.
AidData continues to add to its database of nearly 2,650 Chinese development projects in 51 African countries worth approximately $94 billion. Early in the spring of 2016, AidData will release similar datasets on China's development finance activities in Asia and Latin America. None of this would have happened without the idea and initiative of a 20-year-old student at William & Mary.