Aceto Award winner Pada keeps W&M wheel turning
The Shirley Aceto Award, the 2016 winner said, is about excellence in professional endeavors and a true commitment to William & Mary. It is reserved for people who reach out to the rest of the university to get involved, engaged and be part of the greater community.
Maria Elena Pada – Mane, as she has been called since childhood – should know. She was a member of the committee that put forth the original guidelines for this six-year-old prize awarded annually to a member of the instructional or professional faculty.
When Provost Michael R. Halleran phoned her with the news, Pada said, "I thought he was calling for a completely different reason. I was not even aware I had been nominated. I never imagined I'd be nominated and would, one day, receive this wonderful award."
Since coming to William & Mary in 1994, Pada has been director of the Multimedia Computing Center in the
modern languages and literatures
department, coordinator of
Academic Information Services
and, presently, coordinator of special projects for
Information Technology
(IT).
"For over 20 years, she has worked seamlessly with employees in buildings and grounds, food service technicians and repairmen, outside vendors, senior administrators, students, faculty," said one nomination letter written by George Greenia, professor of modern languages, and Katherine Kulick, associate professor in the same department and inaugural Aceto Award winner. "Her talents, professionalism, dedication and enthusiasm know no bounds."
Neither, apparently, does her energy.
"Her commitment and positive approach to her work are infectious – often serving as the catalyst to getting projects started and completed," wrote Mary Molineux, research & instruction librarian at Earl Gregg Swem Library. "She is held in the highest regard by her colleagues."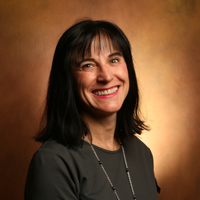 Courtney Carpenter
, the university's chief information officer, called Pada IT's "official morale booster." In addition to organizing and managing most of IT's business events – departmental meetings and training sessions, she also organizes all of the department's social activities, including the holiday party, Tribe sporting events that IT attends, the spring picnic, the department's annual Adopt-a-Family program and fund-raising activities on and off campus.
In 2008, Pada helped establish the university's
Professionals and Professional Faculty Assembly
, and served as its vice-president from its inception until 2011.
Among the many things she has done at W&M, Pada has been a presenter at the new employee orientation and a member of the
social media user group
(SMUG), the
women's network executive committee
, breakfast with the provost focus group, the training and development advisory committee and the employee appreciation committee.
"I'm here, not in a silo," she said. "I'm part of a bigger community. Are there other things I can do to help, or to help make things better? Why not extend yourself?"
Such ingenuity at working with all varieties of people and programs can be traced, she said, to her childhood education from the third grade through high school in Buenos Aires, Argentina.  
"What I've been able to accomplish here I attribute to the nuns who taught us with such care and love," she said. "We grew up in a school system where we were pretty much left to our own devices. Each class had its own library, and we were given a set of cards with the subject activities we had to accomplish within 15 days. Every 15 days it would change. But it was up to us to organize, to decide what we were going to do first ... It was up to us to find the resources to complete the assignments.
"In the afternoon, our teachers would come to our classroom. They wanted to know if we had [the necessary information] and where had we gone to find it. Who was having trouble? There was a lot of collaborative work, and I think that truly taught me to be resourceful, to learn not to wait, to be more proactive."
In the early 1980s, Pada arrived in the United States not knowing a single word of English. Yet her father dropped her off at school and quelled her self-doubts with a simple, "You'll be fine; you're resourceful."
Each night after class, she sat on the floor, dictionaries spread in a wide circle around her. She had to look up every word that appeared in her textbook, and even then it often didn't make sense to her.
"My first year, I cried a lot, and it's a miracle I made it," she said. "But I think you go into survival mode, and you adapt and do what you have to do. And that's how I've looked at every job I've had at William & Mary.
"I see us as 'let's work together to fulfill the mission of the College,'" she said, then pointed at imaginary people. "Without you, we can't do it. Without you, we can't do it. Without the faculty, we can't do it. Without housekeeping, we can't do it. We're a big family. I'm just trying to make this great William & Mary wheel go round."