Ron Monark vividly remembers the days when few, if any, members of the William & Mary community crossed Richmond Road to see what was on the other side.
"There was no Paul's, no Green Leafe," said Monark, managing director of the Alan B. Miller Center for Entrepreneurship. "Students didn't go over there except to visit Sorority Court because the campus mailboxes were on Duke of Gloucester Street. Our world ended with Jamestown and Richmond roads."
Likewise, Bobby Braxton, a descendant of one of the most prominent African-American families in Williamsburg and the 2016 Prentis Award winner, vividly recalls the first time he crossed Richmond Road from the other side to set foot on campus. It was 2006, following a 40-year-plus absence from Williamsburg. He'd just been elected to city council.
The two men, who have enjoyed a long friendship, collaborated a few months ago in telling the story of what once existed on Braxton's side of Richmond Road and down Duke of Gloucester Street – a vibrant black business community.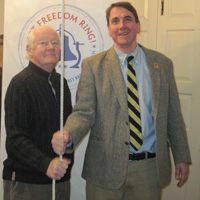 Todd Mooradian, associate dean of the Raymond A. Mason School of Business, initiated the idea of displaying the contribution of black businesses in Williamsburg. Tom Marini, associate director of the university's McLeod Business Library; Jennie Davy of Earl Gregg Swem Library Special Collections; and Colonial Williamsburg's John D. Rockefeller Library all were actively involved in creating a four-display case exhibit inside the Business School detailing a time long passed.
Braxton, a member of First Baptist Church, and Monark worked together on the ongoing "Let Freedom Ring" project. Colonial Williamsburg restored the church's bell, silent and thought broken since segregation, in time for First Baptist to invite the public to ring the bell in conjunction with Black History Month. The experience proved so popular that opportunities for the public to ring the bell continue.
"When the bell project began to take off, the question was, with Black History Month approaching, how was the Mason School of Business going to participate?" Monark said. "With Todd's direction, we decided we would put in an exhibit here that tied black business enterprises into Black History Month."
Rosanna Koppelmann, Executive Director of the Center for Corporate Education, organized a lecture series that featured segregation-era Williamsburg residents Russell Hopson and Edith Heard speaking on "Free Black Families of Southern York County: 1690 until Pre-Civil War Era" and "Early Black Businesses of Williamsburg," respectively.
Monark, Mooradian, Marini and Braxton visited Swem's Special Collections Center and huddled with Davy, who served as consultant. She began researching the Triangle Block, as the historically black business district bounded by Scotland Street, Prince George Street and Armistead Avenue was known during segregation. She eventually supplemented what W&M possessed with many items from Colonial Williamsburg.
A descendant of James Curtis, a Colonial Williamsburg silversmith for many years, lent items that Swem reproduced. Among other items, the Rockefeller Library contributed material from the photo collection of Albert Durant, a local taxi driver.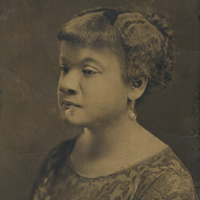 But the material Davy found most fascinating came from a local woman named QuoVadis Williams Wright. One of her ancestors, Pearle Webb, grew up in Williamsburg but lived the type of life most only dream of.
Webb, an outstanding singer, won a job in a WPA theater project in New York. She wrote music, including "Joe Louis Can Fight," around 1937. She also designed – and had the blueprint to prove it – the first rolling suitcase.
"A lot of the other records we have are very merchant-oriented," Davy said. "To me, she was active in so many different areas, and so creative, that it was really interesting to tell some of her story."
Researching the exhibit uncovered other fascinating tidbits, such as the fact that black businessman Samuel Harris lent money to William & Mary President Benjamin Ewell, despite the fact that the university faculty and student body was completely white.
Harris was one of the original shareholders in Williamsburg's first bank. His store was located on Duke of Gloucester Street.
"I suspect you had this contained business area, and in the colonial area it was black businesses that serviced whites," he said. "For example, near Chownings Tavern [today], there was a tire shop with tires thrown all over the place, right on Duke of Gloucester Street. I think that area by Paul's was definitely black businesses selling to black customers. Down the street, it was black businesses selling to whites."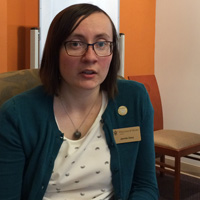 The exhibit was a huge success, remaining on display beyond Black History Month by a couple of weeks before being taken down.
What's more, this first exhibit has already precipitated conversation about what lies ahead.
"Next year is the [100-year anniversary] of women on campus," Mooradian said. "We plan to create a similar exhibit to celebrate the accomplishments of women in the Williamsburg community."