Bobby Braxton to receive 2016 Prentis Award
When Bobby Braxton left Williamsburg as a young man, he never intended to return. But Braxton's roots in the city run deep, and four decades later, he not only found himself back in Williamsburg, but leading – and loving – it.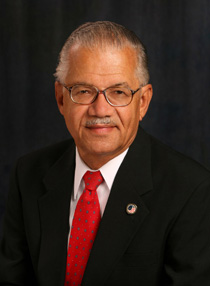 In addition to serving on the Williamsburg City Council, Braxton has worked with multiple location organizations, including William & Mary's Lemon Project and First Baptist Church. This year, he led the church's "Let Freedom Ring" celebration, which brought international attention to the church and Williamsburg.
In recognition of Braxton's efforts, William & Mary has named him the recipient of the 2016 Prentis Award. The award is presented annually to people in the Williamsburg community for their strong civic involvement and support of the university. Braxton will receive the award at a May 17 ceremony in the Wren Building.
"The Braxtons have long been leaders in the Williamsburg community, and Bobby stands  squarely in that grand family tradition," said W&M President Taylor Reveley. "Since his return to Williamsburg, Bobby has done great good. His service on city council and his work to bring 'Let Freedom Ring' to fruition are but two examples. He has been a steadfast friend of William & Mary. We are delighted to recognize him with this year's Prentis Award."
Williamsburg to Maryland and back again
Braxton was born in Hampton's Dixie Hospital and grew up in Williamsburg during segregation. He attended the city's school for African-Americans, Bruton Heights, where his mother – one of his biggest influences along with his wife, Hazel – was an English teacher. He lived on Braxton Court, which was named for his family, and though his mother tried to tell him about their long history in the area, Braxton didn't pay much attention at the time. Instead, he headed to his mother's hometown to attend Hampton Institute (now Hampton University).
After four years in the U.S. Air Force, he moved to Maryland, where he had a 40-year career as an engineer with Westinghouse Electric Corporation and, with his wife, raised a son.
Although Braxton was happy in Maryland, his attention was drawn to his hometown as his aunt's health declined. She lived in a house that Braxton's grandfather had built in the 1920s at the end of Braxton Court. The home had fallen into disrepair, and Braxton decided to buy it.
"At that time, I never even thought about coming back to Williamsburg," said Braxton. "I bought the house to save the house."
Around the time that restoration work began, Braxton found out that the local housing administration was renovating neighborhoods. The street where he'd grown up had declined, and Braxton began attending council meetings to see if the city might pay for repairs on Braxton Court. For three years, Braxton came to Williamsburg for every council meeting and work session.
"I started talking to them about fixing the street, the curbs, the underground wiring, the gas – to make a long story short, they did it," he said. "If you look at the street, the whole thing got renovated, and that's when I decided to run."
Getting to know W&M
Braxton became a member of the Williamsburg City Council in 2006, and, soon after, two administrators from William & Mary set up a meeting to tell him more about the university.
"I went over there and they had a presentation all set up, and I stopped them and said, 'Hey, I'm going to have to tell you something to give you an idea where I'm coming from.' I said, 'Do you realize this is the first time I've set foot on William & Mary's campus?' Then it hit them. It was segregated times," he said.
Following the presentation, one of the administrators – Earl Granger, currently the associate vice president for development at W&M – took Braxton on a tour of campus. Seeing the love that Granger, an alumnus, had for the university was a "game changer," Braxton said.
From that first tour of campus, Braxton's relationship with William & Mary has continued to grow. He currently serves on the board of the W&M Lemon Project, a research initiative that seeks to explore the university's history with slavery and its continued relationship with the African-American community. Braxton – who can be found most days in his "office," a table at Aromas – also makes a concerted effort to interact with the university's students, offering advice to those about to graduate or comforting homesick students with cups of coffee.
"I love 'em," Braxton said. "They're really, really, really interesting."
Building a relationship with the university has also helped Braxton uncover more information about his family's historical ties to the area. His grandfather (Robert H. Braxton) was a builder who erected more than 100 structures around the area, Braxton said. Braxton's great-grandfather was a carpenter whose shop was located just across from where the W&M Bookstore is today.
"When I came back here, I had no idea of the entwining of my family here. I knew my grandpa had built some stuff, but I never really knew," Braxton said.
Let Freedom Ring
Although Braxton was not re-elected to the Williamsburg City Council in 2010, he has remained heavily involved in the community. Like his grandfather and great-grandfather, he serves as a trustee of First Baptist Church, one of the country's oldest African-American houses of worship.
In coordination with the Colonial Williamsburg Foundation, the church celebrated its 240th anniversary this year with the "Let Freedom Ring" challenge, which asked people to ring the church's bell throughout each day during the month of February. The bell, acquired in the 19th century, had been inoperable since the time of segregation, but experts from Colonial Williamsburg worked with the church to restore it.
In celebration of that restoration, the church hosted an event on Feb. 1 that included participation by civil rights giants Jesse Jackson, Bernard Lafayette and Rhea McCauley representing the family of civil rights pioneer Rosa Parks; dignitaries such as former U.S. Ambassador-at-Large Suzan Johnson Cook and Hampton University President William Harvey; artists and social activists Dionne Warwick and Esperanza Spalding; and the Hampton University Choir. Several members of the William & Mary community were in attendance, including Reveley and Chief Diversity Officer Chon Glover. Throughout February, Colonial Williamsburg and William & Mary hosted a series of special programs and exhibits in conjunction with the "Let Freedom Ring" effort.
In addition to his work with First Baptist, Braxton is also a member of the Williamsburg Kiwanis, the Williamsburg Arts Commission, the Williamsburg Community Emergency Response Team (CERT), the Williamsburg Chamber and Tourism Alliance and the Middle Plantation Club. Additionally, he serves on the board of the Community Action Agency and the Williamsburg Rotary.
"One thing I found out: When people ask you to do something, always say yes because you can always back out later, but if you say no, you close the door and you never really get to learn anything," Braxton said.
Although he once couldn't wait to leave Williamsburg, he is now one of the area's biggest fans. 
"We have an abundance of nice people here," he said. "This is the only place I've ever been – and I've been to a bunch – where you talk to the people and they say, 'I love it.'"
Although he knows some young people may view Williamsburg differently, he suggests they wait 30 or 40 years.
"You know what I tell them? I say, 'You'll be back.'"