W&M helps First Baptist Church celebrate 240th anniversary
People from across the country, including members of the William & Mary community, gathered at the First Baptist Church of Williamsburg Monday to celebrate the 240th anniversary of one of the oldest African-American houses of worship in the United States.
The event included participation by civil rights giants Jesse Jackson, Bernard Lafayette, and Rhea McCauley representing the family of civil rights pioneer Rosa Parks; dignitaries such as former U.S. Ambassador-at-Large Suzan Johnson Cook and Hampton University President William Harvey; artists and social activists Dionne Warwick and Esperanza Spalding; and the Hampton University Choir.
"It was unbelievable," said W&M Chief Diversity Officer Chon Glover. "It was so powerful and absolutely a celebration. It was just beautiful."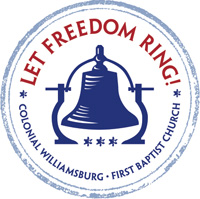 William & Mary President Taylor Reveley was also in attendance along with W&M Lemon Project Managing Director Jody Allen and Ron Monarck, managing director of Alan B. Miller Center for Entrepreneurship, who helped coordinate W&M's involvement. Other members of the campus community who participated include Vernon Hurte, senior associate dean of students and director of the Center for Student Diversity; Chris Gareis, associate professor of educational leadership; and students Braxton Hicks, E.J. Jackson, Greg Packer, Adom Whitaker and Frank Wood.
Those in attendance were among the first to ring the church's newly restored bell, kicking off a national challenge to keep the bell ringing throughout the day – every day – throughout Black History Month as a part of the #LetFreedomRingChallenge. People interested in participating can reserve their chance to ring the bell at www.LetFreedomRingChallenge.org.
Throughout the month of February, the Colonial Williamsburg Foundation and William & Mary will feature a series of related special museum exhibits and events in celebration of the church's anniversary and Black History Month.
The following events will take place at the university or involve W&M community members:
William & Mary Business School lecture series
Feb. 11 and 18 at 5:30 p.m. at the Raymond A. Mason School of Business in Miller Hall
Two speakers will discuss the history of African-American business in the region, which has a long and rich history of black businessmen and businesswoman women. On Feb. 11, historian Russell Hopson will give a lecture on "Free Black Families of Southern York County — 1690 until Pre-Civil War Era" in Miller Hall's Brinkley Commons. On Feb. 18, Edith Heard will discuss "Early Black Businesses of Williamsburg" in Miller Hall room 1013.
'Something Must Be Done About Prince Edward County'
Feb. 16, 5:30-6:30 p.m., Swem Library
Kristen Green, journalist and author of the New York Times bestseller Something Must Be Done About Prince Edward County. In the book, Green shares the story of her childhood community and how its students and families were affected by the Supreme Court's ruling of Brown v. Board of Education. The event will be held in Swem Library's Ford Classroom on the ground floor. A reception and book signing will follow. The event is free and open to the public, but attendees are asked to RSVP online or by calling (757) 221-7872 by Feb. 12.
Terry Meyers on W&M's Bray School
Feb. 19, at 5:30 p.m. at the Dewitt Wallace Decorative Art Museum's Hennage Auditorium
Terry Meyers, Chancellor Professor of English, will talk about his research on the Bray School, an 18th-century institution established at William & Mary for the education of free and enslaved black children.