Student neurodiversity group promotes understanding, acceptance
Joel Carver found out about his Asperger's diagnosis in the eighth grade, but he rejected the idea and put it out of his mind until his senior year of high school. It was then that Carver was assigned a psychology reading of his choice and decided to focus on Tony Atwood's The Complete Guide to Asperger's Syndrome. The book was a revelation.
"It was this incredible moment of, I'm not a reject. I'm not a misfit, a freak, a monster … I'm me. I have Asperger's. There are other people like me. And it was this wonderful moment because I could understand who I was so much better," he said.
As soon as he was done with the book, Carver knew he had to tell other people what he had learned.
"Because so much of the trouble of living on the spectrum is about living in a world where people don't understand what your life is like," he said.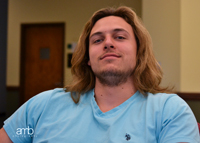 Now a sophomore at William & Mary, Carver is helping to further that understanding by joining with other students to promote the acceptance and appreciation of neurodiverse people. He and fellow sophomore Haley Outlaw serve as co-chairs of the W&M Neurodiversity Student Group, a part of the university's neurodiversity initiative, which began in 2012 and seeks to educate the campus community about brain differences through programs, research and other efforts.
A safe space
The student group meets weekly in Blow Hall and includes autistic students as well as those with Tourette syndrome, attention deficit hyperactivity disorder, obsessive compulsive disorder, depression and social anxiety. Neurotypical allies – students who do not have atypical thought patterns or behaviors but support those who do – also attend the meetings. Outlaw and Carver, who met as freshmen, were the only members of the group at the beginning of the 2014-2015 academic year; there are now about 15 regular attendees as well as about 40 people on the group's email listserv.
"It's a fun group of people," said Outlaw.
One of the purposes of the group is to provide a safe space for neurodiverse students to discuss issues that neurotypical people may not understand, such as increased sensitivity to sensory input. Outlaw, for instance, can only wear soft clothes and will eat only about 30 foods.
"These kinds of things don't make sense to other people as much," she said. "They're like, 'OK, that's weird.' So just being in a group where I can say something about, 'Oh yeah, I ate at this same restaurant three times in three days,' and they're just like, 'Yeah, yeah, I get that.'"
The group also discusses issues they face with social interactions. For instance, when orientation is mentioned, the students let out a collective groan, "just because freshman orientation was so much social interaction," Outlaw said.
"I can do social interaction, but I get burnt out. It's the same way that if a neurotypical person talks to someone for eight hours straight, they're like, 'I need to go home and be alone,' but my threshold is a little less than that," she said.
Outlaw, who just received her autism diagnosis last summer after a lifetime of knowing she was different, said that difficulty with social interactions led her to develop social anxiety.
"If any interaction went badly, I would blame myself because it had to be my fault because I'm the one who's different," she said.
Being in the group helps students like Outlaw know that they're not alone in those experiences and that autism is a part of who they are, not something to be ashamed of.
"I used to be really scared, not of being judged for being autistic but of people's misconceptions about it," said Outlaw. "So I was really leery about telling people … then I'm like, they're never going to change their opinions if they don't meet me or someone else on the spectrum."
Increasing awareness and acceptance
That's the other main purpose of the student group: helping neurotypical people understand what neurodiversity is, what it's like to be neurodiverse and why neurodiverse people may seek accommodations. In order to meet that goal, the group hosts a variety of events, from information sessions to movie nights.
"Neurodiversity is asking for the same things that our founding fathers asked for hundreds of years ago: life, liberty and the pursuit of happiness. … What we're asking for is not that out there, just a little different from what everyone thinks they need," said Carver.
One thing that members of the W&M community can do to support neurodiverse people is to accept behaviors that may be a little out of the ordinary, said Outlaw, behaviors such as the tics of someone with Tourette's or the "tantrums" of autistic children.
"Everyone looks at that and thinks, 'Oh you need to control your child,' or, 'That's bad parenting,'" said Carver. "Whatever they say, they don't really understand that if they were in that kid's head, they would probably be having a meltdown, too."
It can be difficult for a neurotypical person to appreciate the intensity of such feelings because of a lack of "normal approximation" for autism, said Carver.
"If somebody has depression, people don't know what it's like until they've had a major depressive episode, but they think, 'Oh I know what it's like to be sad,' and while it's not an accurate picture, it's the start of empathy," he said. "You can't really say I know what it's like to not have innate social understanding because if you're not on the spectrum, you just don't. You see things in a different way. You learn in a different way. You process in a different way."
Neurotypical people can also have trouble understanding why neurodiverse students may need accommodations, which can be viewed as unfair advantages.
"We're trained in society to have a negative view of that," said Carver. "That's really not healthy for the people who have it because there's nothing you can do about it."
Role models with purpose
Helping neurotypical people understand those kinds of things will help them empathize more with neurodiverse people – and that will make everyone's lives easier, said Carver. He'd like to see William & Mary at the center of the movement to increase that understanding.
"Right now, neurodiversity is ramping up. I think in the next couple of years, we're going to see an exponential growth in this movement across the nation and at William & Mary, and I think that right now is when it's going to start. It's about to take off, but in order for it to successfully do that, we need everyone on campus to know that we exist," he said.
"We really want everyone on campus to know what neurodiversity is," said Outlaw, who is designing her own major in disability studies and advocacy. "From what I hear, we've kind of started to get people talking about it. The goal is long-term that they'll take that knowledge – W&M students go into a huge variety of different fields – and apply it there, whether that's law or medicine or government, conceivably anything."
By the time he graduates, just five years after accepting Asperger's as a part of his identity, Carver hopes to see around 20 percent of the campus somehow involved in the neurodiversity initiative. He also hopes to be among an increasing number of role models in the autistic community.
"Being able to help people like that, it gives life a purpose. I think everybody struggles with why we are here, what is the purpose of life. Advocating for autism allows me to do something that I think I'm good at, and something that's objectively, morally right."
For more information on the W&M Neurodiversity Student Group, visit the group's
Facebook
page or send an
email
.