Neurodiversity advocate Robison to teach, consult at W&M
One of the nation's most well-known and influential neurodiversity advocates is bringing his expertise and counsel to William & Mary this academic year.
John Elder Robison, who has used his personal experience with Asperger's Syndrome to inform national public policy, will serve as a scholar-in-residence at the university, consulting with faculty and students and co-teaching a class on neurodiversity.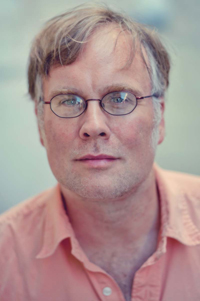 "I hope to help William & Mary establish one of the first college curriculums that has at its focus neurodiversity," said Robison. "Neurodiversity is the idea that humanity is by nature neurologically diverse – we have different ways of thinking that are founded in structural brain differences – and that diversity is essential to our success as a species."
Robison, who was not diagnosed with Asperger's Syndrome until he was 40 years old, has since written best-selling books and articles on the topic and has served as a consultant to multiple schools, health care organizations and other companies. He has also worked with such high-profile organizations as the National Institutes of Health, Centers for Disease Control, Autism Speaks, World Health Organization, U.S. Department of Health and Human Services and the Institute for Autism Research.
His appointment at William & Mary is part of the university's neurodiversity initiative and was made possible with the support of Charles Center Director Joel Schwartz, Provost Michael R. Halleran and the Department of Psychology.
Provost Michael R. Halleran explained that he was "pleased to be able to support this initiative since it connects with several units across the campus and affects many of our current students.  Robison's visit to W&M last year attracted much attention both on campus and in the community, and I have no doubt that his work here this year will provide further stimulation to and advice on this initiative."
While at William & Mary, Robison will be involved in a number of projects.
"To me, the impressive thing is the diversity of ways we're going to profit from him being on campus," said Schwartz.
Robison will help design and co-teach a one-credit course on neurodiversity to be offered through interdisciplinary studies in the spring. The course is part of a University Teach Project (UTP) that began in 2012 and focuses on the classroom experience for students with neurological differences.
"I hope to work with W&M faculty and students to develop more effective ways of teaching people who are neurodiverse, many of whom do not learn effectively when faced with teaching methods that were developed for the 'neuro-majority,'" said Robison.
The professors involved in that UTP -- Cheryl Dickter, Joshua Burk, Janice Zeman and Karin Wulf – will co-teach the new course with Robison.
"He brings a wealth of experience in terms of understanding neurodiversity research," said Burk, "but he also has a broad understanding about the autism community and neurodiversity community, and that's something that I'm really looking forward to learning more about and also sharing that with our students."
Robison will also consult with faculty members about potential research initiatives and grants.
"It's great that he wants to develop the class with us, but that he wants to help out more with other things I think really shows a commitment to the College," said Burk, who, along with Cheryl Dickter and Janice Zeman, is already working with Robison on a potential grant. Working with the Neurodiversity Working Group on campus, Robison also hopes to help William & Mary better accommodate neurodiverse students and faculty, both inside the classroom and out. As a person who is on the autism spectrum, Robison will bring a unique perspective to conversation about neurodiversity on campus, said Schwartz.
"He's great because he talks about Asperger's syndrome and neurodiversity, but when you talk to him, you're actually dealing with it," said Schwartz. "That's the great experience for students and faculty; that's the real phenomena. … It's a phenomenal opportunity to really address that issue in a very direct way on campus."
Robison will also use his time at William & Mary to make use of the university's resources as well as those at Colonial Williamsburg to further his own research on the founding of the church in the city.
The new appointment is a return to William & Mary for Robison, who spoke at the university last spring. It is also a family tradition of sorts. Robison's several-times-over grandfather was Orlando Jones, a member of the Virginia House of Burgesses, Martha Washington's grandfather and a student at William & Mary's Classical Grammar School. According to a 1993 history of William &Mary, he delivered an oration on May Day in 1699 praising the advantages of Middle Plantation (which later became Williamsburg) as the site for the school, predicting that "the colledge will help to make the town."
Jones, whose father was the founding rector of Bruton Parish Church, later became usher of the Grammar School and the university's first counsel, according to Robison.
"As his descendant I am particularly proud to be invited back to serve this school and the wider community," he said. "Many of my ancestors were clergymen, and I like to think one of their strongest messages was one of acceptance and tolerance.
"I have autism and many of my ancestors also had neurological differences. That makes my return here -- to further the cause of neurodiversity -- particularly meaningful."
Robison will be in town next week to meet with his colleagues and plan next semester's course. Faculty and students interested in meeting Robison to discuss neurodiversity at the College should contact Karin Wulf.