Mural mural on the wall, how you've enlivened Tucker Hall
It was a disaster zone masquerading as a college courtyard, a small outdoor space at Tucker Hall, nearly walled in by pockmarked brick, that few people at William & Mary knew about and fewer still would have wanted to visit.
Adam Potkay, chair of the English department, was determined to give the space some meaning.
"The wall was hideous," he said. "It looked like someplace where executions were held. We thought this was awful. What could we possibly do? No one wanted to sit down here."
He found his solution in young artist Kristen Lied Peyton.
Peyton is a 2012 graduate of the university, with degrees in studio art and Latin American studies. Potkay didn't know her, but she had been recommended by his friend, John Lee, an assistant professor in the art and art history department.
Potkay and Peyton talked. He liked her, and decided to commission her to paint a mural. They measured the space – it was long and not very tall and reminded her of a cartoon strip. Then Potkay got out of her way.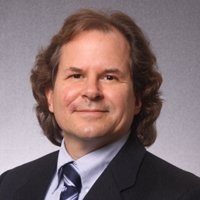 Last January, Peyton started by looking inward to recall books she enjoyed as a kid. Then she asked friends from the English department to name some of their favorite titles. Then she sought to include expressions of diversity, then something international, something for children, and, literally, something that said "home."
She could not paint onto the wall directly; rather, she had to employ a surface that could be attached to the wall. Even though the area was dark and sort of grim, she had to choose a paint that was light fast, one that wouldn't be corrupted by moisture.
Her husband, Daniel Peyton '13, was good with a saw. He built her an easel and cut wooden boards to certain specifications. Peyton drew a smaller study, primed the boards, gridded them, drew her choices to scale then painted.
Working from a farm she and her husband were renting, she started painting in April, using an old apple shed as her studio. The building had a tin roof that trapped Virginia's traditionally blazing summer heat, something she laughingly admits she never considered.
She finished with 11 brightly colored scenes that were unveiled in August, around the time she left to begin postgraduate studies at the University of New Hampshire.
The visitor starts with a view of her old living room from when she lived in Norge, Virginia, a blue easy chair with an open book perched on an end table. Then one is carried through a window into a depiction of her backyard, and the journey begins in earnest:
Scene one: Little Red Riding Hood (and wolf), a Grimm Brothers fairy tale;
Scene two: Boo Radly's tree from To Kill a Mockingbird by Harper Lee;
Scene three: A kneeling African-American woman, representing The Bluest Eye by Toni Morrison;
Scene four: A caged bird, representing I Know Why The Caged Bird Sings by Maya Angelou;
Scene five: Don Quixote, horse and windmills, representing The Ingenious Gentleman Don Quixote of La Mancha by Miguel de Cervantes Saaverda;
Scene six: The optometrist's billboard from The Great Gatsby by F. Scott Fitzgerald;
Scene seven: A banana tree with leaves, a train and a slew of loose-leaf paper flying in the air, representing One Hundred Years of Solitude by Gabriel Garcia Marquez;
Scene eight: A giant red snake coiled around a clock, representing Midnight's Children by Salman Rushdie;
Scene nine: A whale with harpoons sticking from it and a ship in pursuit, representing Moby Dick by Herman Melville;
Scene 10: A man staring at the skull he holds in his hand, representing Hamlet by William Shakespeare.
"I tried to get something in for all ages and from all genres," she said. "People been really positive about it. Some tour guides have added it to their tours."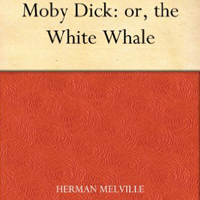 Potkay said he is delighted with the final product, as are the department's faculty and staff. During a Homecoming reception, he escorted a lot of alumni to the space.
"Everyone likes trying to see how many they know," he said. "They like it. It's colorful."
Peyton had one previous experience painting a mural. A Monroe Scholar while at William & Mary, she received a grant to live in a girls' rescue home in Nicaragua.
"We talked about art that had a social effect or that addressed social issues," she said. "We looked at a bunch of artists who dealt with social issues. During the six weeks I spent in Managua and lived with the girls, I painted a mural in their kitchen, which they helped me do. It was a jungle scene."
Like many people at W&M, Peyton said she was completely unaware of the courtyard's existence before Potkay showed it to her.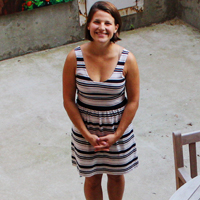 "But right before I left, I showed a couple of friends, and people were actually down there eating at the picnic table," she said. "It was fun for me to see that.
"It's kind of like this secret spot, and when you come upon it, you find this gem. Hopefully, the word will spread, and it won't be so secretive."