Four students carry 'Big Idea' to Haiti
Sora Edwards-Thro '18 has a history of performing volunteer work in Haiti. This summer, she and a trio of fellow William & Mary students are taking advantage of previously unavailable opportunities to make something uniquely meaningful happen there, thanks in large measure to BigIdeas@Berkeley.
In April, Edwards-Thro's team – Lydia Boike '18, Aidan Fielding '18 and Zhane Richardson '16, the first three 1693 Scholars – finished first in the "Mobiles for Reading" category and second overall in this year's Big Ideas contest. They earned $13,000, money they are using to employ mobile technology to teach reading and writing in Haiti.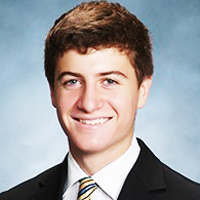 First, however, some background.
Several summers ago, Edwards-Thro taught herself Haitian Creole then became a member of "Unleash Kids," a grassroots group of volunteers who distribute rugged, low-powered green-and-white wireless laptops provided by "One Laptop Per Child," to the poorest children throughout the world. She's now responsible for nine Haitian schools, which she serves as contact person for a team of people who make sure things there operate smoothly.
Her grand mission has been to teach elementary school children using Haitian Creole. The language had been relegated to an "outil d'enseignement," or "tool of education," until a constitutional change in 1987 elevated it to equal "official" status to French. Still, getting children to read and write with it remains an issue, despite the fact that it is the first language of the overwhelming majority of the population.
Founded in 2006, Big Ideas@Berkeley is aimed at providing funding, support and encouragement to interdisciplinary teams of students who have big ideas. According to its website, "by encouraging novel proposals and then supporting concrete next steps, Big Ideas is helping contest winners make an impact all over the world."

[William & Mary students are able to participate in BigIdeas@Berkeley's contest due to AidData's participation with USAID's Global Development Lab's Higher Education Solutions Network. The staff reached out to students to help generate interest in the contest. When Edwards-Thro's team was selected, AidData worked with the University of California-Berkeley to help fund travel costs so the students ultimately were able to give their pitch in person.]
In November, nearly 200 teams from 18 colleges, totaling almost 700 students, submitted proposals to a panel of judges. The proposals were split into two categories: Campus and Community Impact and Global Impact.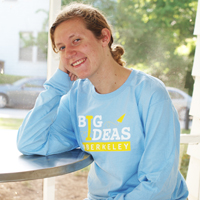 The W&M team's initial idea: Give Haitian elementary school students "decodable" books in Creole, thus helping them learn to read the language using laptops. A decodable book is akin to The Cat in the Hat, which uses really simple words so children can practice reading.
"There was the initial submission, which the judges then decided either was or wasn't 'creative' enough," Edwards-Thro said. "We really had everything figured out.
'Unleash Kids' has been doing this in Haiti for a while. They've figured out the Internet parts, they've figured out the solar power stuff. They know how to repair the computers."
But the team wasn't done.
Edwards-Thro and a programmer from "Unleash Kids" had already been finalists, earning prize money, on a challenge from "All Children Reading" (ACR) on designing software for writing decodable books. A trip to Haiti to meet with teachers convinced the two that instead of giving Haitian children only decodable books, why not something a bit more sophisticated, storybooks and exciting non-fiction, like how do volcanoes work?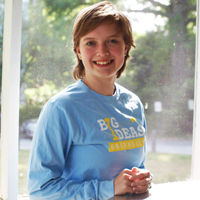 "Without a doubt, Dr. Seuss is a genius," Edwards-Thro said. "He wrote simple stories that also delight children. But many decodable books, by their very nature, are less engaging than other kinds. What about something a kid can pick up and get excited about reading, excited enough to want to learn how to read so they can get through this book and others?
"We also started focusing on how to get kids to write their own stories, so we put together a software application and hired another programmer using the money we got from ACR in the decodable book competition. He programmed the kids' 'app' for us and tweaked other things to make it all run smoothly."
On May 21, Edwards-Thro and Boike flew to Haiti. In a few days, Fielding and Richardson will join them.
They come armed with the software for 125 books, with the first task to work with teachers to develop a curriculum for the books that they'll use over the summer. They also will provide training on how to use the laptops.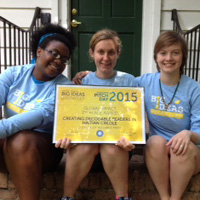 Starting in July, Haitian elementary school children age 7-10 will meet with teachers three times a week and will be taught how to read and write Haitian Creole, both individually and in groups. They'll read independently and aloud.
Some of the children will have laptops. Some will just have books. Students will be tested at the start of the session and again at the end to see if their scores change, or whether the children using laptops improve more than those using books.
"Our project is very far along," Edwards-Thro said. "We have the software already going. The laptops are already in Haiti. The teachers want to use them (but training was minimal). If you go to a village and knock on the door – which I have – and ask the director if they have any of the cute green-and-white laptops, they'll show you stacks and stacks of them sitting in their closet … Now they'll be used."