Behind the mic: A look inside the Mason School's new podcast
In a quiet, plain room on the second floor of William & Mary's Raymond A. Mason School of Business, Ken White sits at a long table with Shenkman Capital Management's founder and CIO Mark Shenkman, two microphones between them.
It's been a long day for Shenkman, who has spent hours visiting classes and sharing his experience with business students. He is not an alumnus, but has supported W&M since his son attended the business school.
He's also agreed to be the latest guest on the business school's new podcast, "Leadership & Business."
"You shared something that everyone found very interesting when you were talking to MBA students recently," White says to Shenkman (who admits he "doesn't do media").
"Every day, you take some time to write down your accomplishments for the day. What's the plan? What's the goal for that, and how do you do that?"
"I've done it my whole life," Shenkman says. "The last week of December, I write a list of the 10 things I want to accomplish in the next year. The only way I know whether I'm achieving those 10 goals – and some are personal, some are business and some have to do with what's called values of success … If you measure what you're doing on a daily, weekly and monthly basis, you're more likely to achieve those 10 goals than to just wake up one year later and check off, 'Oh, I got number one, but I didn't get two, three, four or five …"
"So in this calendar year, I've gotten eight out of 10. I need two more to get done before December 31st."
Thought leadership
The podcast is simple: just two people talking about life and business. There's no high-end recording studio for host Ken White, associate dean for MBA and executive programs. With an initial investment of about $200, the podcast goes where he goes.
"Leadership & Business" launched in September and is hosted by the business school's Center for Corporate Education. A new podcast is released every Tuesday and runs about 20 minutes. They can be found at iTunes, Soundcloud or other podcast outlets.
The idea for the podcast came as the center and the business school considered how it could amplify Miller Hall's thought leadership to a wider audience, White said.
The podcast is the first for the entire school of business, so it's appropriately under the Center for Corporate Education banner. The CCE, as it's known, has pioneered a list of "firsts" for the school, including the first entirely synchronous online course.
"At the end of the day, there are many portals through which people are learning and where education is taking place," said CCE Executive Director Rosanna Koppelmann. "In a digital world, where there are multiple spaces where education is taking place, it's imperative that we be at the intersection of those. The podcast is one way we've been able to do that."
"The other piece that's very important is when we realized who comes through these hallways on a weekly basis, it's staggering the successful people – the business leaders who are alumni and friends of alumni. Not to capture that would be a crime," White said.
While the podcast is a production of the CCE, listeners aren't promoted to death. The CCE's involvement is dealt a light touch.
"Probably the top 60 business schools have what they call executive education," White said. "You need the right faculty, the right facility, you need a lot of things in order to offer that."
Koppelmann said many centers focus on continuing education rather than on executive education. The CCE's strategic polestar is leadership development.
"We're much more focused on some very clear learning objectives in the areas of leadership and other business functions," Koppelmann said. "We're also different in that our core business focuses on custom executive education programs for companies that identify business and learning solutions unique to their company's strategic goals and objectives."
The people's dean
White was a natural fit for host. Before a long career in higher education, White was an award-winning television sports anchor. He retains his delivery from those days and displays a journalist's sensibility in his questioning and handling in the short, 15-20 minute podcasts.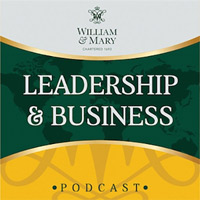 "He is top-notch," Koppelmann said. "He has a great voice and he just took this whole project and ran with it. He's definitely 'the people's dean.'"
White and the center agreed early on that they wanted the podcast to feature face-to-face interviews. So White mines the many visitors and executives-in-residence for guests, but also meets up with business leaders in his travels.
Since the debut podcast, "Advice From a World-Class CEO" with Honeywell Chairman and CEO David Cote, White has featured diverse guests and topics on public relations, handling stress, big data, communicating change, branding and more. (The Shenkman interview is episode 10, "Insight From an Entrepreneur.")
"People have been great," White said. "We've not had one edit, out of probably 30 we've done. Not once has someone said, 'Ugh! That's not what I meant to say. Let's start over.'"
Communication is key
Though the guests and topics diverge widely, some themes have emerged.
"Communication," White said. "When I'm interviewing CEOs and leaders, they go right to that – how critical it is and how important it is they communicate with their employees and their entire team."
White said the top four skills employers want in new hires are communication skills– oral, listening, writing and presentation – according to a GMAC survey. And he hears it from his guests.
The commentary confirms a core tenet of the business school, which is in the minority in its field for requiring communication courses. "Only 16 percent of MBA programs do," White said. "Isn't that a crime? We do emphasize it, and the students know it, because they hear it from the moment they walk through the door."
Integrity, ethics, globalization, adaptability and being "other-centric" also arise in conversation with some frequency, White said.
While the podcast is broadly targeted toward those interested in leadership and business, the talk transcends corporate-speak.
More than 1,000 people had downloaded the first episode within a few days of its release, so the podcast made iTunes' "new and noteworthy" section, which helped bump numbers even further, and the business school is getting good feedback, both White and Koppelmann said.
"They've got just some really good life lessons," Koppelmann said. "For people in various stages of their professional growth and development, those on the more aspirational side of where they're trying to go, the podcasts are a great tool for educational and corporate learning.
"Whether you're in business school or considering it, or you're just trying to carve out a path in arts and sciences, there are some really cool takeaways I think everyone can learn from."