Raymond A. Mason Business School launches Online MBA
The Raymond A. Mason School of Business at William & Mary is now accepting applications for its new Online MBA program. Students will begin classes in the university's first all-digital degree program on Aug. 24.
The entirely new curriculum was developed around the theme of "Renaissance Thinker, Revolutionary Leader."  The program, accredited by the Association to Advance Collegiate Schools of Business, blends the best qualities of William & Mary – a public ivy education, world-class faculty, small classes and global community of peers – with the convenience of an online program.
"The Mason School faculty have thoughtfully created a uniquely William & Mary experience, combining the school's tradition of revolutionary leadership with the flexibility of an online program specially designed for busy working professionals and executives," said Online MBA Director Pam Suzadail. "The curriculum goes beyond the typical quantitative skills learned in an MBA, adding specialized classes and projects that will teach students how to identify and solve complex business problems."
Students will begin and end their coursework in classes specifically designed to integrate their professional experience in framing a complex business problem, developing a systematic approach to solve it, generating an innovative solution and persuading others of its value. "This ability and mindset, the structure to think creatively in a business framework, will immediately provide value to the students and the companies they work for," said Suzadail.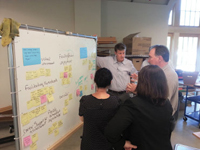 The 49-credit program is designed to be completed in two years, with students taking six courses lasting seven-and-a-half weeks each. The program requires students to have at least two years of prior work experience. The program fosters robust engagement among students and faculty, by design. A required on-campus residency gives students the opportunity to connect in-person with each other and the larger W&M community, while the program's customized mobile app allows students to work anytime, anywhere, making classes even more accessible for working professionals.
"The key themes of the program are those that have defined the William & Mary educational experience for over three centuries," said Todd Mooradian, Mason's associate dean for faculty and administration. "We're emphasizing breadth of knowledge, communications, critical thinking and creative problem-solving: the Renaissance toolbox."
The innovative curriculum was designed by Mason School faculty members. The program will be administered through a partnership with higher education online services provider Everspring, Inc. Everspring will provide end-to-end integrated support, including outreach, enrollment, student services and faculty support, using its proprietary customizable services and technology platform.
"We are excited to be partnering with the Mason School to support this outstanding online program," said Karen Baldeschwieler, Everspring's chief learning officer. "The program's engaging design and the innovative delivery will let faculty provide their online students with the personal student experience that Mason School is known for."
For more information about the program, visit onlinemba.mason.wm.edu or call 1-844-396-6227.
About the Raymond A. Mason School of Business
As the second-oldest college in the United States and educational home to many American leaders, the College is considered the "alma mater of a nation." Its Raymond A. Mason School of Business embraces the entrepreneurial spirit that built the country atop a foundation of business, trade, and economics. Its revolutionary approach to business education with its personalized, experiential model invites energetic thinkers with a will to lead in creating a strong sustainable economy and thriving society.
About Everspring, Inc.      
A leading provider of end-to-end online services, Everspring delivers innovative, integrated educational technology and support services. Partnering with top-ranked universities, Everspring designs, builds and manages best-in-class online programs that reflect the unique culture of our university partners.