'Snap polls' reveal IR scholars' thoughts on defense spending, Syria
A survey conducted by William & Mary researchers of more than 900 International Relations (IR) scholars at U.S. universities finds a near consensus on a variety of foreign policy issues.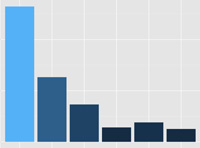 A majority of scholars believes that the U.S. defense budget is too large and that recently proposed cuts will have no effect on U.S. national security. They also oppose unilateral U.S. military action against Syria.
Key results:
Nearly three-quarters of IR scholars (73 percent) believe the United States spends too much on defense.
A majority of IR scholars (52 percent) agrees that defense budget cuts proposed by the Obama Administration will have no effect on national security, while a substantial minority (27 percent) thinks the cuts will enhance national security.
While most IR scholars (80 percent) agree that Syria will fail to meet its June 30, 2014, deadline to destroy its chemical weapons, a majority (60 percent) believes that Syria will ultimately comply.
Even if Syria fails to comply, the overwhelming majority of IR scholars (87 percent) does not support the use of force by the U.S. against Syria.
IR scholars are divided in their views on the future of Ukraine over the next six months, with 40 percent expecting continued violent conflict and just 20 percent anticipating a stable, pro-Western government.
Most IR scholars (56 percent) did not foresee Russian military intervention in Ukraine.
Some survey results have been published on ForeignPolicy.com. The full report can be downloaded here.
This survey is the first in a series of "snap polls" conducted by the Teaching, Research & International Policy (TRIP) Project at William & Mary with the generous support of the Carnegie Corporation of New York.
The TRIP Project plans to field these snap polls several times a year in an effort to provide real-time information on expert views of emerging public debates on foreign policy issues or during international crises.
"Because the results can be disseminated quickly, we hope these polls will contribute to public and policy debates as international events unfold," said Michael J. Tierney, Hylton Associate Professor of Government at William & Mary and TRIP principal investigator.
"Our view is that, because of their expertise, international relations scholars can provide insight into the world's increasingly complex foreign policy dilemmas," he added.
The TRIP Snap Poll surveyed all individuals employed at a U.S. university in a political science department or policy school who teach or conduct research on issues that cross international borders. This first snap poll was sent to 2,805 IR scholars across the nation and elicited responses from 908 individuals. The resulting response rate is approximately 30 percent, and the margin of error for the poll is +/-2.7 percent. This poll featured nine questions on a variety of issues, including the emerging crisis in Ukraine, the conflict in Syria and U.S. defense spending.
"It is clear that on some issues the academic experts' views differ markedly from those of the general public," said Susan Peterson, Reves Professor of Government and International Relations at William & Mary and a TRIP Principal Investigator.
"On defense spending, for instance, just five percent of international relations scholars believe that the United States is spending too little on defense, compared with 28 percent of the U.S. public," she noted.