Phenomenal freshmen: Funkdefied dancers have the right moves
{{youtube:medium:left|zCcWnbj3C6c}}
If you're a freshman at William & Mary, you're phenomenal. After all, you are one of only 1,521 from a pool of 14,552. This feature series takes a look at just a few of the College's freshmen and the phenomenal qualities and experiences they have brought with them to W&M. – Ed.
While freshmen Alana Canty-Samuel '18 and Hannah Richman '18 are busily getting to know the William & Mary campus and making new friends, they can at least bank on one another. The pair danced together on the same all-girl, dance team throughout high school.
"I remember meeting Alana there at the tryout and seeing her backstage," Richman said. "She and I and another girl were the only three freshmen that made it on that year."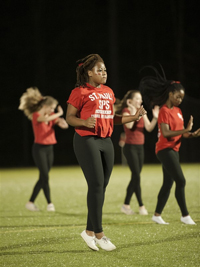 Although that was the first year they danced hip-hop with Funkdefied at St. Paul's School in Concord, New Hampshire, both had grown up doing various types of dance.
The team performed at night games, charity events and the school's version of W&M's Admitted Student Day, among other events, they said.
"And we did a basketball night game in heels, which was a disaster," Richman said.
"Yeah, four-inch heels on a basketball court, freshly waxed," Canty-Samuel added.
"Luckily no one fell, but there was a bit of stumbling," Richman said.
By the time they entered their senior year, Canty-Samuel captained the dance team.
Neither knew that the other had other had been accepted into William & Mary until the night of a performance, when they were welcoming new students to St. Paul's. They said a third freshman from their school, but not from the dance team, also started at W&M this fall.
Canty-Samuel is a neuroscience major and Richman is studying international relations as part of the Joint Degree Programme between William & Mary and Scotland's University of St Andrews. But they hope that dance is part of their university experience.
Both were planning to try out for Syndicate, William & Mary's student-run hip-hop dance team. Canty-Samuel said she was also joining BBoy Club for breakdancing.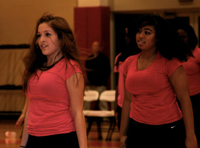 "I have recently joined the Swing Club, which is a lot of fun," she said. "I'm learning. It's one of the only dance styles I've never encountered or had an opportunity to do."
She said for her, dancing is therapeutic, relieves stress and is plain fun. "Especially when you're dancing in a group with other people, whether it's choreographed or not. It's a nice way to use up time and exercise. I hate exercise, but dance is one form I don't hate."
Richman, too, loves the community aspect of dance. "It's nice to have a group of girls where you get to laugh at each other, totally fall on our faces and make mistakes," she said. "It's really nice to have that secure friend group."