Begala to students: 'Be active in self-government'
Democrat political strategist and CNN contributor Paul Begala visited William & Mary on Monday to share with students the importance of being engaged in government.
"I want to share the sense that government, politics, campaign work, our national rights -- it's the most important thing you can do," he said. "It's honorable to be in business; it's worthy to be in medicine, law, and all these professions. But, it's so important to be active, in addition to those things, in the business of self-government."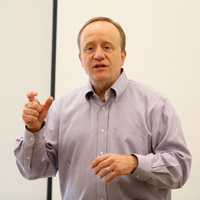 During his visit, Begala spent the day speaking with government students in Professor Jaime Settle's American Politics classes, as well as students in Professor John McGlennon's Southern Politics class in Morton. Monday evening, he spoke with students, faculty and staff during a campus forum in Tucker Hall. The W&M in Washington Program sponsored Begala's visit.
When speaking to one of Settle's American Politics classes, Begala touched on a variety of topics, including his experiences as a political consultant, his work on CNN and his most recent article on the growth of volunteerism in America.
During Monday night's event with students and faculty, Begala discussed everything from the impact of social media on the political process to his role as a partisan political pundit on CNN.
"We try to be fair and present both sides," Begala said of his role to present CNN viewers an insider's look at the Democrat side of the issues. He added that he has a good deal of respect for his Republican counterparts on CNN. It's important to be open minded, he said. "I really listen because I learn from them," he said.
Begala said social media has changed everything about political communication.
"It has changed it radically, mostly for the better," he said. "Political communication used to be top down. Now it's iterative. It's communal in a way that is way more powerful.  It's your friends and relatives talking with you."
Settle will teach a course on politics in the age of social media in D.C. next spring as part of the W&M in Washington program.
Begala first entered the political arena when the consulting firm he and fellow political strategist James Carville founded helped President Bill Clinton win the 1992 election. He then went on to serve the Clinton administration in the position of counselor to the president.
Upon leaving the Clinton administration, Begala became a research professor of government and public policy at Georgetown University. He is currently an affiliated professor of public policy at Georgetown University's Public Policy Institute. Begala has also been a contributor for CNN for the past 12 years and was former host of CNN Crossfire.
Monday morning, Begala said that he hoped to learn as much from the students during his visit to the College as they would from him.
When asked what he hoped students would take away from his visit, Begala stated he wanted to tap into William & Mary students' sense of wanting to make the world a better place -- something he feels this generation has made strides toward more so than generations past.
"I want to tap into what I think is a very altruistic sense of your generation," Begala said, "of folks who want to give something back, who want to serve their country, who want to make this place how it ought to be."