New students enjoy 'moving' experience
The music blared. The free lemonade, pizza and cookie stands did brisk business. Parents and their children, often accompanied by upperclassmen volunteers lugging suitcases and mini-fridges, marched through a gauntlet of cheering, chanting, welcoming students into dormitories sporting the shine of freshness.

{{youtube:medium|74N-_OkcgBk, Scenes from freshman move-in day.}}
Friday was move-in day for William & Mary freshmen, about 1,483 of them. In between the sweat, the tears and the start of memories that will last for years to come, it was also a time of reflection.
"My oldest brother is a 2008 graduate, so I grew up hearing the name 'William & Mary' all of the time," said Rime Jabbara of Arlington, Va. "I've liked this place since I was 10 years old."
When Jabbara and her parents would come to Williamsburg to visit her brother Younes, Rime would fantasize about the day she'd become a member of the student body.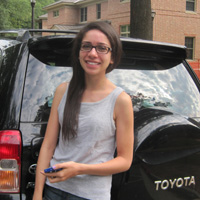 "I literally just cried the day I got the email (of acceptance)," she said. "It was Nov. 30 at around 8 p.m. I just jumped up and down, just went crazy."
Heather Westfall, a University of Virginia graduate, recalled the day she and her daughter Ellie visited W&M from Vienna, Va.
"We had a beautiful day, had the most enthusiastic – and I will say, handsome – tour guide," Westfall said, a broad smile on her face. "He walked us around the school and he knew everyone. It was so friendly. It seemed like such a comfortable place. When it was over, Ellie turned to me and said, 'Mom, this is it. This is where I'm going.'
"She had that moment."
When Ellie and a friend of hers, also an incoming freshman, shared the news with their swim team, the other members of the group hoisted the two on their shoulders.
"They were carried around the pool, and the team was chanting 'William & Mary ... William & Mary ...  William & Mary,'" Heather Westfall said. "It was so much fun."
Although she didn't decide on William & Mary until her junior year of high school, Tiyrah Fields of Richmond, Va., said she'd been looking forward to move-in day since she was a freshman in high school.
"I was looking for a school with somewhat of a prestigious reputation," said Fields, who is contemplating a double major in English and psychology with a concentration in pre-law. "I wanted something that was close (to home) because out-of-state tuition is out of this world. I went here, and it felt right. It felt like home."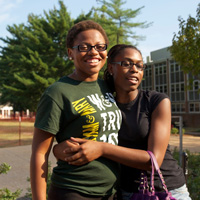 Fields suddenly looked to her right and started waving her arms. Her roommate, Aikiera Cameron, was getting out of the car she'd ridden in from Halifax. The two girls, who met on Facebook, communicated then asked to be paired with each other, shared a joyous embrace.
"William & Mary sent me a card inviting me to stay for a weekend," said Cameron. "When I got here, everyone was so nice. It made me feel like I was at home. This is going to be my home away from home."
Asked if she was excited about the start of classes, Cameron replied, "Yes, I am ready to go now."
At that, the two turned and headed for their new digs.
Meanwhile, President Taylor Reveley moved freely about various sectors of campus, renewing acquaintances with some parents, introducing himself to others and their kids and enjoying a university come alive after a summer's slumber.
"This is a great day, especially for August," Reveley told a group of students waiting to check in, referring to the unseasonably cool morning temperature. "It's a good omen for the next four years."
Sonic Cheon of Fairfax, Va., and his parents had just finished moving into Eagle H and were walking past William & Mary Hall. It was familiar turf.
"This is my third trip down here," he said. "My first impression was that it was really nice, small, comfortable. It was my top choice. I applied for early admission, so I really didn't have any other choice.
"I'm excited, nervous, the regular kinds of feelings. But I'm also kind of comfortable."
Ali Lahrime of Falls Church, Va., Rime Jabbara's cousin, was drawn by W&M's academic reputation and by the city of Williamsburg.
"It looks nice," he said.
Having just arrived on campus, Lahrime looked understandably impressed and overwhelmed by the beehive of activity around him.
"People say this is a new chapter (in his life), but things have been so different I feel like it's a whole new book," Lahrime said. "This is wild."