Two Hampton Roads students among new 1693 Scholars
Two recipients of the 1693 Scholarship, William & Mary's most selective merit-based academic award, will make the short trip from their Hampton Roads communities to campus next week for freshman orientation.
Mitchell Croom, a Yorktown native and Tabb High School graduate, and John Marken of Virginia Beach and Princess Anne High School were among the select group of six incoming freshmen chosen to be 1693 Scholars. The four others are: Jessica Joyce of Loudoun County, Va.; Marissa Messner of Charlottesville, Va.; Morgan Sehdev of Haddonfield, N.J.; and Colin Weinshenker of Rochester, Minn.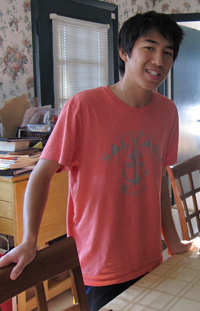 "In a pool that included some of the best and brightest students from around the world, we were pleased to see two students from nearby rise to the top," said Henry Broaddus, associate provost for enrollment and dean of admission.
The 1693 Scholars Program provides Virginia tuition, fees, room and board – $25,279 for the 2013-2014 academic year – and a $5,000 independent research grant. Scholars have the opportunity to study at Oxford University for a semester, design their own course of study, and craft a cross-disciplinary research project in collaboration with faculty mentors.
Funding for the 1693 Scholars comes from private donations from alumni and friends of William & Mary. Marken's scholarship was made possible by Bruce and Jim Murray J.D. '74, and Croom's support comes from the Stamps Family Charitable Foundation, which has created a national merit-based college scholarship program that assists hundreds of elite Stamps Scholars across the country.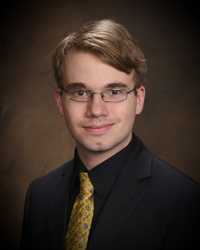 Selection for the 1693 Scholarship is highly competitive. Finalists typically rank within the top one percent of their graduating high school classes and score above 1500 on the Math and Critical Reading portions of the SAT. Scholarship recipients are chosen after being invited to campus in the spring for a weekend of meetings and interviews with faculty, administrators and students that concludes with finalists presenting a unique research proposal to a faculty panel.
Marken's winning proposal focused on the burgeoning field of mathematical biology, specifically using mathematical modeling to understand the activity of slime molds, single-celled organisms that are able to band together and act as one body.
"The biology field is becoming increasingly quantitative, so it incredibly important and exciting to have students like John focusing on such a cutting-edge area of science and math," said 1693 Scholar Program Director Daniel Cristol, also a professor of biology. 
Croom proposed studying the efficacy of the U.S. Constitution through case studies of variety of foreign countries that have incorporated parts of the American charter into their respective constitutions.
"Usually these weekend proposals don't become the scholars' actual area of focus as students become more sophisticated and their interests evolve, but Mitchell's proposal was on par with a senior thesis, something the entire faculty committee recognized immediately," said Cristol.
Marken, a member of Princess Anne's marching band and debate team, plans on majoring in biology or mathematics and is considering minoring in computer science. Croom, an Eagle Scout, debate team captain and senior class president at Tabb, would like to double-major in government and mathematics.
"Sometimes the strongest students are also the closest, and our faculty will be particularly delighted with these two," said Broaddus.