Heart and sole: Staff member Garrison leads shoe drive
{{youtube:medium:center|ACfXvQ0u6Sk, Sole sisters Trina Garrison, Lydia Whitaker and Rosie Fox discuss their shoe collection drive.}}
Trina Garrison is caught in an avalanche – and loving it.
Garrison, executive assistant to the dean of the faculty of Arts & Sciences, moonlights (voluntarily) with Young Life Williamsburg, a Christian ministry that works with teenagers. At the beginning of July, the local chapter began collecting shoes -- new, used and you've-got-to-be-kidding -- that would be distributed to micro-enterprises in developing countries such as Haiti and Uganda.
Organizations will get the shoes then sell them at a very low profit to vendors in these countries. Vendors set up shop and sell the shoes, thus helping to earn some income for themselves and their families. Every shoe, no matter its condition, is sold or used for its raw materials.
Unsure what the response would be, Garrison sent out 15 emails to colleagues on campus. And that's when things started to snowball.
The women's track and field program immediately donated 100 pairs of shoes. Within a week, Garrison had collected a few hundred pairs.
"I thought, 'This is great, but what have I gotten myself into?'" she said, laughing.
The emails kept going out; the shoes kept coming in. Garrison initially stored them in Ewell Hall, but that soon became insufficient. Now more than 270 bags are stacked in a barn on the farm where she and her family reside.
How many pairs? At last count 6,750. How many have come from W&M?
"Between 700 and 1,000," Garrison said, amazement evident in her voice.
One of the people who received Trina's email was Lydia Whitaker, administrative manager for applied science and then-president of the Staff Assembly. She passed on the message.
"I thought it would be a great opportunity for the staff to participate," Whitaker said. "Most of the time you don't hear anything grand about the staff, but we have lots of community-oriented projects. It's a wonderful thing for the staff to feel they've contributed and we're appreciative to Trina for coming up with the idea."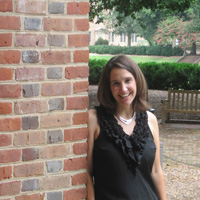 The campus community was far from done. Anna Martin, vice president of administration, asked Whitaker to forward the email to the Professionals & Professional Faculty Assembly as well.
"Within minutes," Whitaker said, "we were receiving emails from staff and others saying, 'I've got shoes, where do I take them?'"
Finally, Rosie Fox, graduate program coordinator for applied science, sent the information to friends and local businesses like Ferguson Enterprises.
"Before I knew it, I was going all over the place collecting shoes and Trina was collecting shoes," Fox said. "The whole thing was just very successful."
And it isn't over yet. Garrison will be collecting shoes until Sept. 30, with a Williamsburg-wide goal of 30,000 pairs.
"You know, this is a win, win, win," she said. "It's a fund-raiser for Young Life so that students in Williamsburg have much-needed funds for camp scholarships. There are an estimated 630 million pairs of shoes that end up in American landfills each year, so we're doing our part to keep them out. And the project provides families in developing nations with some income."
Fox said she isn't the least bit surprised by the overwhelming response, especially from W&M.
"We always say, 'The Tribe,' and that's exactly what it's all about, everyone coming together as a unit, one Tribe," she said. "It's been great."