Building relationships between College, community at Habitat ReStore
The tropical orange desk was eye-catching, to say the least. 
Refurbished and given its peculiar paint job through the combined efforts of four William & Mary student teams, the distinctive desk was sold within 30 minutes of being put on display during the Williamsburg Habitat for Humanity ReStore's first anniversary. The buyer, an artist who planned to use the unique item for inspiration, was thrilled to learn that local college students had given the desk its personality.
"Knowing the history behind the piece really did make a difference for her," recalled Naomi Taylor, assistant manager at the ReStore. "She appreciated the youth and the life in the piece and I think that's because of the young people who made it."
The DayGlo desk is but one product of the close relationship between William & Mary students and the Habitat ReStore. Since the Williamsburg location opened in April 2012, students have consistently been among the regular volunteers who keep the ReStore running and providing housing for those in need. 
Building relationships
A ReStore is a discount building and home supply store used by Habitat for Humanity as a vehicle to raise money for building homes. All items in the store are donated by the community and then sold from 50-90 percent off retail prices with 100 percent of profits going directly into Habitat's home-building program, explained Steve Russell, manager of the Williamsburg ReStore.
"Habitat for Humanity's mission is to eradicate substandard housing and provide affordable housing for low-income families," Russell said. "Every time we net $75,000, that's another home we build."
William & Mary has partnered with the Peninsula and Greater Williamsburg Habitat for Humanity on home-building projects before, so student participation with the ReStore was a natural development in this relationship. 
"As soon as we learned the ReStore was coming in, we knew this was something we wanted to do," said Elizabeth Miller, coordinator of community engagement for William & Mary. "Since then, I don't think we've done a big service or group program where we haven't done something with the ReStore—it came out of an existing relationship that just blossomed." 
With only three paid employees, a diverse group of volunteers is both the ReStore's lifeblood and a cross-section of the Williamsburg community: William & Mary students join dedicated retirees as well as members of civic groups, the military and local businesses in routinely devoting their time and energy to Habitat's mission. 
"Every time I've sent a group, it's always such a positive experience," Miller said. "That's what's been great for me—we want students to come to a place where they're learning about community issues but also feeling like they're involved in the community. I think that's one of the things that happen when they come here because they're meeting other William & Mary groups, but they're also meeting other community members. That's the really cool thing: they're getting conversations and learning about everyone who comes here because it's such a diverse draw for volunteers and people who shop here."
The ReStore staff tries to encourage these meaningful connections between William & Mary students and the community in which they live. 
"We try to find that balance between having really fun projects so they enjoy themselves and want to come back and helping them complete our mission. We want them to understand why they're here and the big picture," said Tina McCabe, volunteer coordinator for the ReStore. 
The relationships students build while working at the ReStore foster a desire to keep coming back, investing in both the community and Habitat's mission. 
"Students have grown into the ReStore. They started with SHOW Day or 7 Generations, they came back for our fall service day, they come weekly or monthly with their fraternity groups. They just want to be here because you can see the impact you're having, but you also have such a positive experience here," said Miller. "You want to get to know people here."
A growing reputation
Miller has observed that the ReStore has a growing reputation on campus as a place at which to volunteer. This reputation has translated into both individuals and groups from all segments of the William & Mary community routinely giving their time to help at the ReStore.
Groups like the South Asia Student Association, Ruritan club, Catholic Campus Ministries and Williamsburg Engagement have sent teams to volunteer on a regular basis, while graduate students and even College staff have also served at the ReStore.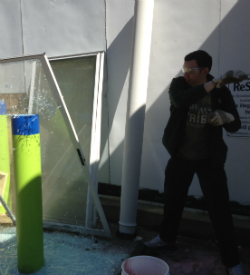 "Volunteering at the ReStore is great because it gets you in the community and working with people who you wouldn't normally see," said Tim Milbourne '14, a member of the William & Mary Ruritan club who has volunteered at the ReStore on multiple occasions. "It's so easy to get wrapped up in this bricked-in palace of 18-23 year olds that you forget that there are real people also. It's nice to be reminded of that and be able to do things for them."
William & Mary volunteers do a variety of tasks for the ReStore, including painting and refinishing furniture donations, working the cash registers, sanitizing donations, recycling scraps and processing donations, as well as maintaining the ReStore itself.
The ReStore staff finds William & Mary support to be essential to the store's operation.
"There's nothing that they haven't done," Russell said. "We just wish they were here six days a week!"
"They're a get-it-done kind of group. We're like 'Oh, the William & Mary students are coming!' They can move all the paint supplies or heavy stuff or unload the truck because they can and are eager," said McCabe. 
Beyond simply volunteering, some students have developed a closer relationship with the ReStore through internships made possible by community engagement grants from the Office of Community Engagement. 
"Students use that funding to fund transportation or support the ReStore as a project they're taking on. I think it's really about getting that commitment and staying with an organization that helps students learn from it. I think that's happened really organically with the ReStore because students want to come back," said Miller. 
Many opportunities already exist for students who want to work with the ReStore, and William & Mary is working closely with the ReStore to create even more. 
"It's incredible for me to think that the ReStore has only been around for a year," said Miller. "In one year, we've built a really solid foundation and now we're thinking how we can build more positions and more spaces for students to connect." 
For more information on volunteering or interning with the ReStore, please contact the Office of Community Engagement at [[w|oce]].