Alumna Biggs working to improve the world ONE step at a time
One is a special number for Allison Biggs.
It's how she likes to work, as in one on one. And it's where she currently works, as in
ONE
.
"I've always felt that what motivated me is working directly for a person that I really respect and believe in what they are doing," Biggs '06 said on a recent visit back to William & Mary, where she addressed faculty and students at
AidData
.
Many people are at least marginally familiar with ONE because of co-founder and international activist Bono, lead singer for Irish rock superstars U2. Beyond Bono, ONE is a worldwide grassroots collection of more than 3 million people who lobby, petition, appeal – demand – that their governments provide solutions to the globe's most pressing problems. Those include Aids, poverty, energy, agriculture and development assistance, among many other issues.
For the past year, Biggs '06 has operated as special assistant to ONE's Chief Executive Officer,
Michael Elliott
.
"It was a very lucky set of circumstances for me," Biggs said. "(Elliott) believes in the mission of the organization. For me, I need the sort of one on one the job provides."
ONE's main office is located in Washington, D.C., but there are smaller offices in New York, London, Brussels, Paris, Berlin and Johannesburg. These offices, Biggs said, don't function in silos; there are members of teams that exist across time zones and geography.
"There's a lot of focus on internal work," she said. "How do we make it easier to bring people together when we think of our plans for the next year. It takes a lot of consideration to make sure people are informed and in the same place going forward."
Biggs became aware of the opening at ONE while working as associate director of external relations for the Atlantic Council, a far-reaching position that included everything from directing membership programs to managing content, logistics and production of events from the organization's annual member conference to an international conference on the sidelines of the 2012 NATO Summit. She wasn't sure she was qualified for the post at ONE until she talked with a former supervisor who knew Elliott.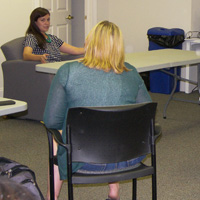 "When I said I didn't have any experience in development, he said, 'That's the kind of role you are good at, working for a person, sort of being the problem solver. They say they want something and you figure out how to get it done, and it doesn't really matter what arena you're in. If you can do that, you should be alright.' "
After a year on the job, Biggs equates her experience at ONE to "learning a new language."
"It's a different word for 'chair' in Italian than it is in English," she said. "But if you're going to bring a chair somewhere, you're still going from Point A to Point B. I worked in similar capacities before, but this is kind of the next level for me.
"I worked for several years at a communications firm where I worked very closely with one of the partners. We did a lot of writing together and that prepared me for this job."
In much the same way, Biggs said, William & Mary – especially professors
Mike Tierney
and Mitchell Reiss – prepared her for what has been a unique and successful career.
Tierney, director of the Institute for the Theory and Practice of International Relations, director of International Relations, and the Hylton associate professor of government, was Biggs' freshman advisor and taught her Introduction to International Relations class.
"My first meeting with him I was like, 'I don't know . . . I just don't know . . . I don't know what I want to do!' And he's going, 'That's okay, we're going to figure it out,' and from that point on, he gave me really great advice. Even today, he's an incredible resource for me."
Reiss, now president of Washington College in Maryland, served then-Secretary of State Colin Powell as Director of the Office of Policy Planning. Reiss was also appointed in 2004 by President George W. Bush as Special Envoy to the Northern Ireland Peace Process, with the rank of Ambassador. At W&M, he spent 10 years as dean of international affairs, director of the Reves Center for International Studies, vice provost for international affairs, the university's diplomat in Residence as well as a professor of law and government.
"He was my professor for senior seminar, and it just blew me away, it was so hard," Biggs said. "(To do) the mid-term and final, you basically had to respond in memo format. After years of writing long papers with citations, I struggled to get under the word limit for him -- but it was such a useful exercise because that is exactly the way you have to write everywhere except college.
"He would talk off the syllabus and sometimes go off-grid and tell us a story. The way he stimulated discussion, I loved it. You could tell he's a practitioner and you got the real sense of what it would be like to work in the State Department or elsewhere. I found it so challenging but really enjoyed him."
In other words, it was a one-of-a-kind experience.