1693 Scholars Program finds a home
In more ways than one, a new door opened for William & Mary's 1693 Scholars Program the evening of Sept. 29.
With President Taylor Reveley and former President Timothy Sullivan among a group of luminaries looking on, Jim and wife Bruce Murray cut the ribbon during a ceremony at the front door at 101 Chandler Court, from now on to be known as the Murray House.
"Sometimes, when I'm hanging around and not doing much and someone says, 'Hey, what are you doing, Dan,' I'll make the following quip: 'I'm just finalizing my plans for total world domination.'" joked Professor of Biology Dan Cristol, director of the 1693 Scholars Program. "It's supposed to be funny because I'm actually just arranging the paper clips on my desk. But when I'm in this house, talking to these students, it actually does feel like I am working on my plan for total world domination. They are that incredible."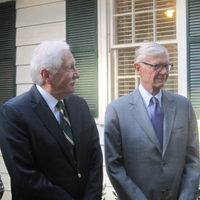 To which Reveley quipped: "I applaud your plan for the world domination," drawing laughs. "Now let's get on with it."
The 1693 Scholarship Program is William & Mary's most selective merit-based academic award. Recipients are provided extraordinary opportunities for learning and growth through personal faculty supervision, collaborative research initiatives and substantial financial support. Scholars have the chance to participate in specially designed seminars, study for a semester at Oxford University, and, under the guidance of a faculty mentorship team, design an innovative cross-disciplinary major and capstone research project.

Selection for the 1693 Scholarship is highly competitive. Finalists typically rank within the top one percent of their graduating high school classes and score above 1500 on the Math and Critical Reading portions of the SAT. Scholarship recipients are chosen after being invited to campus in the spring for a weekend of meetings and interviews with faculty, administrators and students that concludes with finalists presenting a unique research proposal to a faculty panel.
"The intention was for this to be one of the premier merit-scholarship programs in the nation, but at times when we were just letting in four scholars a year and there was no headquarters except in my head, and there was no one for them to turn to except for me, it didn't seem like we were rapidly heading towards being one of the nation's premier programs," Cristol recalled. "But now with this house as our intellectual hub and a real home for the program, and with a full-time associate director and with soon, perhaps 10 or 12 scholars admitted a year so that there will be 40 or 50 here at a time, we will rapidly head towards being one of the nation's top merit-scholarship programs."

Cristol went on to answer the obvious question: Why does William & Mary need a merit-scholarship program?
"That's simple," he said, "because if William & Mary wants to stay great we have to attract the best students – regardless of their need – simply based on merit. And that's exactly what a merit scholar program does, it attracts the very best students from around the country and it convinces them to come here rather than somewhere else.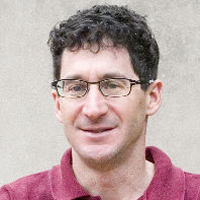 "Once we bring them here, we give them an enriched environment, we try to remove any slight impediments to the rapid achievement of their goals – such as not being able to get the classes they need when they need them – or not having a fantastic place to study and be creative. So this house is really a change fundamentally."
Cristol added his gratitude to Jim and Bruce Murray, "whose vision and endless generosity and patience and creativity have created this program. (We) look forward to watching it grow over future years."
With cake and champagne and a tour of the refurbished house awaiting the guests, Cristol handed a huge pair of scissors to the Murrays, who made quick work of the thick gold ribbon. William & Mary's newest landmark for academic sophistication was officially open for business.