College honors employees with 40 years of service
 The following individuals will be recognized for 40 years of service during the College's annual Employee Appreciation Day, May 30, 2012. - Ed.
 Myron Hall
For four decades, Myron Hall has been making sure that William & Mary's classrooms have been equipped with the technology that enhances the teaching efforts of the College's professors.
 Hall, a classroom support manager for information technology, began at the College in what was then called the AV, or audio-visual department. At that time, the latest technology in classrooms was a 16 mm projector, something that Hall and her colleagues would transport across campus in her boss' pickup truck.
"I have been fortunate to stay in the same AV area and watch it grow," Hall said.
Throughout the years, the technology has changed, but her mission has not. Now, she and her colleagues are responsible for 100 public classrooms across the campus, all of which have the same technology – computers, projectors, etc. –  installed and ready to use.
"We pride ourselves that if the previous faculty member left (the computer) on, the next faculty member should be good to go in three minutes," she said. "He should be up and running his course."
Each podium is equipped with a phone, so if a faculty member has a problem with any of the technology, he or she can call the classroom support hotline, where Hall and her colleagues are standing by, ready to help.
"Our thing is if you are on the phone with them for more than a minute, you need to get up and go," Hall said. "You don't need to keep people waiting. They like to hear that I'm on my way."
 Throughout the year, Hall and her colleagues constantly critique the current classroom technology and make suggestions about possible fixes or new technologies. Then, during breaks in the school year, Hall and her colleagues take advantage of the empty classrooms to install new features or tweak the current set-up.
For instance, this year, Hall and her colleagues are changing the analogue technology at each podium to a high-definition system. They are also installing Crestron box, which offers clearly labeled buttons to operate the projector instead of relying on remote controls, which can be lost or missing batteries. The next step in the project will be to change the projectors to high-definition.
Although she's seen a lot of technology throughout the years, it's the people she's met that have made the biggest impression on Hall.
"I've made a lot of friends – faculty, staff and students – along the way," she said.
With 40 years now under her belt, Hall said she's thought about retirement, but "as long as I enjoy it and I'm doing a good job and they want me, I might stick around."
When she does leave William & Mary one day, Hall said she hopes to be remembered for getting things done. As for what she's most proud of so far in her career, she said: "That I made a difference in the teaching scenario at William & Mary and that the students going out are up to par with what (technology) they'll meet in the world."
Della Harris

 It's no stretch to say Della Harris loves the William & Mary Law School, or to say the feeling is mutual.
"It's just easy to come here every day to work," she said.
Harris originally came to the Law School in the early 80's following 12 years at Thomas Nelson Community College, her alma mater. This year, she's celebrating 41 years of service to the state.
"It's amazing how it just gets away from you, and you've done this 41 years," Harris said.
Harris actually retired in 2006, but it didn't last long. Before she actually left the building plans were in the works to bring her back part-time.
"When the dean told me, 'if you don't want to sit [at home] and there's something you'd like to do [here], come back and talk to us," well, I didn't even leave [his office]. I just said, 'well let's talk about it now.'"
They did, and she's been working part time for the Faculty Appointments Committee since.
 When Harris first arrived on campus she joined the Law School's Faculty Support Office, which provided administrative and secretarial support. 
"There were two of us to support 28 faculty members," she said.
Over the years the office grew as the law faculty expanded. In 2006, Harris became director of the office, which by then had become a center and included a staff of four.
She knows the school and its faculty well. Twice she's been called upon to assist interim deans.
Helping faculty prepare manuscripts for printing is a big part of the center's role at the Law School. Seeing the finished product – especially with the publications -- was particularly rewarding, Harris said.
She also noted one of the most gratifying things was to have a faculty member acknowledge her contribution in a publication.
The Late Professor Charles Koch referred to her as "his Della Street" in an acknowledgement for a two volume treatise Harris helped prepare. The character Della Street was the secretary to Perry Mason, a fictional attorney in a series of novels, TV shows and films. Ther reference showed that Koch thought of Harris as his "right hand" during the publication process.
"That was amazing," she said.
Harris said she's also grateful for the friendships she gained over the years and the lessons learned.
"I've been fortunate in that I have developed a number of great friendships among the faculty, among the administrators. I am grateful to all of them and what they have taught me."
The lessons learned is advice she enjoys passing on. Her top three lessons, Harris says, are to have a strong character, willingness and positive attitude.
"Strong character is needed to hold any job and do it well," she said. "A willingness to always assist is always necessary, and a positive attitude is required to go along with that willingness because you've got to mean it. If you don't mean it [the faculty] will know it and they won't come back to you, and you want people to return."
Harris said she's still learning, and, as long as she's learning and there's still work to do, "real" retirement isn't on the horizon.
She noted she'd like to complete a faculty appointments manual before she goes.
"It's a work in progress," Harris noted with a smile.
She, of course, is typing her own manuscript.
Deloris Thomas
 While Deloris Thomas is a relative newbie to the Tribe – eight years and counting -- she is celebrating more than 40 years of service with the Commonwealth this year.
Thomas, assistant to the dean of university libraries, came to William & Mary and Swem Library in 2004. Prior to coming to the College she worked for Northern Virginia Community College and the University of Virginia, where she started in February 1971. During the course of her career Thomas has worked with the Upward Bound Program, in student housing, counseling departments, marketing and public affairs and library services. In all, she has 41 years of service with the state.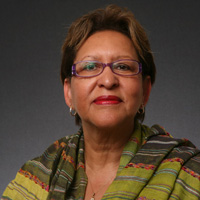 At Swem, she's worked with three deans – Connie McCarthy, interim dean Bea Hardy and the library's new dean, Carrie Cooper. 
Thomas says her time at William & Mary has gone by fast and that she finds the day-to-day variety of the job the most interesting.
"There's always something to do, never a dull day," she said.
On campus Thomas is actively involved with the Staff Assembly. She is a founding member of the organization and today chairs the Issues and Concerns Committee. Professional development and recognition are issues close to Thomas's heart.
She helped to develop the first Classified Cross-Campus Day at Northern Virginia Community College in the mid-80s, and this year Thomas is co-chair of the Virginia Library Association's (VLA) Paraprofessional Conference.
"I saw a need for staff to have a voice," she said. "I've enjoyed having the opportunity to be active in staff issues and getting to know people across the College."
VLA recognized Thomas last year for her work on- and off-campus when their Paraprofessional Forum named her the Outstanding Paraprofessional for 2011.
Off-campus she stays involved with her community through work with the Newport News Democratic City Committee. Last December she became co-chair of the group, a position she will hold for a two-year term. Thomas was recently honored for this work with the Bobby Scott Grass Roots Award.
While her day job keeps her surrounded with books, she'd actually rather sing than read. Commitments with her church choir and the Virginia Choral Society help fill her desire to sing, something she says she has done most her life.
"Music is fun, and you get to meet such great folks," she said.
Retirement isn't as much on Thomas's mind as you would think after 41 years of service. She says working helps keep her life in balance.
"Right now, going to work keeps the extracurricular activities in line," she said.