Olivier Coibion becomes Faculty Research Fellow for NBER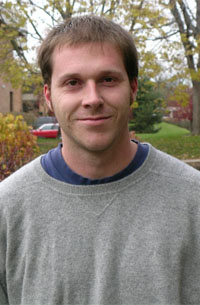 Assistant Professor of Economics Olivier (Oli) Coibion has recently been recognized by the National Bureau of Economic Research (NBER) for his outstanding research and expertise in the field of economics.
The NBER appointed Coibion as a faculty research fellow on May 1.  As a result of his appointment, Coibion will have a wider distribution of research, as well as access to more conferences for feedback on his research.  He will also be able to keep track of the current research projects that other economists are working on. 
"I was very excited to be appointed to the NBER," said Coibion.  "It is a very special privilege to be associated with this group of outstanding economists."
Coibion has been a member of the William & Mary faculty since the summer of 2007.  Since then, he has completed a number of economic publications featured on the NBER website.  He is also affiliated with the NBER's Monetary Economic Program as well as The Economic Fluctuations and Growth Program.
Coibion is broadly interested in macroeconomics, with a particular focus on informational rigidities and monetary policy.  These subjects make up a great deal of the concentration of his various research endeavors.
"My most recent research projects have been focused on how people form their expectations of future macroeconomic conditions as well as on the determinants of oil prices, particularly the potential role of speculators in driving the recent dramatic fluctuations in oil and gasoline prices," said Coibion.
His passion for economics stems from both his parents and grandparents who all had a thirst for history, politics and economics.
 "Dinner conversations frequently revolved around these topics," said Coibion, who grew up moving back and forth between France and Georgia.
"In my early college years I leaned more toward history and political economy, but decided that the tools used in economics could address a much larger set of questions," said Coibion.  "Of course, many interesting questions in macroeconomics involve history and politics as well as economics, so I feel like I have the best of both worlds."
Coibion earned his undergraduate degree from the University of California at Berkeley in 1999.  He went on to receive both an M.A. in 2004 and Ph.D. in 2007 in economics from the University of Michigan, Ann Arbor.
Coibion has really enjoyed working at the College.   "The quality of students is very high and the small size of the classes makes for more interesting interactions than would be possible at most universities," he said.